When you are focused on losing pregnancy weight, you might find you still have a craving for something sweet to have with your mid-morning cuppa.
But instead of reaching for a snack that the old you may have gone for (a biscuit, a choc chip muffin) you now know that there are much healtier options that you can enjoy while losing pregnancy weight at the same time.
Today we have 10 of our favourite sweet snacks that you can enjoy throughout the day, all the while knowing they are low in calories, sugar and saturated fats.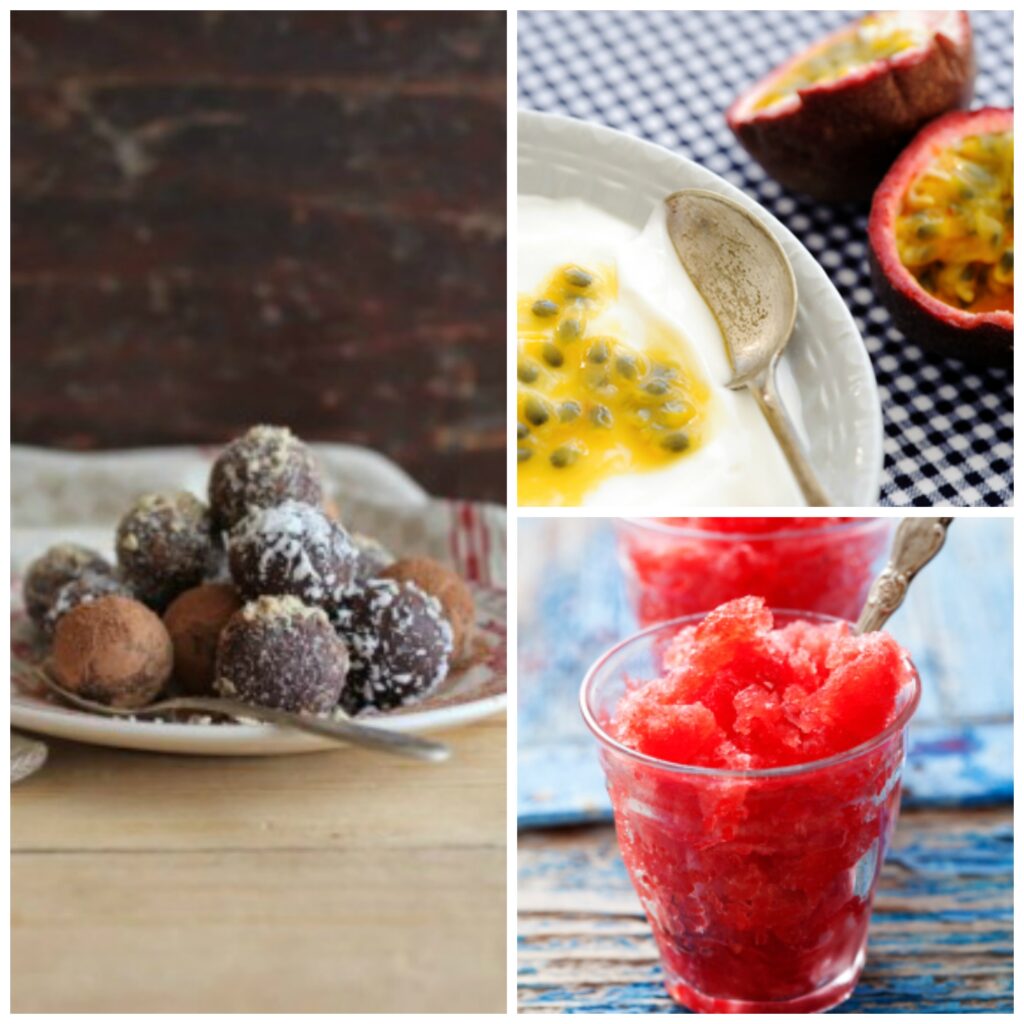 Wholemeal Banana, Date and Apple Bread (194 calories)
This little recipe ticks all the boxes – it's wholemeal, sugar free, nut free and also dairy free. But it's definitely not free of taste! The sweetness comes from the fruit and the sweet dates. You can freeze slices of this banana bread to enjoy whenever the mood strikes – just pop it in the toaster.
Banana Ice Cream (125 calories)
On a hot day, ice cream can be on your mind. But if you can plan ahead by having some frozen banana on hand (also great in your Healthy Mummy Smoothies – it makes them thicker) you can enjoy this incredible home made ice cream. Recipe here.
Coconut and Apricot Protein Balls (117 calories)
Protein snacks are a great way to zap hunger pains, and these sweet treats are a favourite at Lose Baby Weight HQ. With just a handful of ingredients and no cooking required, these store well in the fridge for a grab-and-go snack. Recipe here.
Fried Haloumi and Apple (185 calories)
This is one of those terrific sweet/savoury combos that just works so well. In a hot frying pan, grill slices of haloumi (50g) and 4 slices of apple until golden. Flip over and cook the other side too. Squeeze over the juice of ¼ lemon and sprinkle with cinnamon.
Healthy Hot Chocolate (190 calories)
If you are craving a sweet drink, look no further than this recipe. Sweetened with vanilla and cinnamon, this healthy version of the calorific treat is sure to hit the spot. Here's the recipe.
Passionfruit and Yoghurt (130 calories)
One whole fresh passionfruit on 100g of good quality low fat Greek yoghurt is a great way to satisfy a sweet craving. It will fill you up and keep you full until your next meal – plus it tastes terrific.
Homemade Mango Icy Pole (42 calories)
Instead of turning to commercial ice blocks, you can make your own fruit icy poles at home in next to no time. Make these ones with water, yoghurt or even coconut milk for an indulgent yet low calorie treat on a hot day. Here's how to make them.
Healthy Mummy Dark Chocolate Almond Treats (150 calories)
There's nothing like some portion control to help you stay on track. That's why these 30g packs are great to keep in the house for when only chocolate will do. You can buy them here.
Bliss Balls (41 calories)
With protein rich nuts, low GI oats and soft juicy dates – you might think that these little balls of goodness couldn't get any better. But what if we tell you that you don't even need to turn the oven on? Recipe here.
Mint, Lime and Watermelon Slushie (40 calories)
At just 40 calories per serve, this healthy drink packs in loads of fresh flavours as well as a big hit of sweetness from the in-season melon. Recipe here.
Need more snack ideas? Check out our Summer Cookbook or Calorie Bible for lots of healthy inspiration.

GET YOUR 10% DISCOUNT
If you are ready to lose weight then the Lose Baby Weight plans offer a healthy and safe exercise and diet routine and you can get a 10% discount by using code LOYALTY at the checkout
PLUS our BEST SELLING 28 Day Diet & Exercise Plan is available as a 200pg Printed Book and you can get your copy here 
Plus our NEW CALORIE BIBLE is now available – get your copy today! Only $19.95 and a must have in your handbag!
Click HERE to see our shop