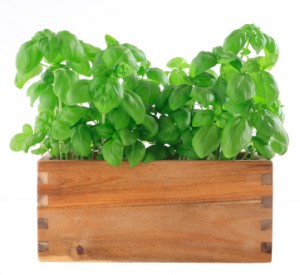 Herbs are a great way to add fresh flavours to your cooking. They can take a salad or a stir-fry from drab to fab in no time at all.
When you're trying to lose weight, herbs are a great way to add zing without the need for packaged sauces or sweet marinades.
And as with most things, fresh is best if you can get it.
Besides tasting great, herbs are also loaded with antioxidants, which can help prevent diseases such as cancer and Alzheimer's.
They have all important vitamins, oils and minerals that can all help keep your body feeling tip top.
A great way to save some money and ensure you always have fresh herbs on hand is to grow your own, either from seed or from seedlings.
You don't need much space –you could pop them on the front step, a window sill or the back yard if you have one.
There are so many health benefits of herbs, so here is a quick overview of some of the most popular (that are also pretty easy to grow) and a link to one of our favourite recipes for each.

Parsley
So much more than just a garnish, parsley is packed with Vitamins A and C. It also contains apigenin which is said to reduce the risk of some breast cancers.
Great with: fish, tabouli, salads.
Try making: 15 Minute Fish With Parsley Pesto

Rosemary
Rosemary is said to be good for digestive health, a mood elevator, and a brain power booster.
Great with: lamb, potatoes, sweet potatoes, pumpkin
Try making: Garlic and Rosemary Steak With Veggie Salad

Coriander
Coriander aids digestion, lowers bad cholesterol, raises good cholesterol, and is also a good source of fibre, iron and magnesium.
Great with: stir-fry, beef, fish, chicken
Try making: Thai Chicken Salad

Chives
Chives boast Vitamins A, C and K, folate and B-complex vitamins.
Great with: sour cream, potatoes, fish
Try making: Prawn And Pork Dumplings

Mint
Mint promotes digestion, soothes indigestion and is a remedy for nausea and headache.
Great with: tomatoes, potatoes, peas, beans
Try making: Pea And Mint Soup

Basil
Packed with essential oils, minerals and vitamins that are required for optimum health. They also contain Vitamins A and K, and are an excellent source of iron.
Great with: tomatoes, feta, haloumi, pasta, salad leaves
Try making: BBQ'd Lamb Cutlets With Healthy Basil Pesto

What herbs are you going to use in your dinner tonight?

GET YOUR 10% DISCOUNT
If you are ready to lose weight then the Lose Baby Weight plans offer a healthy and safe exercise and diet routine and you can get a 10% discount by using code LOYALTY at the checkout.
Click HERE to see our shop