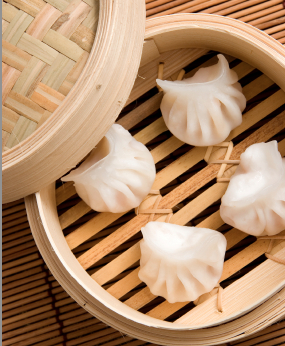 At Lose Baby Weight and on the Lose Baby Weight plans we believe in taking things one step at a time, and one of the easiest changes the way that you cook your food – and then look at making food swaps.
For example, if you're used to cooking food in oil or butter, switch to using cooking spray. Alternatively you could look at boiling or steaming your food – moist, delicious results without any added fat or calories. That's why we love steamed dumplings – big flavour for minimum fat.
Most steamed dumplings are also full of lean protein, making them actually a rather healthy food product. Lean means that the protein is low in fat – which is always a bonus – but the protein itself is really the star of the show.
Protein helps to boost calorie burning by up to 50% as your body needs to use twice as many calories to digest it, making it a great compound to eat when you're trying to lose weight.
The steamed dumpling recipe below has it all – prawns, pork, soft wonton wrappers and crunchy water chestnut. Delicious!
Steamed Prawn and Pork Dumplings
Ingredients
18 wonton wrappers
250g leanest pork mince
100g prawns
Small bunch fresh chives
1 thumb sized piece root ginger
1 garlic clove
½ tsp. crushed red chilli flakes
2 tbsp. soy sauce light
½ 200g tin water chestnuts, drained
Black pepper
Directions
Finely chop the prawns. Thinly slice the chives. Mince the ginger and garlic. Finely dice the water chestnuts. In a bowl, mix together the mince, prawns, chives, ginger, garlic, red chilli flakes, soy sauce and water chestnuts. Season with a pinch of black pepper.
Put 1 heaped tbsp. pork and prawn mix onto 1 wonton wrapper. Spread it out. Carefully bring the sides of the wrapper up and around the filling, firmly pressing, so that you have a little open dumpling parcel. Carefully place into a wooden steamer basket. Continue until you've used all of the ingredients.
Place the basket over a pan of simmering water. Cover and steam the dumplings for 10 minutes or until the wrappers are opaque. Serve warm.
Recipe serves 6. Calories per serving of 3 dumplings: 393, calories per dumpling: 131.
Want more delicious, healthy recipes? Join our 28 Day Weight Loss Challenge to get access to 800 family friendly recipes and customisable meal plans.
Join Today! You won't regret it!