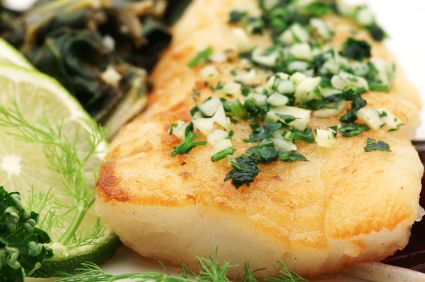 Looking for a healthy and tasty meal?
Well, we highly recommend including fish into your post pregnancy diet plan to help you achieve your weight loss goals.
Fish is a fabulous food that's very healthy, great in taste and texture, low in saturated fat, and most importantly, quick and easy to prepare!
It's especially good for the recovering mum because it acts as a great source of protein to help with the regeneration and maintenance of muscles and body tissue.
Also, oily fish such as salmon, mackerel and sardines are filled with omega-3 fatty acids which are the 'healthy' fats which can give you an abundance of health benefits.
On top of that, omega-3 fatty acids are proven to assist with post pregnancy weight loss so eating fish is guaranteed to be extremely beneficial to your healthy eating plan.
Let's take a look at the latest addition to our healthy recipes with this '15 Minute Fish with Parsley Pesto'! It's extremely delicious and very quick to prepare so you will have more time to spend with your lovely bub.
Preparation time: 5 minutes
Cooking time: 12 minutes
Serves:  4
Total calories per serving: 160
Ingredients
Pesto:
1 bunch flat-leaf parsley, leaves only, chopped (make sure they are flat-leaf aka Italian parsley and not curly ones, they're richer in flavour)
1 garlic clove, minced
2 teaspoons olive oil
1 lemon, zested and juiced
2 tablespoons whole-wheat or panko bread crumbs
½ teaspoon black pepper
Fish:
Approximately 450 grams of white-fleshed fish fillets (tilapia, whiting, snapper, sea bass, cod, etc.) or 2 fish fillets
Cooking directions
First, prepare the pesto:
Get a small food processor and pulse the parsley for 6-8 times. After that, throw in the rest of the pesto ingredients and process it until a thick sauce forms. (If you don't have a food processor, chop parsley and garlic and stir it well with the other ingredients)
Now, to the fish:
Preheat oven till about 200 degrees Celsius
Whilst waiting for the oven to heat up, place a cast iron skillet over high heat
Dry the skin of the fish by patting it with paper towels. Lightly spritz some non-stick cooking spray on both sides of the fish
Once the skillet is hot, gently place the fish into it and cook for approximately 2 – 3 minutes per side
With the fillets still in the pan, top off each portion with ¼ cup of tasty pesto
Then transfer the pan to the oven for 5 minutes to warm up the sauce
Carefully remove the hot pan from the oven and place fish fillets into a plate.
Garnish with some healthy greens and serve!
If you are ready to lose weight then the Lose Baby Weight plans offer a healthy and safe exercise and diet routine.
And don't forget to check out our current promotions and discounts page to see what specials we have on this week on our Healthy Mummy product range