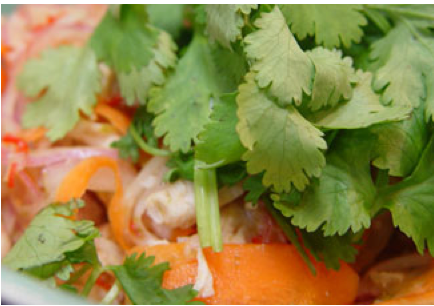 Salads are a great addition to any healthy eating plan and when you losing your pregnancy weight.
And the great news about salads is that they don't have to be boring and when you are following a pregnancy weight loss plan you can experiment lots lots of different variations
And a great way to jazz up your salad is by making it into a Thai salad which is bright and full of flavour and it is easily customisable – drop the chilli content if you're serving it to children who are not fans of spice, or add more if you love it!
Ingredients
800g minced chicken or turkey
2 red or green chillies
3-4 garlic cloves
1 large piece of ginger
2 stalks lemongrass
4 tbsp. fish sauce
Juice of 1 lime
Handful each finely chopped fresh coriander and mint
2 cucumbers
Dash of soy sauce
1 ice berg lettuce
200ml salt reduced chicken stock
Directions
Cut the chillies in half and remove the seeds and finely chop. Finely cut the garlic cloves. Peel the ginger and finely chop. Remove the outer leaves of the lemongrass and finely dice.
Heat the stock over a medium heat. Add the chicken and break it up with a wooden spoon. Simmer until the chicken turns white. Add the chilli, garlic, ginger, lemongrass, fish sauce, lime juice and soy sauce. Simmer for a couple of minutes until the sauce turns thick and the chicken is cooked through. Add more soy sauce to taste if desired.
Peel the cucumbers, slice in half and remove the seeds with a spoon. Dice into half-moons. Snap the leaves off the lettuces.
Serve the chicken mixture in lettuce cups, garnished with cucumber, coriander and mint. If you like, sprinkle with extra diced chilli.
Recipe serves 4. Calories per serving: 136.