Healthy eating is a key component to losing weight in a safe and healthy way.
But we all have nights when we are trying to cook dinner and the kids are starving, your partner is too busy to help, and you're running out of energy to cook a healthy meal.
But this is not the time to throw in the tea towel and dial in. Not when there are some quick and easy time saving tricks that you can use to get dinner on the table faster!
So if one of your goals for our 28 Day Challenge is to lose weight, eat more healthy foods, spend more time with the kids or try new foods – these tips will help.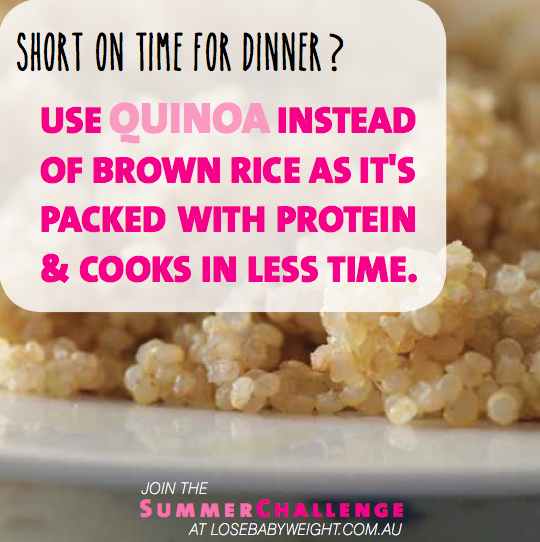 Tip 1: you don't always need to peel your veggies
There's no need to spend precious time in the kitchen peeling potatoes, carrots, cucumbers, or even some types of pumpkin.
Why not get into the habit of cooking and eating some of your vegetables with the peel still on?
Sure there are some instances where this may not be appropriate (such as when you are making a pumpkin soup using a tough skinned pumpkin; or when using onions) but, on the whole, most of the time you can cut down on this kitchen chore.
And the best part is, it's better for you! So much of a vegetables vitamins and minerals are found just under the skin. These are lost when peeled so you are doing yourself a favour by keeping them intact.
When you are cooking a healthy meal for your family, always try to use a wide range of colours of veggies. So as opposed to using all green (zucchini, peas and asparagus, for instance) opt for a rainbow on your plate – you could go for sweet potato, beetroot, leeks, squash, eggplant and peas.
Here are some great (no-peel) ways to eat a rainbow of veggies in your next meal.
Tip 2: try using quinoa instead of brown rice
While we love brown rice for its health benefits and delicious flavour, some nights you need things to move a bit faster. That's why quinoa is a great time saver, as it cooks in around 20 minutes instead of 30 for brown rice.
Not only that, it's also high in protein, iron and fibre – all essential for healthy weight loss.
The best thing about eating protein rich foods (like nuts, seeds, eggs, lean meats) is that it helps you feel fuller for longer. So you can enjoy your meal and feel satisfied until it's time to eat again.
Quinoa is a really versatile pantry cupboard staple. Not only does it work well as a side dish, it also shines in salads such as this Colourful Quinoa Tabbouleh.
And before you pass it off as a purely lunch or dinner food, quinoa can also be a great breakfast. Try our Slow Cooked Quinoa Porridge or our Quinoa Breakfast Muffins for a healthy protein hit in the morning.
It's also great as a protein rich snack ingredient, like these Nutty Quinoa Protein Balls. And unlike many commercially bought protein balls, bars and snacks (which often contain sugars, fats and additives) these are also perfectly safe for children to eat too.
Tip 3: always keep some healthy 'convenience foods' on hand
Some nights you might want to add lentils or chickpeas to your meal, but you didn't think to soak and cook them until the last minute.
This is when some tinned 'convenience foods' can come in handy. Tins of chickpeas, lentils, kidney beans, cannellini beans and black beans are great to have on hand for adding some healthy protein to your meals and snacks. Be sure to drain and rinse them really well before using.
Another healthy convenience food is keeping some frozen vegetables in the house to add extra nutrition to your meal when the fridge is bare.
Frozen vegetables have much the same nutrition as their fresh friends, and it also means that you can enjoy them out of season.
Try some of our favourite recipes using canned beans and the option of frozen veggies.
Need to stock up on Healthy Mummy Smoothies? Then see our shop here
And join our 28 Day Weight Loss Challenges here