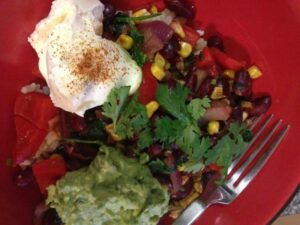 Sometimes when you are trying to lose weight you get a hankering for your favourite take away. A great way to overcome the craving is to make your own healthy version.
So if you feel like Mexican food (minus the calories), try this recipe. It has all the best bits (chilli, lime, coriander, avocado) without the more calorific sides (tortillas, sour cream etc).
So much flavour, so much texture and so, so delicious!
Kidney beans are the 'meat' in this dish. Here's 5 great reasons to add them to your meals.
packed with fibre, they stop your blood sugar increasing after a meal
they also contain protein which keeps you fuller for longer
kidney beans are full of antioxidants
they're cheap (I bought a tin today for $1)
beans are low in fat and have zero sugar
Ingredients:
1/2 cup of dry brown rice
1 cup of boiling water
2 tbsp olive oil
1 red onion, peeled, cut in half, then thinly sliced
1 small red chilli, de-seeded and finely sliced
1 red capsicum, diced
1 fresh corn on the cob, peeled, with corn cut off
1 tin (400g) of kidney beans, drained and rinsed
Salt and pepper to taste
Juice of one lime
3 cloves of garlic, peeled and finely sliced
1 tbsp fresh ginger, finely diced
Small bunch of fresh coriander, to serve
1 cup of natural yoghurt, sprinkled with paprika, to serve
1 large avocado, mashed and seasoned, to serve
Method:
First of all you need to start cooking your brown rice. In a saucepan place the brown rice and water. Bring to the boil with the lid on, and then bring down to a low simmer. Leave the lid on and cook for half an hour until all of the water has been absorbed.
While that's cooking you can get on with the main event.
Heat 1 tbsp of the oil in a large frying pan over med-high heat.
Add the onion and chilli, and stir for around 3 minutes. Add the kidney beans and cook for a further 2 minutes.
Add the capsicum and corn to the pan, and keep stirring for a further minute.
Push everything to one side and in the gap, add the remaining tablespoon of oil. Pop your garlic and ginger into the oil and quickly fry for about 20 seconds before bringing everything together in the pan again.
Season with salt and pepper and the juice of one lime.
Serve the rice into the four bowls and add the veggies.
Sprinkle with fresh coriander, yoghurt and avocado.
Serves: 4. Calories per serve: 360.
GET YOUR 10% DISCOUNT
If you are ready to lose weight then the Lose Baby Weight plans offer a healthy and safe exercise and diet routine and you can get a 10% discount by using code LOYALTY at the checkout
Click HERE to see our shop