Every month, a mum who is on the Lose Baby Weight plans will be writing about their journey, exercise, ups and downs and will be here to help motivate YOU and THEMSELVES along the way.
If you'd like to become our Motivating Mum for the month click here to find out more (we pay you for it too!).
This month we have Sophie Violi on board as a Motivating Mum. Mum of two Sophie has already seen results from her new eating and exercise regimen losing over 10kg on our plans. You can read her first and second posts here.
Let's hear from Sophie now….
'Hi Mummies
This week has been a big learning experience for me. I trained 5 days but did not achieve a desired result on the scale.
I have lost in my measurements, but only 300 grams in my weight.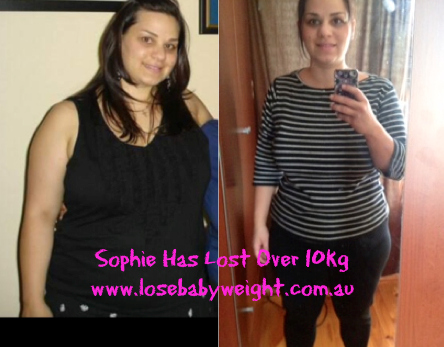 I analysed the week that passed. Some factors that contributed to this was my diet, the time of the month and possibly an increase in muscle (FYI Sophie – LBW here and yes it would be an increase in muscle – read here for why this means the scales wouldn't have moved).
I exercised 6 days this week, but my diet had let me down on the scale. When analysing my meals from the week, I noted that I had eaten 2 large portions of white carbohydrate.
I noted I was craving more meals last week, as many as 1 main meal extra per day. This was because I was burning more calories.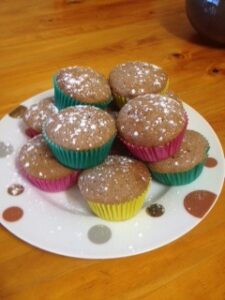 I also find that if I have hunger pains, I have left it too long and should have eaten before feeling so hungry. Snacks like these healthy banana muffins that I made from the Lose Baby Weight website are perfect.
I have made an effort to eat more clean raw foods, salads consisting of chick peas, beans, fresh beetroot, and spinach, with chicken, lamb or tuna.
Beetroot is in season at the moment and I have been using quite a lot of it in my cooking this past week.
I attended a "Sculpt" class at the gym last week. It was quite enjoyable. Was a mix of weights, squats with the aim of having a constant elevated heart rate.
I am still having some problems with my foot, so everyday at the gym is a new and different workout.
Swim one day, upper body weights the next, then the bike the day after. So I change it up and give my body a rest when warranted. I have also learnt to listen to my body.
I have achieved my short term goals last week by working out for 1 hour at least 5 days per week, attending a class at the gym and educating myself on foods.
My goal for this next week is to:
Eat more clean raw foods
Eliminate my white carbohydrate intake
Extend all my workouts to 60 min
Maintain my 5-6 day workouts per week
Educate myself further on foods
Try RPM class at the gym
Aim to be in the 80's kg range
My weigh in results comparing to last week:
Weight: 86.6 loss of 300grams
Thighs 67 down 2cm
Bust 107 down 3cm
Waist 94 same
Hips 118 down 4cm
I want to mention something about goal setting. When I first started this journey, the thought of losing 10 kilos seemed IMPOSSIBLE, the goal seemed unachievable to me.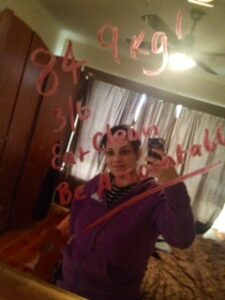 But by breaking it down to smaller goals, it has made it so much easier to stick to. I have started something new this week – giving myself reminders of positive affirmations.
Next week, look out, 85kg, I'm coming for you!'
– Sophie Violi        
 
GET YOUR 10% DISCOUNT
If you are ready to lose weight then the Lose Baby Weight plans offer a healthy and safe exercise and diet routine and you can get a 10% discount by using code LOYALTY at the checkout
PLUS our BEST SELLING 28 Day Diet & Exercise Plan has now launched as an 84pg Printed Book and you can get your copy here 
Click HERE to see our shop