Every month, a mum who is on the Lose Baby Weight plans will be writing about their journey, exercise, ups and downs and will be here to help motivate YOU and THEMSELVES along the way.
If you'd like to become our Motivating Mum for the month click here to find out more (we pay you for it too!).
This month we have Sophie Violi on board as a Motivating Mum and you can read her first post here. Mum of two Sophie has already seen results from her new eating and exercise regimen. This week she has really kicked things up a notch and this has led to some fantastic results.
Let's hear from Sophie now….
'Wow!
What a fantastic week of high's and low's.
I challenged myself to eat fantastically well and train 6 days this week.
And my result = a 2.5 kg loss! Making a total loss of 7kg since starting Lose Baby Weight, also reducing my BMI.
It was amazing and quite unbelievable to see those numbers. I got on the scale a few times to make sure it was working, lol.
Monday was the first day I put the kids in crèche. Michaela started to have a little tear but assured her I will be back.
I came back after an hour and Michaela was happily playing and Frankie was fast asleep.
By the third day, Michaela was running to the crèche room and said "goodbye mum, have a good swim".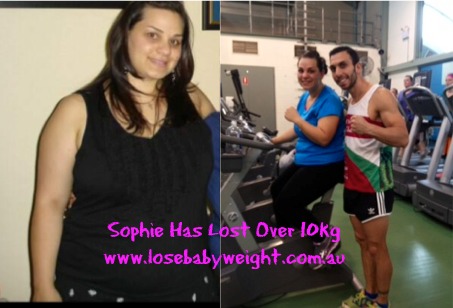 It was so good to know she was enjoying herself, and peace of mind that I could work out and have the kids just down the hall from me.
Come mid-week, my kids and hubby all came down with gastro. It was a very hard day indeed.
I was looking at the bright side of the situation and thinking how many calories I was burning by running the kids to the bathroom and all the mopping and disinfecting I was doing.
I tried so many different recipes this week, and ate a lot of food I never thought I would have tried.
One of the ones I like is fruit toast, with organic peanut butter topped with apple, strawberries with drizzled honey. Wow, was amazing. A must try for sure.
One of my favourite Healthy Mummy Smoothies that I usually have for breakfast, is Vanilla with Blueberry, Bannana and Strawberries.
As soon as my son hears the blender, he comes running in the kitchen. He likes to have a try of them too.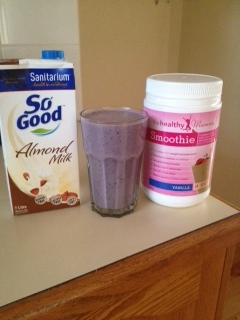 I have tried some extra workouts at the gym, and now using light weights, medicine balls and weight machines.
Lose Baby Weight had posted a link last week, about the importance of using light weights and how that will assist in losing more weight.
Something I want to talk about is exercises and circuits you can do at home, on the days you can't make it outside or to the gym.
Using some light 1.5 kg weights – if you don't have weights, use 2 bricks or some cans from the pantry.
No medicine ball, do a squat and flip an old tyre.
Put on the Wiggles and dance with the kids.
And doing some sit ups and push ups and exercises from Lose Baby Weight 28 day plan.
This week I had tried lots of new recipes with new ingredients and being open to trying new things.
I was quite surprised, as I am usually one who goes for the same safe food. I tried SUSHI for the first time, and loved it.
I have made simple changes that the whole family has taken really well too. Brown rice instead of white, wholemeal pasta, and wholemeal flour to make cakes and muffins.
I have made a rule when preparing food and shopping for groceries, make your plate as colourful as you can.
In this last week I have made several stir fry's and salads.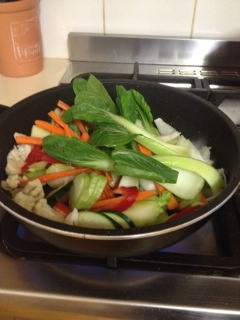 I wish to give credit to some great support I have received throughout my journey.
My family and friends have been amazing, and the daily motivational emails from Lose Baby Weight, but also what has helped throughout my journey, is having a workout partner to push you along.
Especially at the times you feel like giving up, it's great to have someone that makes you push that bit harder.
You make a commitment to this person to show up and workout together.
In the main picture above on the right is my brother and I going hard at the gym, thank you again.
As in my previous blog, any positive change we make to our health is an investment in our future.
My goals for this next week is to:
Experiment with more foods
Extend my workouts from 45 min to 60 min
Maintain my 5-6 day workouts per week
Educate myself further on foods
Try a class at the gym
Aim for 85kg
Try to keep on track and having a goal in mind.
My 30th Birthday is only a couple of months away. I want to push and dedicate myself to try my hardest to reach my midterm goals.
My weigh in results:
Weight 86.9 loss of 2.5kg
Thighs 69 same
Bust 110 same
Waist 94 same
Hips 122 down 1cm
I look forward to a wonderful week ahead.'
– Sophie Violi        
 
GET YOUR 10% DISCOUNT
If you are ready to lose weight then the Lose Baby Weight plans offer a healthy and safe exercise and diet routine and you can get a 10% discount by using code LOYALTY at the checkout
PLUS our BEST SELLING 28 Day Diet & Exercise Plan has now launched as an 84pg Printed Book and you can get your copy here 
Click HERE to see our shop