Every month, a mum who is on the Lose Baby Weight plans will be writing about their journey, exercise, ups and downs and will be here to help motivate YOU and THEMSELVES along the way.
If you'd like to become our Motivating Mum for the month click here to find out more (we pay you for it too!).
This month we are pleased to introduce Sophie Violi as a Motivating Mum and so far on the Lose Baby Weight Plans she has lost 7kg!.
Mum of two Sophie says she was inspired by Linda Hallas's story (which you can read here) and has already seen results from her new eating and exercise regimen.
Let's hand over now to Sophie….
'Hi, my name is Sophie and I'm excited to have the chance to be a Motivating Mum on team Lose Baby Weight.
Lose Baby Weight came just at the right time for me, like a knight in shining armour.
I have 2 children, Michaela aged 2.5 and Frankie who just turned 1.
I am a full time stay at home mum (well for now anyway, until I decide to end my maternity leave).
At end of my first pregnancy I had gained an extra 14 kilos, weighing in at 107 kg.
We decided to try for our second baby approx 8 months after giving birth, so I still had most my previous baby weight, and in my second pregnancy gained 11 kilos.
I breastfed both my babies, but I wasn't one of the mums where the weight just dropped off.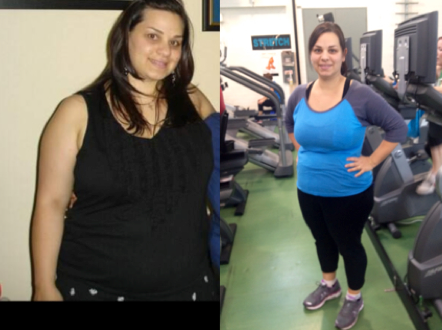 I have to give credit to Linda Hallas, as after reading her story, there was no turning back, she was my extra push of motivation.
I was researching Lose Baby Weight for a while, ordered the products and off I went.
I started on the healthy mummy smoothies the day I stopped breast feeding my second baby, when he was 10 months old.
I haven't looked back. The support, motivation and quality of the products are amazing.
I went to an Empowerment seminar last week, one of the quotes I found empowering from a fantastic motivational speaker, Les Brown:
"It is better to try something and fail, then to never try it at all".
When I commit to something, I wish to give it a good go and give 110% effort. Doesn't matter if you fall down, just get up and try again.
I decided it was time to get my life back. I did a cupboard clean out and got rid of unhealthy snack foods.
I replaced my Donna Hay cookbook with The 28 Day Plan book, stocked up on fresh fruit and veg, loaded my favorite songs on my iPod shuffle and away I went.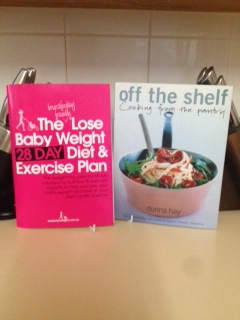 I started with the healthy mummy fish oil supplement and a Healthy Mummy Smoothie for breakfast, followed by healthy lunch and dinner plus snacks.
I now have the 28 day eating guide and the recipes are amazing. I am trying new foods I have never had before.
I was drinking so much water, it reminded me being pregnant and having to use the bathroom all the time.
I started out walking every day. I tried to reach for an hour per day. Within 1 month I was jogging short distances, then after 2 months I was Jogging jetty to jetty at the beach and was looking at the scale on my weekly weigh in and was actually excited for the next time I was due to weigh in. I felt like I was unstoppable, and had a taste "of the other side" and I really enjoyed it.
After 1 week my husband could see small changes in the way I looked, 2 weeks in, friends and family were also noticing a difference.
The look and clarity in my face was different. After 4 weeks on the program I had to buy new jeans, as the ones I had were literally falling off of me. Felt really good to walk into a shop and buy a pair of skinny jeans 🙂
I have since done a cupboard clean out and donated some clothes that no longer fit. That felt really good and empowering.
I was exercising really well and seeing results, and then I had injured my foot – plantar fasciitis. I took this quite badly, and for 3 weeks I wasn't able to weight bear on my foot.
I am still not able to return to walking/jogging, which has made me quite upset, but I have found other ways to exercise.
I was told to rest my foot and wasn't able to train for 3 weeks. But to my surprise I was still losing weight. Was only a couple of grams, but considering I was resting I was quite happy with that.
I have only been back at training for just over a week now, and have found alternative ways to keep my heart rate up- by doing swimming, aqua aerobics and concentrating on upper body exercises and strength.
I have found a gym with a crèche for the kids and that also has a swimming pool. Every morning I am either doing aqua aerobics or 40 minutes lap swimming, or will use weights and the bike machine and the grinder.
Some mornings I cannot think of anything worse than to go to the gym, when the kids have woken 5 times a night.
But when you get there, you are in a different frame of mind. I have given myself rest days and done the exercises outlined in The 28 Day Plan.
What I found very motivational while I was exercising was, when I was having a rest or stretch break, I would jump on Facebook and read a motivational mum story. You should try it. You find this burst of energy you never knew you had!
My measurement loss to date since March 2013
Bust: 9cm
Waist: 11cm
Hips: 2cm
Thighs: 4cm
My starting weight was 94.2 and my current weight is 86.9
My goals for this week: 
Attend gym at least 6 days this week
Keep up with my rehabilitation for my foot
Drink more water
Ride that extra 10 minutes on the bike
My goal by the end of the month:
Do an RPM class at the gym
Try my best to reach my weight goal which is 85kg, which was my weight at my wedding
To inspire others to give it a try, to take that first step and not look back.
I really like the members area on the Lose Baby Weight site, and look forward to seeing the graph go down a little each week.
On a final note, I believe we are all capable to take control of our lives, and be able to make a lifestyle change. It can be as little as cutting out soft drink or choosing to eat more colourful  foods. Whichever step we take, it doesn't matter how little, you should be proud that you are taking a step in the right direction.
Together we can do this!'
GET YOUR 10% DISCOUNT
If you are ready to lose weight then the Lose Baby Weight plans offer a healthy and safe exercise and diet routine and you can get a 10% discount by using code LOYALTY at the checkout
PLUS our BEST SELLING 28 Day Diet & Exercise Plan has now launched as an 84pg Printed Book and you can get your copy here 
Click HERE to see our shop