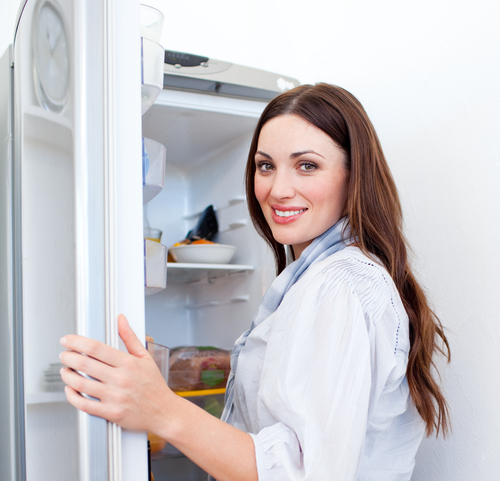 Before your bundle of joy arrives, there's (yet another) task that should be ticked off the list.
Having some home cooked meals stashed in the freezer is a great way to ensure that you a) don't starve in those first hazy weeks of motherhood and b) that you are enjoying a healthy eating meal packed with nutrition rather than existing on toast or cereal.

Feeling too tired to cook? Say YES when friends or family ask if you need anything. If they can drop off a casserole or curry for you to pop in the freezer then even better.
Once you have the healthy eating meals stashed away, it's just a matter of pulling them out to defrost either the night before you want them, or just popping them in the microwave to defrost as needed.
During the first few weeks of motherhood it can be easy to focus so much of your energy on your little one that your needs can be overlooked.
It's very common to get to around 5pm and feel way too exhausted to think about pulling something together for dinner.
By spending some time now to plan ahead, you can be sure that you will have something to feed the family for dinner each night.
Just had your baby? Read our 10 Health Tips For Brand New Mums here.
And remember, the most important thing to do is look after your baby and yourself. Don't put unrealistic pressure on yourself to start losing pregnancy weight the minute you get home from the hospital.
Enjoy this time with your baby, and remember to get some sleep whenever you can – the dishes can wait!
8 Freezer Friendly Recipes
This just needs some pasta to go with it, or you could throw it in a wrap with some salad and grated cheese on top.
2.  Spinach, Ricotta and Basil Lasagne

To freeze, prepare the lasagne but don't cook it in the oven. Cover with cling film and freeze for up to 3 months. To cook from frozen, remove the plastic and cover with foil. Cook in the hot oven for around 90 minutes, removing the foil for the final 20 minutes.
3.  Pumpkin and Lentil Curry

Feel free to omit the chilli in this simple curry that is both warming and very filling. The lentils give you the much-needed protein.
4.  Lamb Shank and Spiced Veggie Soup

This soup only needs 2 lamb shanks and makes enough for 8 generous portions.
5.  Healthy Shepherd's Pie

To freeze, cook as per the instructions but leave the final step off (baking in the oven). Allow the pie to cool completely and then cover with cling film before freezing.
To cook from frozen, place in a 180C oven for around an hour, or until bubbling and golden brown on top.
6.  Slow Cooked Beef with Sweet Potato and Peanut Sauce

This is a hearty and wholesome dish that you can throw in the slow cooker when you have some time. Allow to cool completely, then place in the freezer.
When ready to use it, simply thaw in the fridge overnight and then pop in the oven to warm through, or just defrost in the microwave.
7.  Slow Cooked Vietnamese Meatballs

These saucy meatballs defrost really well in the microwave and can be served with noodles, or a healthy eating salad.
8.  Slow Cooked Leg of Lamb

Once the lamb is cooked, pull all of the meat away from the bone and shred. Once cooled, place 1 cup portions into zip lock bags with some of the sauce, then freeze.
You can then defrost these overnight in the fridge or pop in the microwave when needed. Use these as a topping for a jacket potato; as a filling for a toasted sandwich or wrap; as the protein in a healthy salad; or add to some pasta for a wholesome meal.
Love the Healthy Mummy team xxx
Every month on the 28 Day Weight Loss Challenge, we run a BRAND NEW 28 Day Menu with a different theme so you NEVER get bored!Next months theme is the ENERGY & METABOLISM BOOSTING! – so if you are feeling a tad tired – this one is right up your avenue!!
If you are curious about the 28 Day Challenge recipes then we have a 28 Day Challenge recipe pack for you to try here.