We've been going a bit satay-crazy of late. If you can find peanut butter made with 100% peanuts it can be your partner in crime to make delicious satay flavoured meals.
With no added oil, sugar, salt or other nasties, this natural peanut spread is also delicious as a snack with some chunks of apple, banana or celery.
You can also try this dish with any nut butter that you like, such as cashew or almond. Just be sure to find the 100% nut versions, which are normally in the health food aisle.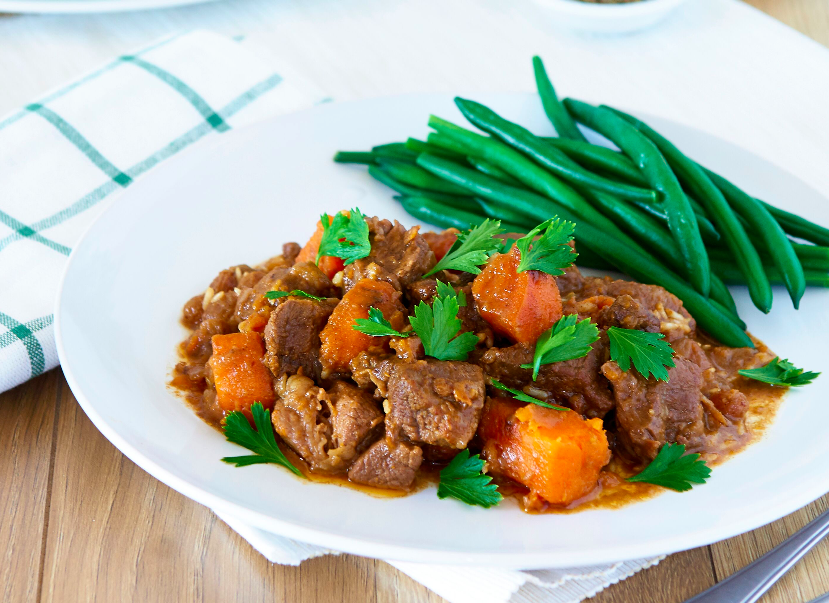 This meal is so tasty and satisfying, there is really no need for too many embellishments. Simply serve with some freshly steamed beans for a healthy, filling, nutritious meal that the whole family can enjoy.
So many slow cooker recipes include regular potato – but we prefer to opt for the healthier option of sweet potato.
Not only do they taste sweeter (hence the name) they are lower GI and lower in calories too. All good news for those of us trying to lose weight. You could also try this with parsnip or swede if you prefer.
You will almost hope for a chilly night when you serve this meal up!
Ingredients:
800g braising steak (such as chuck or blade), trimmed of excess fat, cut into 3cm chunks
2 tbsp olive oil
2 large onions, peeled and diced
2 garlic cloves, peeled and finely sliced
1 tsp paprika
1 tsp cinnamon
1 medium sized sweet potato, peeled and cut into chunks
1 ½ cups of beef stock, salt reduced if possible
1 bay leaf
2 tbsp (100% peanut) peanut butter
3 tbsp sultanas
¼ cup brown rice
Juice of ½ a lemon
Fresh parsley leaves, to serve
2 cups of steamed green beans, to serve
Method:
Turn your slow cooker onto the high setting.
Heat 1 tbsp of the oil in a frying pan over med/high heat.
Brown the steak all over, then drain off any excess oils and place the meat into the slow cooker.
Heat the other 1 tbsp oil and then cook the onions for around 8-10 minutes, until soft.
Add the garlic, cinnamon and paprika to the frying pan and stir for one minute.
Add the sweet potato to the frying pan and stir until coated with the onion and spices. Transfer all to the slow cooker.
Add the stock and the bay leaf to the slow cooker, reduce the heat to low and cook for 4 hours.
Put the slow cooker back to the high setting, and stir in the peanut butter.
Sprinkle the sultanas and the brown rice into the pot and stir again.
Cook for a further 45 minutes. Squeeze in the lemon juice and serve with a sprinkling of fresh parsley leaves.
Serve with some steamed green beans.
Serves: 6. Calories per serve: 345.