Here's a new take on an old favourite. This Bolognese has got lots more sauce than a traditional recipe thanks to the secret ingredient – chicken stock.
Now while you might think of using beef stock with beef mince, the chicken stock works really well at giving a depth of flavour without being too overpowering.
As it uses quite a lot of stock (a litre in fact) this is an especially good recipe for using your home made chicken stock.
The lemon juice and zest added at the end really lifts the flavours of this dish – be sure not to leave it out.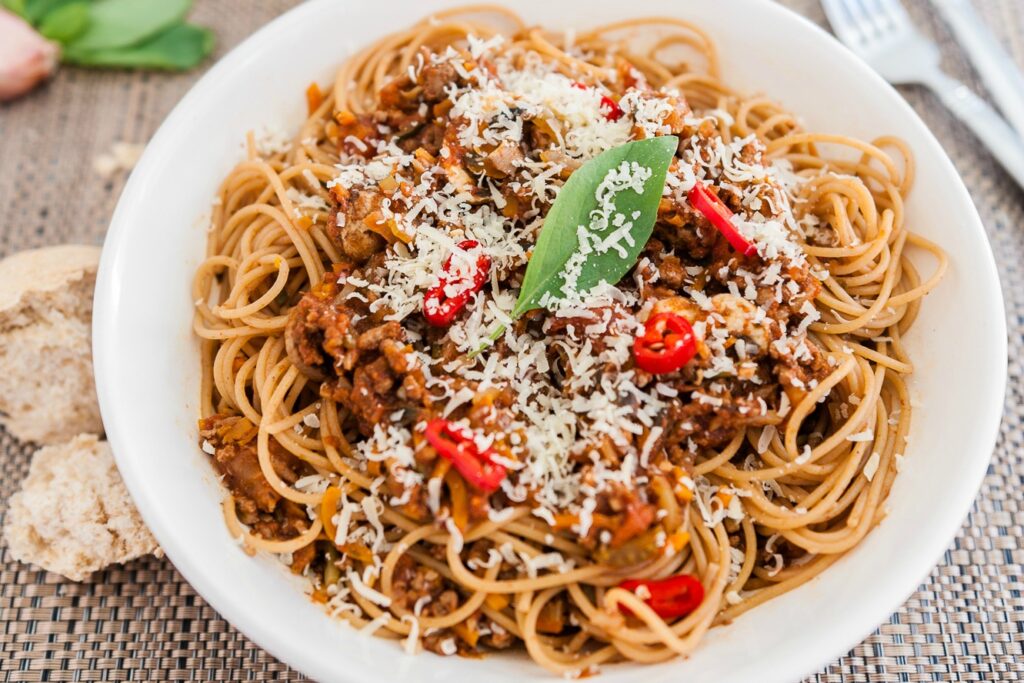 Ingredients:
1 tbsp olive oil
2 medium onions, finely chopped
2 tsp minced garlic
2 bay leaves
2 carrots, very finely chopped and diced
2 celery sticks, finely diced
500g lean beef mince
Salt and pepper, to taste
400g tin of diced tomatoes
4 tbsp tomato paste
1L chicken stock
¼ cup basil or parsley leaves, to serve
Juice and zest of ½ a lemon, to serve
6 tbsp grated Parmesan cheese, to serve
Method:
Heat a large frying pan over med/high heat.
Warm the oil up and fry the onions, garlic, bay leaves, carrots and celery for around 5 minutes.
Brown the mince, stirring regularly and breaking up any lumps with a wooden spoon.
Add in the tomatoes, tomato paste, salt, pepper and stock.
Bring to the boil, then reduce to a simmer.
Cook, uncovered, for 90 minutes.
Stir every 20 minutes.
When ready to serve, drizzle over the lemon juice and zest.
Rip up the basil or parsley leaves and throw them over the Bolognese too.
Serve with the grated Parmesan cheese.
Serves: 6. Calories per serve: 255.
This recipe can be served in so many ways, and here are a few ideas.
With your favourite pasta
With a crunchy green salad
As a topping for a baked potato (sweet potato is great for this)
As a filling in a wrap
With melted cheese on top as a burrito
With some cous cous or brown rice
As a base for some home made nachos (and here's the best guacamole recipe)
Enjoy!
Love the Healthy Mummy team xxx
Every month on the 28 Day Weight Loss Challenge, we run a BRAND NEW 28 Day Menu with a different theme so you NEVER get bored!
Next months theme is the SLOW COOKING! – Perfect for the chilly winter weather and still just as healthy.
If you are curious about the 28 Day Challenge recipes then we have a 28 Day Challenge recipe pack for you to try HERE.