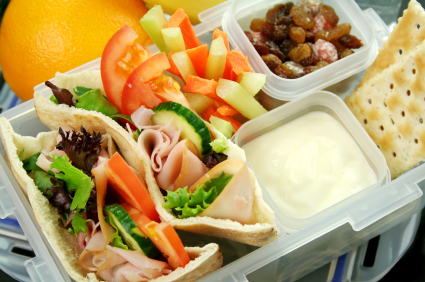 Remember the sense of tension at school as you sat down to open your lunchbox to eat your packed lunch.
Would there be a treat? Some sort of juice box? Would there be a peanut butter sandwich when you had specifically requested cheese?
Well even though the lunchboxes have changed (unless you still have your Strawberry Shortcake lunchbox on hand) the rules haven't changed.
Boring lunches are OUT and healthy, fresh and interesting lunches are the order of the day.
When you are heading out and about – whether that's to work or to run errands, it's important to remember to take enough food with you for your meals and snacks.
So today we have 4 tips for to ensure you have packed yourself a terrific lunch that will bring a smile to your face when you open it.
After all, you're in charge of what goes in there these days!
Step 1: the lunch itself
This could be something as simple as a roll or a wrap; or why not treat yourself to something that you might normally buy in a shop for lunch such as a healthy Chicken Rice Paper Roll or slice of Frittata?
Forget having a sandwich every day – why not mix it up by using tortillas, pita pockets or even home made pizza instead?
Throw together a quick salad before you head out the door using any leftovers from the fridge and some nuts and cheese.
By giving yourself the opportunity to enjoy something a bit 'fun' for lunch you will never be tempted to spend your hard earned cash on something that may not be in line with your healthy eating habits.
Step 2: a piece of fruit
Eating a piece of fruit as a snack after your lunch is a good habit to get into.
It helps to fight over those sugar cravings – especially when you are out and about where there are muffins and donuts all around you.
Naturally, some fruits travel better than others. We love mandarins, oranges, apples and bananas for their portability. Also a small container of frozen grapes tastes great hours later (plus helps to keep the rest of your lunch cool).
Step 3: a cold drink
This is not only essential for hydration, but it also helps to keep your lunchbox cool.
Try keeping your water bottle in the fridge or freezer so that it is always ready to roll.
Soft drinks are not an ideal choice to go with your lunch when you are trying to lose weight. Even the so called diet drinks are filled with more sweeteners and colourings than our body needs for good health. Stick to the clear stuff and you'll be set.
Step 4: something special as a snack
Nobody wants to be the owner or a boring lunchbox, so be sure to pack something special that you can enjoy as a snack or after your lunch.
For instance you might pack a few wedges of cheese and some crackers; a piece of Wholegrain Banana Bread or a Blueberry Muffin; a zip lock bag of Trail Mix or some air-popped popcorn; a boiled egg (they travel well!); a tub of yoghurt; or even some some carrot and celery sticks and homemade hummus.
Always try to keep your lunch interesting, rather than getting caught in a same old, same old routine.
Vary the fruit options, change up the snacks, use leftovers to make a tasty wrap or salad, and use frozen portions of baked treats so that you can look forward to opening your lunchbox every day.

GET YOUR 10% DISCOUNT
If you are ready to lose weight then the Lose Baby Weight plans offer a healthy and safe exercise and diet routine and you can get a 10% discount by using code LOYALTY at the checkout
PLUS our BEST SELLING 28 Day Diet & Exercise Plan is available as a 200pg Printed Book and you can get your copy here 
Plus our NEW CALORIE BIBLE is now available – get your copy today! Only $19.95 and a must have in your handbag!
Click HERE to see our shop