The Lose Baby Weight team are extremely dedicated to and passionate about helping mums feel healthy, fit and confident after having children and we want to help you feel in your best health and fitness possible. Plus there are NO contracts, NO lock in fees. NO monthly fees. NO cutting out foos groups and NO going hungry!
We spend a great deal of time encouraging mums to love their bodies, no matter what shape or size you are and to only ever to begin thinking about losing weight when they feel 100% emotionally and physically ready which can be very different for every woman. Plus we also recommend avoiding reading all the celebrity post baby stories.
Each product in our range has been created by leading nutrition and fitness experts. The health and safety of the mums is always the number one consideration in what we do and we provide a supportive community which is on hand 7 days a week.
Below are some of the incredible weight loss results from mums who have followed our plans – you can see lots more results here and if you scroll down further you will see information on how to get started and how the plans work
Chaye Challacombe, from QLD, lost 30kg
I found lose baby weight on facebook and have never looked back. When I finally took the leap and bought the 28 day plan and healthy mummy smoothies, my life changed. I love the healthy mummy smoothies and the food is so yummy!
It has surprised me just how easy it can be once you have the support and put your mind to it. I have lost 22kgs! My husband has also been very supportive and has lost 20kg too.
It has been so great for me to find a weight loss plan that supports breastfeeding mothers. Before, I didn't think it was possible to lose weight safely while breastfeeding. I am currently breastfeeding my 10 month old and plan to do it til he is at least 1.
Lose baby weight is the only place I have found that has a plan that not only is safe to take while breastfeeding, but also actually supports it."

---
Amy Babty from NSW lost 40kg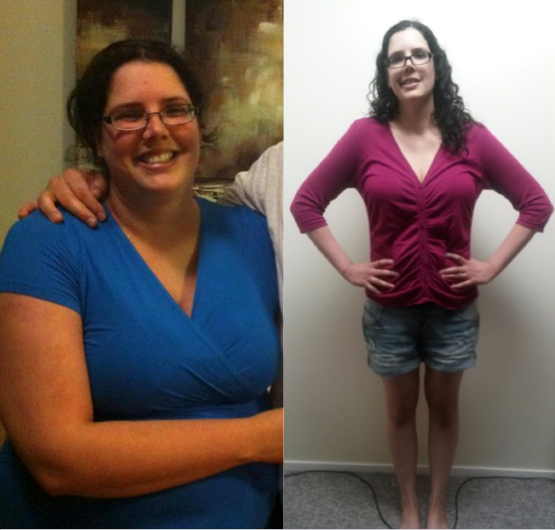 "I started using the Lose Baby Weight plans. 6 weeks post partum and My Goodness I feel fantastic and I have now lost 40kg and reached my goal weight
Thank goodness for the healthy mummy smoothies, they mean that I get an easy nourishing meal at times where I am too exhausted or have no time to make something more after hours of rocking and soothing my bub and running after my toddler!
Thank you so much again for your fantastic weight loss support!! And even more so, thank you for helping me to change my life!"
---
Kat Brown, from Vic, lost 20kg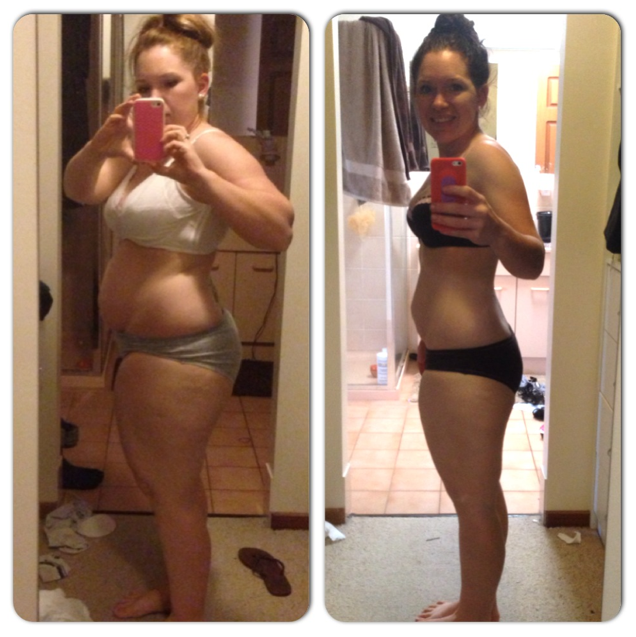 "Since starting on the 28 Day Diet and Exercise Plan and Healthy Mummy Smoothies I have lost an amazing 20kg.
I love the healthy mummy smoothies in the morning, I have a chocolate-coffee one and they give me so much extra energy to help me tackle my day of looking after my 4 kids, the property, the housework and school runs.
I love the 28 Day Plan and the Exercise DVD too and use them both every day – I would not have been able to lose the weight without them
I hopefully will be able to inspire at least one mummy out there as so many mums have done for me by sharing my story"
---
Tasheena Snow, from QLD, lost 31kg
"I have lost over 26kg with the Lose Baby Weight plans. I found the weight loss plans really easy to follow even in the beginning; I broke my workouts down to 15mins 3 times a day which is explained in the 28 Day Diet and Exercise Plan with lots of information on how to do certain exercises properly.
Also in the plan the recipes are fantastic and really are family friendly, quick and easy to make, my children love the Choc Chip Chickpea cookies and the Nutty Choc chip quinoa balls.
I also find the Calorie Bible my savior! It is always in my bag so it follows me everywhere! It had amazing tips for when you're out and about plus great recipes and information on different foods.
The Healthy Mummy smoothies are amazing and taste so good and I love creating with them and they certainly make me feel more energised for the day and keeps me full! Plus I have to fight my children off when I make the chocolate smoothie which is HEAVENLY and kicks the chocolate craving!!!
---
Nicole Daniels, from NSW, lost 26kg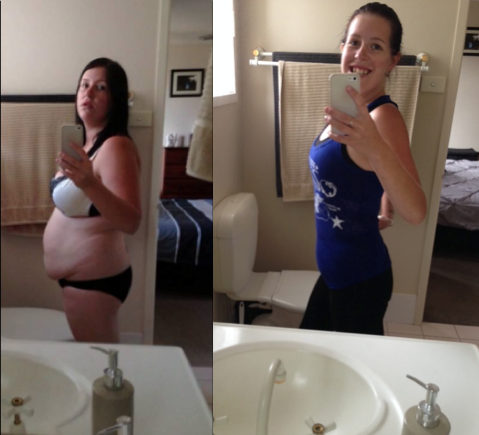 "It's been 3 months since I reached my goal of losing 26 kilos, through using the 28 Day Plan, The Healthy Mummy Smoothies and the Healthy Mummy Exercise DVD,
I started the lose baby weight plans weighing 73 kilos and now weigh 46 kilos. I have also lost 2cm more  from my waist and hips and 2cm from each thigh. I can't believe it.
I love the  healthy mummy smoothies easy to make and taste so yummy. I love all the different combinations and flavours.
The 28 day plan is great I still use the plan for meals and snacks. It's a great book to have.
Lose baby weight is amazing all the support and information has helped me become the healthy and happy women I am today."
See lots more results and stories here too
How to start with our plans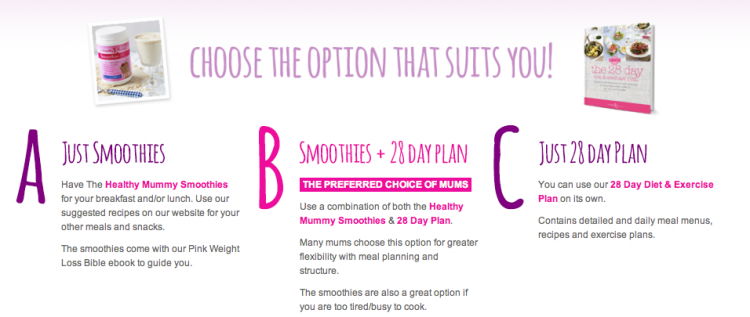 1) You can use our Healthy Mummy Smoothies on their own as a meal replacement shake/smoothie or you can use them in conjunction with our 28 Day Diet & Exercise Plan
2) If you just want to use our 28 Day Plan and not use the smoothies this is fine too as the 28 Day Plan is a daily and detailed food and exercise plan – made for busy mums – and you can either include smoothies into the plan or just follow the meals in the 28 Day Plan. You can preview the plan here
3) Both the smoothies and each of the 28 Day Plan meals are designed to give you optimal nutrition – but of course the smoothies are very fast to make so if you are tired and short on time they are a convenient option and a lot of mums like to mix and match the smoothies with the 28 Day Plan for greater flexibility with their meals.
All purchases come with FULL guidance, information and support so you succeed on your weight loss journey and you can see our shop with all the different plans and products available here
You can also see all the ingredients in the Healthy Mummy Smoothie here and see how they are a 100% natural product free of chemicals, artificial sweeteners, caffeine and fillers

How fast will you get your order
Your order is sent via Australia Post the next working day when you order and if you ordered the 28 Day Plan and book you will have instant access to the bonus ebook so can start straight away
How it works

You can replace your breakfast and/or lunch with a smoothie or choose one of the meals from the 28 Day Diet & Exercise Plan
You eat snacks during the day from our diet plans and snack suggestions on the website
We show you how to incorporate easy, post natal safe and simple exercise into your life – no gym required.
You can use our Exercise DVD which burns approximately 450-550 calories per hour
All smoothie plans come with full guidance and our free ebook Pink Weight Loss Bible
All plans, products and programs have been created by our team of experienced nutritionists and post natal exercise specialists. Our plans are also regularly recommended by midwives and the focus is on safe, healthy and enjoyable weight loss. There is no pressure, no rapid weight loss, no diet pills and no unhealthy methods. This also ensures the weight stays off as you learn a healthy lifestyle and lose weight in a steady and safe way.
Plus all products come with a 30 Day Money Back Guarantee. You can see more on how the plans work here
The Healthy Mummy Smoothie is safe in breastfeeding but is used by breastfeeding and NON breastfeeding mums and our plans are used by new mums, older mums, grandmums and even husbands! Please note if your baby has colic or food sensitivities we do not recommend changing your diet without talking to your Dr.
Prices – from $28
The 28 Day Plan is available as an ebook for $28 or as a hard copy for $45.95 – which also includes the ebook
The Healthy Mummy Smoothies cost $44 (and come in 3 flavours) and are available within our packs or individually
The Exercise DVD costs $39.99
Click HERE to see what a typical food consumption day on our plans looks like
And don't forget you can use code LOYALTY for a 10% discount and in February ALL orders come with our 3 Day Cleanse plan too!