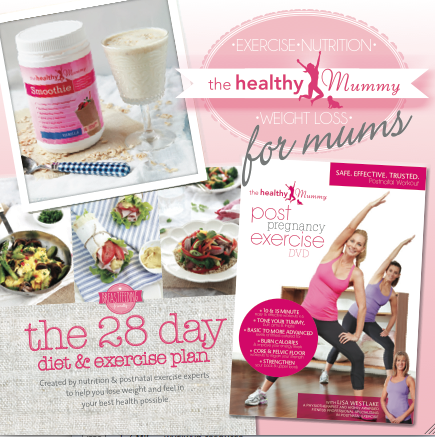 At Lose Baby Weight, we are often asked how the plans work or how long it takes to see weight loss results.
Our whole premise is on healthy eating and living a healthy lifestyle that is not only easy to follow – but especially easy to follow for a busy and time poor mum.
Our plans offer a variety of healthy eating meal plans and healthy eating recipe books, our Healthy Mummy Smoothie meal replacements that are a healthy alternative to the additive packed shakes you find on the market today (you can read about why they are different here and see their ingredients), our Exercise DVD plus extras such as our fish oils, chia seeds and dark chocolate treats.
And one of the things we pride ourselves is looking after our customers and offering as much help, support and advice as possible to support you through your weight loss and so you know you are not alone.
And one of the great parts of our plan is that we have a constant team of Motivating Mums on board who are sharing their own weight loss journey on our plans
You can see our Facebook page for regular updates and posts from our Motivating Mums but below are a few of the amazing Motivating Mum weight loss stories from some incredible mums who have shared their weight loss journey with us whilst using our plans over the past 6-12 months. You can also join our private group here
And you can see LOTS more here too
Tasheena Snow has lost 39kg
The incredible Tasheena Snow has done an amazing job at transforming her health and weight loss on our plans and is a complete inspiration to all the other mums out there to become fit and healthy
You can read Tasheena's most recent weight loss update here
Well done Tasheena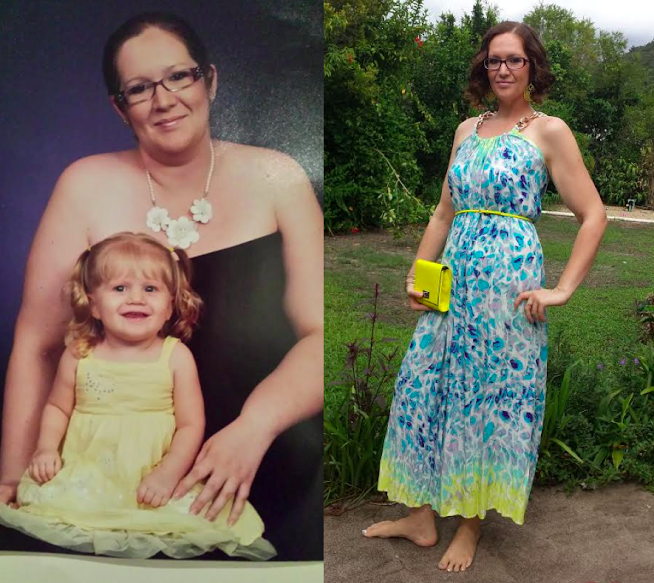 Kat Brown has lost 23kg
The incredible Kat Brown is a very busy mum of 4 and started on our weight loss plans in June 2013. Since then she has totally transformed her health and her weight loss and has been an incredible motivating mum
Kat has kept us updated with her weight loss journey along the way and you can read her most recent update here
Well doe Kat!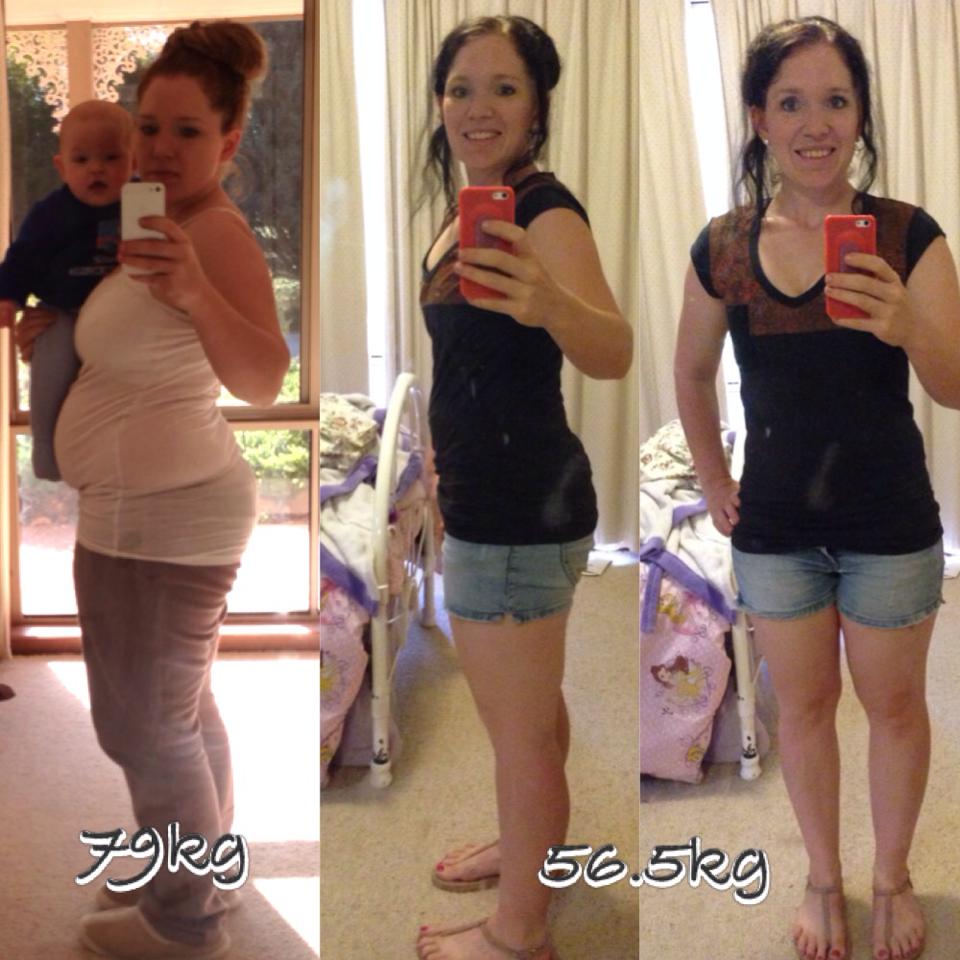 ---
Bozana Smith has lost over 40kg
The amazing Bozana Smith has been using our plans for the last 12 months and has totally transformed her body and health
You can read her most recent update here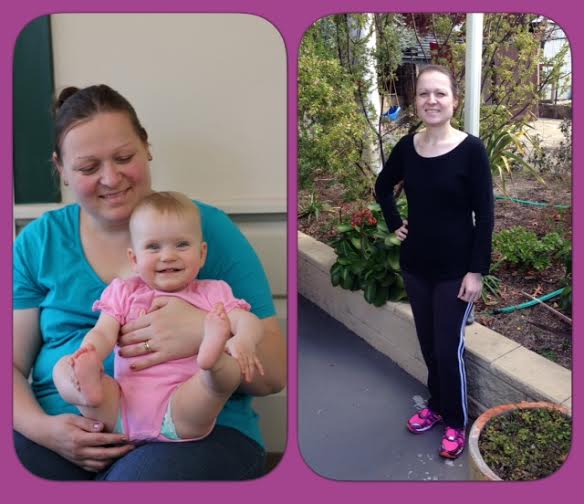 ---
Rachael Hall has lost 32kg
The fantastic Rachael Hall has had huge success on our health and weight loss plans and we have been lucky enough to see her transformation along the way as Rachael has shared her journey
Rachael has totally transformed her body shape and looks incredible and should be extremely proud of what she has achieved
See Rachael's recent update here
Well done Rachael!!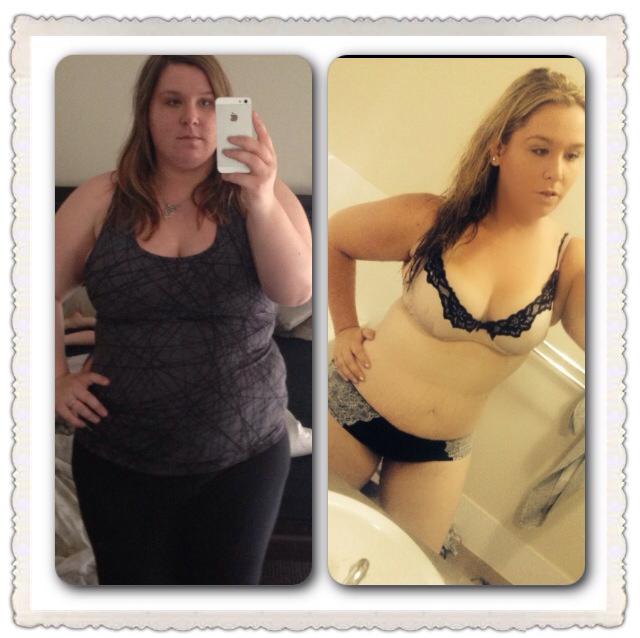 How to start with our plans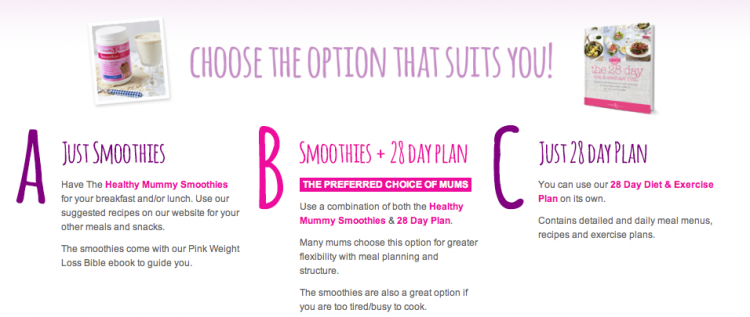 1) You can use our Healthy Mummy Smoothies on their own as a meal replacement shake/smoothie or you can use them in conjunction with our 28 Day Diet & Exercise Plan or our 28 Day Online Challenges
2) If you just want to use our 28 Day Plan and not use the smoothies this is fine too as the 28 Day Plan is a daily and detailed food and exercise plan – made for busy mums – and you can either include smoothies into the plan or just follow the meals in the 28 Day Plan. You can preview the plan here
3) Both the smoothies and each of the 28 Day Plan meals are designed to give you optimal nutrition – but of course the smoothies are very fast to make so if you are tired and short on time they are a convenient option and a lot of mums like to mix and match the smoothies with the 28 Day Plan for greater flexibility with their meals.
All purchases come with FULL guidance, information and support so you succeed on your weight loss journey and you can see our shop with all the different plans and products available here
You can also see all the ingredients in the Healthy Mummy Smoothie here and see how they are a 100% natural product free of chemicals, artificial sweeteners, caffeine and fillers

How fast will you get your order
Your order is sent via Express Post the next working day when you order and if you ordered the 28 Day Plan and book you will have instant access to the bonus ebook so can start straight away
How it works

You can replace your breakfast and/or lunch with a smoothie or choose one of the meals from the 28 Day Diet & Exercise Plan
You eat snacks during the day from our diet plans and snack suggestions on the website
We show you how to incorporate easy, post natal safe and simple exercise into your life – no gym required.
You can use our Exercise DVD which burns approximately 450-550 calories per hour
All smoothie plans come with full guidance and our free ebook Pink Weight Loss Bible
All plans, products and programs have been created by our team of experienced nutritionists and post natal exercise specialists. Our plans are also regularly recommended by midwives and the focus is on safe, healthy and enjoyable weight loss. There is no pressure, no rapid weight loss, no diet pills and no unhealthy methods. This also ensures the weight stays off as you learn a healthy lifestyle and lose weight in a steady and safe way.
Plus all products come with a 30 Day Money Back Guarantee. You can see more on how the plans work here
The Healthy Mummy Smoothie is safe in breastfeeding but is used by breastfeeding and NON breastfeeding mums and our plans are used by new mums, older mums, grandmums and even husbands! Please note if your baby has colic or food sensitivities we do not recommend changing your diet without talking to your Dr.
Prices – from $28
The 28 Day Plan is available as an ebook for $28 or as a hard copy for $45.95 – which also includes the ebook
The Healthy Mummy Smoothies cost $42 (and come in 3 flavours) and are available within our packs or individually
The Exercise DVD costs $39.99
Click HERE to see what a typical food consumption day on our plans looks like
And don't forget you can use code LOYALTY for a 10% discount and in February ALL orders come with our 3 Day Cleanse plan too!