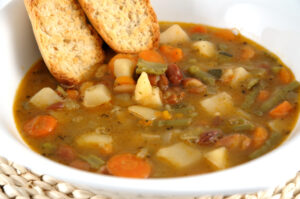 When you're a busy mum who is trying to lose weight, lunch time can be tricky. Whether you've returned to work or are based at home with your bubba, long, leisurely lunches are most likely a thing of the past.
We often plan breakfast and dinner days ahead of schedule, purely due to the need to shop for necessary ingredients or because we have the same thing each day.
Lunch on the other hand, slips through the cracks at times, leaving us with a rumbling tummy at 12.30pm. You may also be on-the-go at that time, at your desk or juggling your own need to eat around that of your newborn, toddler or a mix of the two. Situations like these call for quick, healthy meals that can be prepared and consumed easily.
As the weather gets cooler, you may decide that you fancy something other than your ultra-convenient Healthy Mummy smoothie. A warm, filling lunch is the best way to ensure that you have enough fuel to give you plenty of energy to get through the afternoon. It also means that you won't be as likely to reach for something sweet or savoury around 3pm when tummies that haven't been properly filled start begging for biscuits!
With a little forward thinking and preparation, a nutritious lunch can be all yours. Here are our top suggestions for the quickest, easiest options.
5 quick and easy Autumn lunches
GET YOUR 10% DISCOUNT
If you are ready to lose weight then the Lose Baby Weight plans offer a healthy and safe exercise and diet routine and you can get a 10% discount by using code LOYALTY at the checkout
PLUS our BEST SELLING 28 Day Diet & Exercise Plan has now launched as an 84pg Printed Book and you can get your copy here – with free express postage if you order the book on its own
Click HERE to see our shop