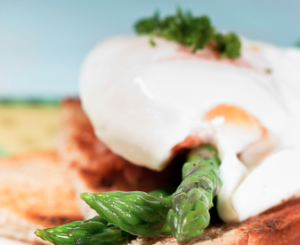 We all know how important protein is when it comes to healthy eating and weight loss. Not only does protein help provide us with the energy we require to function, it also acts as the building blocks for our muscles.
Almost every cell and structure in our body is partly made up of protein, so making sure you're getting enough from your diet is incredibly important.
When we're trying to lose weight, adequate protein intake becomes even more important. High-protein foods take more work to digest, metabolise, and use, which means that your body has to burn more calories to process them. These types of foods also take longer to leave your stomach, so you keep feeling full and satisfied, without the desire to snack again. 
If you're exercising regularly, you're body will also be gobbling up the protein you feed it to help make lean muscle. The more muscle you have, the more efficiently your metabolism will work, so it makes sense to include a rich source of protein in the majority of your meals.
The only problem that generally arises when it comes to protein rich foods is their portability and accessibility. When we think protein, we think meat and it's not always convenient to chow down on a steak/chicken breast/pork cutlet at all times of day. Eggs are a fantastic source of protein, with a single serving containing between 6-8 grams of protein.
Eat two hard boiled or scrambled and you've managed to consume a minimum of 12 grams of protein without even trying. Eggs are also packed full of amino acids, vitamins and minerals and are very low in saturated fat. If you're not a fan of the hardboiled variety, why not try one of the below suggestions? Each make a quick, healthy meal with a minimum of fuss.
Easy as eggs
Mushroom and spinach omlette – An omlette is a great option for serving eggs. You can include whatever veggies you happen to have lying around. Simply saute your heavier veggies, remove from heat and add to a bowl with 2 eggs, your choice of cheese and a sprinkle of salt and pepper. Cook in a hot frypan over medium heat.

Roast vegetable frittata – Take things one step further than an omlette with a frittata. Packed full of veggies and protein, frittata makes a delicious lunch or light dinner. Click here to see our roast vegetable version.
Poached eggs on toast – Poached eggs are a fantastic, low calorie, high protein breakfast or lunch. Serve with your favourite wholegrain bread and other veggies like wilted spinach, tomato or asparagus and you've covered all your nutritional bases.
Beef salad with spicy poached egg – Adding a poached egg to your salad turns a simple meal into something filling and rather delicious. Combine mixed leaves, cucumber and cherry tomatoes in a large bowl. Heat a frypan over high heat and gently sear a lean beef fillet or steak till cooked through. Remove steak from pan and use hot pan to poach 2 eggs. Top leaves with beef, egg and your choice of dressing.
Baked eggs with crunchy potatoes – Place 250g of baby potatoes cut in quarters, 2 red capsicum, cut into strips and 1 red onion, cut into wedges on a baking tray with an edge or baking tin. Place in an oven heated to 180C for approx. 40 minutes or until golden. Remove tray or tin from the oven and make two spaces between the veggies. Crack an egg into each space and return to the oven for 5 minutes or until egg is cooked.
GET YOUR 10% DISCOUNT
If you are ready to lose weight then the Lose Baby Weight plans offer a healthy and safe exercise and diet routine and you can get a 10% discount by using code LOYALTY at the checkout.
Click HERE to see our shop