On the Lose Baby Weight plans we are big fans of the breakfast smoothie to kick start your day and give you a breakfast full of nutrients but if you fancy a change to the smoothie or want to make a big family breakfast below are some healthy and tasty options for you to cook up a storm and will still help you lose weight. And if you want to see over 50 delicious weight loss smoothie recipes click here
Fruit Salad
Fruit salad is probably one of the best breakfasts you can make as it's full of vitamins and nutrients and will also keep you full until lunchtime.
Ingredients:
1 x 425g tin chopped pineapple in juice, drained, juice reserved
1 orange
Handful of blueberries
1 x kiwi fruit
150g seedless grapes
1 apple
2 large strawberries
4 x tbsp of low fat yoghurt (mix 1 x tbsp of protein powder in for an extra protein boost)
1/2 tsp of chai seeds
Method of Preparation:
Peel the orange and segment it, then squeeze out any juice from the rest of the orange and add to the pineapple juice. Stir.
Peel and slice the banana. Slice the grapes in half. Peel the apple, remove the core and then slice into segments.
Toss the banana, pineapple, orange, grapes and apple in a bowl. Pour the pineapple/orange juice over and chill until you're ready to serve.
Sprinkle with muesli or serve with the low fat yoghurt to make this meal a little more substantial. Recipe serves 4, calories per serving: 247.
---
Quinoa Breakfast Muffins
Start the day in the right way with a quinoa breakfast muffin. Perfect as part of a weight loss plan or for mornings when you're on the run but need something healthy.
Packed full of protein, fibre and omega 3, these delicious little morsels are both delicious and nutritious, and the perfect addition to a healthy diet.
Ingredients:
–       2 cups of rolled quinoa
–       1 cup of finely ground almond meal
–       1 cup low fat Greek yoghurt
–       1 cup pie fruit (I use Ardmona Apple pie fruit though you could use Apricot pie fruit or even apple or apricot puree)
–       ½ cup of sultanas or dried cranberries
–       ¼ cup LSA
–       ¼ cup Olive Oil
–       4 eggs
–       2 tbsp. honey
–       2 teaspoons baking powder
–       1 teaspoons ground cinnamon + 1 tbsp. extra for sprinkling
Directions
–       Preheat oven to 160 C
–       Combine almond meal, LSA, baking powder, sultanas/cranberries and cinnamon
–        Fold in rolled quinoa and mix well to combine
–       Add yoghurt, eggs, olive oil, honey and apple and stir to form a thick batter.
–       Allow batter to sit for 10 minutes while preparing muffin tray.
–       Line muffin tray with muffin cups.
–       Spoon batter into cups and sprinkle lightly with extra cinnamon
–       Bake for 40 minutes or until muffin is baked all the way through.
–       Delicious warm or cold and perfect for lunchboxes or with a cup of tea for a mid morning snack.
Recipe makes 8 muffins. Approx 250 calories per muffin
---
Bircher Muesli
Bircher muesli is a great breakfast idea for anyone wanting to lose weight – the cereal is soaked in liquid to make it easier to digest.
Ingredients:
115g rolled oats
250ml skim milk
100g strawberries
1 tbsp. each lemon juice, sesame seeds, pumpkin seeds
30g Almonds
1 grated apple
70g 0% fat Greek yoghurt
1 tsp. runny honey
Method of Preparation:
Mix the oats and milk in a bowl. Cover and leave overnight in the fridge.
The following morning, thinly slice the strawberries. Peel the apple and remove the core, then grate.
Sprinkle the apple with lemon juice to stop it from browning and roughly chop the almonds.
Mix the strawberries, apple, sesame seeds, pumpkin seeds and nuts into the soaked oat mixture.
Spoon the mixture into bowls and top with low fat Greek yoghurt and honey to serve.
Recipe serves 4, calories per serving: 302.
---
Scrambled Egg with Capsicum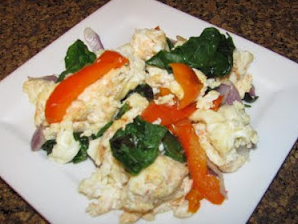 This simple egg whites recipe is a protein packed breakfast that is very low in fat and calories.
Ingredients:
4 egg whites
1 egg yolk
1 red capsicum
1 handful of spinach
1 onion
Oil spray
Salt and pepper
Method of Preparation:
Finely chop the onion. Lightly chop the spinach. Slice the capsicum in half then remove the seeds and pith. Chop the capsicum into chunks.
Spritz a frying pan with oil spray and sauté the onion and capsicum together for 5-10 minutes until softened and sweet. Add the spinach and cook for 5 minutes or so.
Beat the egg whites together then add to the pan. Cook, stirring for 2-3 minutes until lightly scrambled and then season with salt and pepper. Serve immediately.
Have these eggs with toast or finish your breakfast with a piece of fruit and a low fat yoghurt. Recipe serves 2, calories per serving: 159.
---
Smoked Salmon & Avocado on Toast
This simple breakfast idea is full of protein and omega 3, making it an excellent choice for people on the go – it will keep you full until lunchtime and has been shown to help with stomach fat
Ingredients:
2 slices brown bread
1 avocado
2 x scrambled eggs (only use 1 yolk)
4 slices smoked salmon
½ lemon
Black pepper
Method of Preparation:
Slice the avocado in half and remove the stone. Remove the skin and then slice the halves into thin slices. Toast the bread until crisp. Scramble the egg with some sea salt and black pepper.
Arrange ½ the avocado and egg on 1 slice of toast and top with 2 slices of smoked salmon. Finish with a bit of lemon juice and a sprinkle of black pepper.
Recipe serves 2, calories per serving: 270. You don't need butter as the avocado is creamy, meaning the toast won't be dry.
---
Poached Eggs & Asparagus
Serve this up for breakfast instead of eggs and toast soldiers to pack more veggies into your day.
Ingredients:
4 eggs
20 asparagus, woody ends snapped off
Salt and pepper
1 slice wholegrain toast per person
Method of Preparation:
To poach the eggs, bring a pan of water to a gentle simmer. Break the eggs carefully into the water or into a cup and then pour them into the water, and simmer them for one minute.
Take the pan off the heat and leave the eggs in the water for 10 minutes. Serve the eggs straight away, draining the excess water on kitchen towel.
To cook the asparagus, steam it over a pan of boiling water for around 5 minutes.
Sprinkle salt and pepper over both eggs and asparagus and serve.
Recipe serves 4, calories per serving: 106. If you want to, wrap some lean ham around the asparagus spears before steaming.
---
Honey & Cinnamon Muesli
Muesli makes for a wonderful breakfast – just mix with some fresh fruit and yoghurt.
Ingredients:
100g rolled porridge oats
75g mixed nuts
25g pumpkin seeds
25g sesame seeds
2 tbsp. runny honey
1 tsp. ground cinnamon
Method of Preparation:
Mix the oats, nuts, pumpkin seeds and sesame seeds in a bowl with the cinnamon.
Drizzle with honey and top with some low fat yoghurt
Recipe serves 6, calories per serving: 240.
---
Pear & Cinnamon Breakfast Cous-cous
Cous-cous is actually a great breakfast dish, packed full of healthy carbohydrates and pears are full of nutrients.
Ingredients:
1 x 450g tin cooked pears, drained, juice reserved
275g cous-cous
3 tbsp. runny honey
1 tsp. neutral oil, sesame seed oil would work well
½ tsp. ground cinnamon
Hot water
Method of Preparation:
Thinly slice the pears.
Place the cous-cous into a bowl and cover with hot water to around an inch above the cous-cous. Cover the bowl with cling film and then leave until the cous-cous has absorbed all of the water.
Fluff the cous-cous up with a fork. Mix with the honey, oil and cinnamon so that each grain is coated.
Fold the pears into the cous-cous and then serve.
Recipe serves 6, calories per serving: 260. Use tinned peaches or apples if you don't have pears.
---
Baked Mexican Eggs
Ingredients
4 large, free range eggs
1 red onion, finely diced
1 red capsicum, deseeded and sliced into wedges
4 ripe tomatoes, roughly chopped
50g chorizo sausage, diced into chunks
2 tbsp reduced fat cheddar cheese, grated
1 tbsp olive oil
1 tsp smoked paprika
1 clove garlic, crushed
Directions
Preheat the oven to 190C.
Heat olive oil in a frypan over medium heat. Add the onion and garlic and fry till transparent.
When onion and garlic mix is done, add chorizo, capsicum, paprika and tomatoes and cook till everything softens.
Evenly divide the mixture into four shallow dishes and make a well in the middle of the mixture.
Break an egg into each well and sprinkle liberally with grated cheese.
Cook for 10-12 minutes or until eggs are set then serve.
Makes 4 serves – Cal per serve – 201
---
Protein Packed Pancakes
Ingredients:
1 ripe banana
2 eggs
1 scoop of The Healthy Mummy Smoothie powder (any flavour, I used Strawberry)
1 tablespoon of coconut oil
Directions:
In a large bowl, mash the banana well.
Add in both eggs and whisk until well combined.
Sprinkle in a scoop of smoothie powder and whisk until no lumps are present.
Mix in the tablespoon of coconut oil. You should now have a thick, but pourable mixture.
Heat a pan on high and grease with coconut oil.
Pour a quarter of the mixture into the pan. Put the lid on to help the top set (this makes flipping easier!).
Once the edges are golden, flip your pancake over and cook on the other side.
Repeat for the remainder of the mixture, making 4 pancakes in total.
Serves: 4. Calories per serve: 122