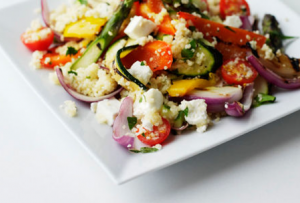 The warmer weather is nearly here! And that means it's time to make the most of all the fresh and healthy eating produce available – so to why not try some new salad recipes that are brimming with flavour and filling, as well as low in fat and calories.
You can enjoy these salads as a main meal – or if you like, scale back the portion and serve them as a yummy side salad.
Chargrilled Vegetable Salad
This recipe combines some beautiful flavours – sweet red capsicum, red onion, courgette and egg plant. The veggies are charred on a griddle pan, then tossed with a lightly spiced vinaigrette and some creamy feta cheese.
Get a FREE 28 Day Challenge recipe sampler by clicking below:



Or you can join the challenge directly here
Ingredients
1 large red capsicum
1 yellow capsicum
1 large courgette
1 egg plant
1 red onion
10 cherry tomatoes
Cooking spray
Salt and pepper
2tbsp. extra-virgin olive oil
1 tbsp. red wine vinegar
½ tsp. each smoked paprika and ground cumin
Salt and pepper
100g low fat feta cheese
1/2 cup of cous cous
Small handful freshly chopped parsley
300g mixed salad greens
Method:
Slice the capsicums in half. Remove the seeds and white pith from the pepper and slice into thick strips. Thinly slice the courgette, discarding the round ends. Slice the top and bottom off of the egg plant, then thinly slice. Peel the red onion, then slice into thin wedges.
Spray the pepper, courgette, egg plant, tomatoes and red onion well with cooking spray. Season well with salt and pepper. Lay the vegetables on a hot griddle pan and cook them until charred on either side. Take off the heat and place into a bowl. Cover the bowl with cling film.
Meanwhile, prepare the dressing. Whisk together the olive oil,vinegar, paprika, cumin and salt and pepper to taste. Crumble the feta.
Soak the cous cous in boiling water and leave for 5 minutes until cooked
Toss together the charred vegetables, discarding any water that may have come out of them, with the salad greens, cous cous and salad dressing. Divide between two plates. Sprinkle with feta and parsley to serve.
Recipe serves 2. Calories per serving: 327.
Get a FREE 28 Day Challenge recipe sampler by clicking below:



Or you can join the challenge directly here
Mums lose an average of 4-6kg (8-13 pounds) on our 28 Day Challenge and below are some of the amazing results from mums JUST LIKE YOU who are already using the 28 Day Challenge and losing tummy fat – make the change and join them today too!
You can see lots of more results and you can join here too
Eliza lost 22kg (48 pounds) on 4 Challenges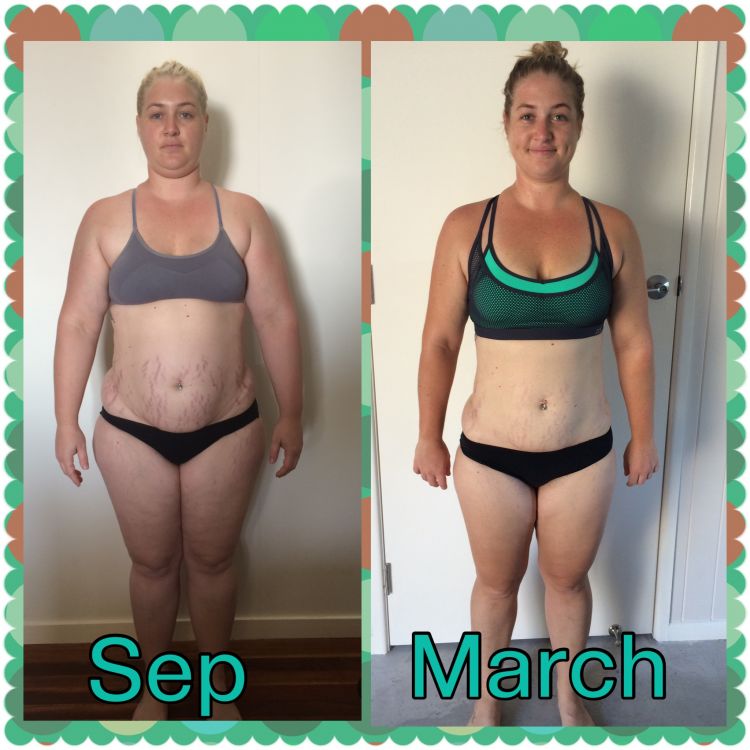 Eliza says "I started in September with my first 28 Day Weightloss Challenge. I lost 8 kg that month. So far I have lost 22 kg. But it is what I have gained which will make me a supporter for life!
Join here
You won't regret it!