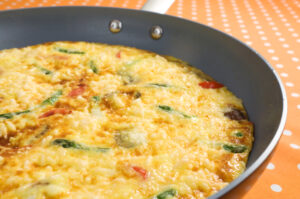 When it comes to healthy eating, the words 'fast' and 'food' rarely crop up. We think of fast food as the stuff you buy from places that start with an Mc or have three letters for a name.
The fact of the matter is though, healthy, delicious food can be made in a jiffy and contains all the goodness of fresh ingredients, without any of the mass produced calories.
Food that can be made in a flash is especially important when you're a busy mum with more than your own mouth to feed. While pottering around the kitchen, stirring sauces and simmering off tender cuts of meat can be highly enjoyable, it's not always practical when there's a kid or two underfoot.
Having a variety of quick and easy recipes in your repertoire means that you're able to create a healthy, weight loss friendly meal, regardless of how long (or little) you've got.
The humble frittata is one of these recipes and makes a great addition to your weekly menu.
Packed full of protein from the egg and tuna, calcium from the low fat cheese and essential vitamins and minerals from the veggies, frittata is a great way to get greens into picky eaters (husbands included), and also makes a fantastic addition to little and big kids lunchboxes the next day.
While we've included capsicum, onion, spinach and fresh herbs, you can be creative and add whatever veggies your family likes best (or you have floating around). Just make sure you cook heavier, starchy items like sweet potato for a little longer at the beginning before mixing in the rest of the ingredients.
Delicious hot or cold and served on it's own or with a salad, this frittata truly is 'fast food' made healthy.
Ingredients
6 free range eggs
1 x 180g tin of tuna in springwater, drained
1 tbsp olive oil
1 red onion, peeled and finely diced
1 red capsicum, deseeded and finely chopped
1 cup baby spinach, coarsely chopped
1/2 cup mushrooms, chopped coarsely
1/2 cup fresh herbs (parsley or chives work well)
1/4 cup reduced fat cheese, grated
Directions
Preheat the grill to medium/high.
In a medium sized bowl, crack and lightly beat all the eggs together before adding the herbs and cheese. Set aside.
Heat a large frypan over a medium heat and add the olive oil.
Once oil is warmed through, add the onion and saute gently until transparent.
Once transparent, add the capsicum and cook gently for approximately 5 minutes until soft.
About 2 minutes before the capsicum is finished, add the spinach to the pan and allow to wilt.
Add the tuna to the pan and use a fork to gently seperate the chunks.
Turn up the heat slightly and carefully pour the egg mixture into the frypan, making sure that it covers all the veggies evenly.
Leave to sit for 3-5 minutes or until the mixture has started to solidify (i.e. it'll be less wobbly).
Once frittata has started to set, place the pan under the preheated grill for 3-5 minutes or until the top has gone from eggy to golden brown.
Remove from the grill and serve immediately.
Makes 4 servings – Cal per serve – 310
If you are ready to lose weight then the Lose Baby Weight plans offer a healthy and safe exercise and diet routine.
And don't forget to check out our current promotions and discounts page to see what specials we have on this week on our Healthy Mummy product range