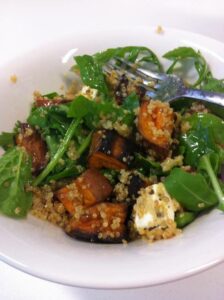 If you've been on the healthy eating and weight loss bandwagon for a little while, you may have heard the term 'ancient grains' tossed around, especially in relation to eating trends like the paelo diet and other, wholefood eating plans.
Ancient grains, as the name suggests, are seeds and grains that have been rediscovered recently, even though they have a long history of being part of human nutrition. Quinoa, farro, amaranth and spelt are just a few of these so-called 'ancient grains' and they're turning up in everything from bread to salads. The general literature suggests that these foods have remained unchanged for centuries, possibly even millenia, meaning that they are generally well tolerated by our bodies as we have been eating them for so long. They also tend to come in their raw form and need minimal, if any cooking or processing to be eaten and digested.
Quinoa is probably the most well know of the bunch and can be found in the aisles of your local supermarket, deli or health food store. Whether it's quinoa flakes, rolled quinoa, or one of the variety of different colours available, this little seed is big news in healthy eating circles. This is largely due to its nutritional qualities. With the highest protein content of any other grain or seed, this gluten free seed is also extremely low in calories and has almost non-existant levels of salt and sugar. Quinoa is also packed with 8 essential amino acids, along with high levels of fibre. It's also low GI and gluten free to boot.
Quinoa makes a fantastic addition to dishes like salads, soups and stews or can be served as a side dish. Before cooking quinoa, it is important to rinse the seeds as they can have a bitter residue, even if they've been pre-washed before packaging. You can use water or even some salt-reduced chicken stock to cook your quinoa, depending on what you wish to serve it with. Click here for more yummy quinoa recipes.
This recipe combines roast pumpkin with leafy greens rocket and spinach, and quinoa that has been lightly toasted before being cooked in a way similar to rice. You could add whatever greens you prefer, or have handy, along with things like toasted nuts or seeds and even some cheese like fetta or goats.
Enjoy!
Ingredients
1/3 cup quinoa, rinsed
1/2 cup water
1 cup butternut pumpkin, cut into chunks
1/4 cup rocket leaves
1/4 cup spinach leaves
Handful parley leaves, chopped
3 tbsp balsamic vinegar
2 tbsp extra virgin olive oil
1 tsp olive oil
1 tsp dijon mustard
Olive or vegetable oil spray
Pinch of sea salt flakes
Directions
Preheat the oven to 180C
Spray the pumpkin with olive oil or vegetable oil spray
Sprinkle with salt
Place in the oven to roast for 35-45 minutes
While pumpkin is cooking, add 1 tsp of olive oil to a frypan or saucepan
When warm, add the quinoa and lightly toast for 3-5 minutes
Once toasted, pour in water and bring to the boil
Once boiling, reduce heat to a simmer and cover
Allow to simmer for 10-15 minutes or until quinoa has absorbed all the water and become fluffy
Before serving, mix quinoa, roast pumpkin, spinach, rocket and parsley together
To make dressing, whisk remaining olive oil, balsamic and mustard together and drizzle over salad.
Makes 1 serving – Cal per serve – 320
Need to stock up on Healthy Mummy Smoothies? Then see our shop here
And join our 28 Day Weight Loss Challenges here