Every month, a mum who is on the Lose Baby Weight plans will be writing about their journey, exercise, ups and downs and will be here to help motivate YOU and THEMSELVES along the way.
If you'd like to become our Motivating Mum for the month click here to find out more (we pay you for it too!).
Motivating Mum Kat Brown has 4 kids to look after, which shows that even when you're busy it's still so important to be fit and healthy.
You can read some of Kat's previous posts here and here.
Over to you, Kat!
'A lot happens when you lose weight. 
It is a massive journey that we go on.
We face fears, try new foods, step out of our "comfort" zone.
For me, it has been a journey of self discovery, learning to be proud of how I look and how important it is to be happy, fit and healthy.
Thanks to the 28 Day Plan and the Healthy Mummy Smoothies I have been able to slowly re-discover the happy, healthy and confident woman that had been hidden under 4 kids worth of baby weight.
I can finally look in the mirror without being ashamed and unhappy with the person I see.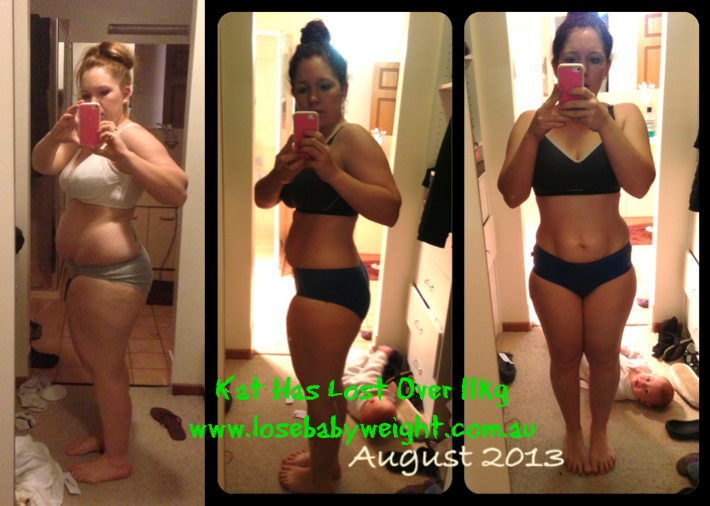 I am only half way through my journey but I am excited now to see the end result!
One of my long term goals that I have set myself is to love myself more and to stop criticising myself.
So I have decided to take a BIG step and to be proud of myself and how I look no matter what size I am and send in a picture of myself before (June 2013) and now (August 2013) of me in my undies that I was too ashamed to send in before.
This is a MASSIVE step for me as I don't even let my husband look at me in my undies (even though he has always told me I look beautiful)
As I said in my last post I was going to have to get a bit more creative with my exercise as all of my kids have changed their routines and what not.
So it has been a challenge to say the least! LOTS of trial and error.
I now have a few different exercise routines that I can do (dependant on weather and kids moods).
My first one is to get up BEFORE my kids (this is VERY early, usually after an early morning feed) and go for a walk/run on the treadmill. I opt for this if I have had a bad night with my 8month old, it really clears my (tired) head and gives me the much needed boost to start the day (instead of coffee!).
My second is to load the kids up in the double pram and two on bikes and walk/run the length of the driveway (around 200 metres) and go up and back for 30-45mins. I do this if the weather is sunny or the baby is fussy as he (finally!!) loves the pram.
My third is if it is raining I chase my kids while they ride their bikes around our house. We are fortunate to have a veranda all they way around our house so it is perfect for those rainy days.
My last one is to get a little me time and have my two bigger boys minded while my daughter is at school and I take the baby for a walk/run. I REALLY like this as I get to pump my music and have a good break. I have only done this once but the option is there to do it more often if I like which is wonderful.
There are also lots of other incidental exercises that we often forget about like mowing the lawn (I love this!) or gardening, chopping wood, vacuuming, mopping the floors or I like to race my kids up and down the back yard to see who can win.
I have still been doing my 200 squats a day and the leg routine off the web site as well as the exercises from the 28 Day Plan.
I have mixed it up a bit with my squats adding in SUMO squats as well, man what a killer they are – I love them!
I have also been adding in intervals of running. So if I'm outside I will walk for one block then run for one block and run up every hill. It is a GREAT way to challenge yourself with your fitness.
If I'm on the treadmill I run for 2 mins then walk for 5; and I will be working on increasing my running times.
I have still been trying a new smoothie everyday (I love it!) and I think I have almost tried them all so I will start again.
My new favourite is the Chocolate and Coconut Smoothie – I have been having this in the morning instead of a mocha as I'm cutting back my coffee intake and it's really yum!
My favourite meals from the 28 Day Plan have been the San Choy Bow and the fish with stir fried veg. I really find it hard to pick favourites as they are all SO yummy!!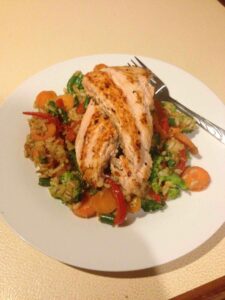 My favourite recipe off the web site has been the Peanut Butter Chicken with Noodles. I have mine with brown rice and I LOVE IT! Feels like such an indulgence!
I have had a bit of a bad spell with getting sick for a week (again!) and that put me in a bad head space. So I got some GREAT advice from Rhian and I made myself some new short term and long term goals.
I highly recommend re-assessing your goals and motivation if you have hit a bit of a rough patch – it worked wonders!
I have still been committed to not weighing myself and it has been really hard for me as seeing the scales go down is such a BIG motivation.
But it is great to focus more on being fit and healthy than being obsessed with what weight I am.
I have decided to weigh in on the 1st September as I will need a little motivation for the Get Ready For Summer Challenge.
I will only be weighing myself on the 1st of each month from now on as I am really enjoying focusing on having a healthy and fit lifestyle rather than losing weight.
My measurements at the moment are:
Bust: 88cm down 1cm
Waist: 70cm down 3cm
Hips: 88cm down 1cm
Thighs: 56cm down 2cm
I hope you are all as excited as I am about the Get Ready For Summer Challenge!!
I CANNOT WAIT!!
Bye for now.'
xoxo
– Kat Brown
 
GET YOUR 10% DISCOUNT
If you are ready to lose weight then the Lose Baby Weight plans offer a healthy and safe exercise and diet routine and you can get a 10% discount by using code LOYALTY at the checkout
PLUS our BEST SELLING 28 Day Diet & Exercise Plan is available as a 200pg Printed Book and you can get your copy here 
Plus our NEW CALORIE BIBLE is now available – get your copy today! Only $19.95 and a must have in your handbag!
Plus don't forget to sign up for our Get Ready For Summer Challenge – it's free and you can sign up here.
Click HERE to see our shop