Every month, a mum who is on the Lose Baby Weight plans will be writing about their journey, exercise, ups and downs and will be here to help motivate YOU and THEMSELVES along the way.
If you'd like to become our Motivating Mum for the month click here to find out more (we pay you for it too!).
Motivating Mum Kat Brown has 4 kids to look after, which shows that even when you're busy it's still so important to be fit and healthy. She has already lost over 9kg and you can read her previous posts here and here.
'Hi everyone,
What a week we have had! We have definitely been hit with the winter blues with all four of the kids and myself getting a very bad cold.
I have still been following the 28 Day Plan and having the Healthy Mummy Smoothies for breakfast and lunch – and what a lifesaver!
No stressing over what to cook and super healthy, which kept my energy levels up whilst being sick and being up all night!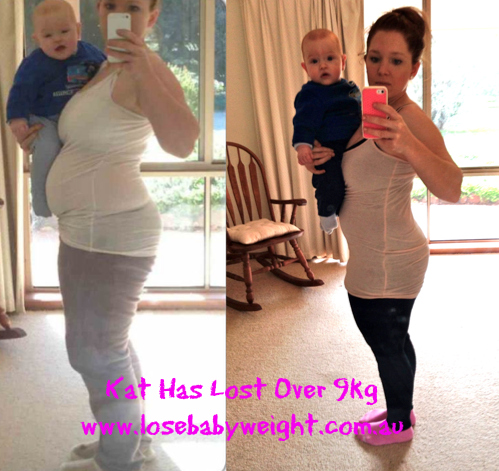 I have found that being sick I was VERY tempted to have the comforting high fat meals for tea, but instead I opted for the 28 Day Plan and if a recipe had salad I had steamed veg instead and it was a lot more comforting.
With the kids and myself sick I haven't been able to go for a walk for the past week (and I really miss it!) so I have opted for my circuit of exercises off the website.
This involves arms, legs and core, my 150 squats a day and doing my exercises from the 28 Day Plan so I am still seeing some results and staying as active as I can.
So this week I thought I would share some of my shopping tips:
buy items that are on special
buy in bulk when things are on special (if you can afford to)
opt for home brand items, they are often just as good (sometimes better) than the branded products
use your freezer! I freeze almost everything!
buy your fruit and veg from a green grocer or market, compared to the supermarket prices – you can save a small fortune!!
buy fruit and veg that is in season
freeze your fruit for your smoothies
buy meat in bulk when on special or reduced, and freeze it in portion sizes. Look at the meat prices at your local butchers, they may have good prices on bulk meat packs like premium mince etc.
also look at the tips from the Lose Baby Weight website- very helpful!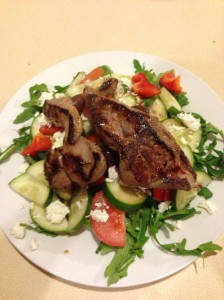 I buy in bulk for most things as we can afford to do so.
Our weekly food bill averages out to be $250-300 for 6 people (including two kids in nappies)
I eat from the 28 Day Plan but my husband and kids eat recipes from the website.
This week one of my goals was to have a new smoothie recipe off the website for lunch each day.
Some of the flavors I have tried have been banana nutberry, high fibre, banana oat and honey, and banana and almond.
Another one of my goals was to try my very first green smoothie and as frightening as it was (I don't know why?!) it was DELISH!!
I made the kiwi and spinach smoothie from the website and it was smooth, thick and tangy….so good!
I have been challenging myself this week with another one of my goals, to do 150 squats a day and with being a bit unwell they were the perfect exercise to get my heart racing without a huge effort.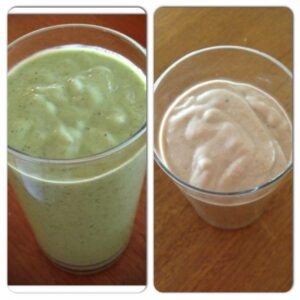 So my goals for next week are:
To go for a walk each day.
To continue with my 150 squats a day.
To do 50 lunges a day.
To try at least 3 recipes off the website for myself for tea.
My measurements for this week are:
Weight: 64.8 kg down 500grams (OMG UNDER 65!!)
Bust: 90cm no change
Waist: 74cm down 1cm
Hips:92cm down 2cm
Thighs:62cm down 1cm
I hope you are all feeling well in this winter weather but if you are unwell don't beat yourself up if you can't get out and exercise. Keep up your healthy eating and you will be back to it in no time!'
– Kat Brown
 
GET YOUR 10% DISCOUNT
If you are ready to lose weight then the Lose Baby Weight plans offer a healthy and safe exercise and diet routine and you can get a 10% discount by using code LOYALTY at the checkout
PLUS our BEST SELLING 28 Day Diet & Exercise Plan is available as an 84pg Printed Book and you can get your copy here 
Plus our NEW CALORIE BIBLE is now available – get your copy today! Only $19.95 and a must have in your handbag!
Click HERE to see our shop