Every month, a mum who is on the Lose Baby Weight plans will be writing about their journey, exercise, ups and downs and will be here to help motivate YOU and THEMSELVES along the way.
If you'd like to become our Motivating Mum for the month click here to find out more (we pay you for it too!).
Last week we introduced Motivating Mum Kat Brown. With 4 kids to look after, Kat is showing us that even when you're busy it's still so important to be fit and healthy and so far Kat has lost 8kg!
'Sunday was a tough day for me with not having much sleep and a very, very fussy 6 month old.
I only had a walk of 15mins (I carried him on the treadmill) and instead of beating myself up about it, I reminded myself that I am a mum and any exercise is good exercise!!
I also got the "overtired sweet tooth munchies" on Sunday night, so I made the hot chocolate smoothie recipe off the website… YUM!!
It was so thick I ate it with a spoon and it was like warm chocolate pudding. It felt like the biggest reward after such a tough day!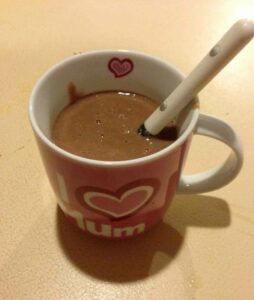 Before I started on Lose Baby Weight I had already made the choice for my family and myself to eat healthier, but my downfall was always my portion size.
I was eating way too much in one meal and not snacking enough.
Lose Baby Weight has already taught me so, so much! Like how much of a difference swapping from white to wholemeal can make.
It really isn't that bad, I think it's better and my kids didn't even notice the change. You eat less of it so it is saving you money as well!
I still have so much to learn and that's why I love the daily emails as they are on a new weight loss or food topic each day.
I am sticking to the 28 Day Diet and Exercise Plan and I love it, it is a life saver!
So easy and quick to prepare and I LOVE that dinner is a larger meal.
The snack choices are amazing, my favorite is toast topped with an egg or if I'm craving something sweet toast topped with peanut butter and banana – yum!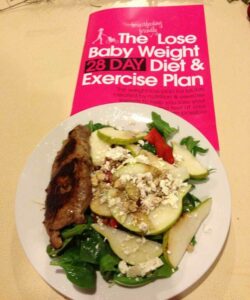 I normally do all of my food prep when I cook my kids' tea in the afternoon, that way when it comes to my tea time it's even quicker for me to cook.
My favorite recipe from the 28 Day Plan this week has been the steak with salad, yummy and easy!
My favorite smoothie for the week has been the choc coconut smoothie off the website, so yummy!!
I have been finding extra ways to fit exercise into my regular day.  I do squats when I hang out the washing, I do push-ups over my baby (while my 21 month old climbs on me) and they all think it is hilarious!
I have also started doing a lot more dancing with my kids, my daughter loves to dance and one of my little boys loves me to hold him and dance (he is 15kg!) so that is a great workout!!
I have found that when I am feeling a bit down I do some crunches and I get that instant energy boost that I need to keep me going.

I have had 5 days where I have had a walk for 30 mins so I am very happy that – I have completed my first goal for the week!
I have been working on my core this week and I have tried out several of the core building exercises off the website and my favorites are the toad and planking.
My husband was home this week (he works away for 2 weeks then home for 1 week) and it was the first time he had seen me since I had started on the 28 Day Diet and Exercise Plan.
His reaction was the best motivation I could have asked for!  He could not believe the results!

My goals for next week are to:
increase my reps of my 28 Day Plan Exercises
try some of the arm exercises off the website (to help get rid of those wobbly bits!)
try some new smoothie recipes off the website for lunch
My stats this week are:
Weight: 66.8kg (down 1.2kg)
Bust: 90cm (no change)
Waist: 77cm (no change)
Hips: 94cm (down 3cm)
Thighs: 64cm (down 2cm)
The following quote has put life back into perspective for me and given me a lot of motivation this week – I hope it does for you too!'
"I have found that if you love life, life will love you back-  Arthur Rubinstine"
– Kat Brown
 
GET YOUR 10% DISCOUNT
If you are ready to lose weight then the Lose Baby Weight plans offer a healthy and safe exercise and diet routine and you can get a 10% discount by using code LOYALTY at the checkout
PLUS our BEST SELLING 28 Day Diet & Exercise Plan has now launched as an 84pg Printed Book and you can get your copy here 
Click HERE to see our shop