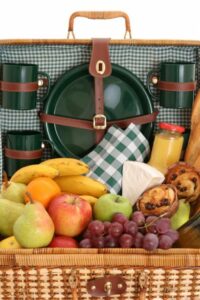 The warmer months are the perfect time to indulge in some al fresco dining. While the quintessential BBQ will always be a favourite, a summer time picnic is equally as enjoyable.
Packing for a picnic lunch or dinner with friends and family can be tricky when trying to lose weight or stick to a healthy eating plan.
Creamy salads, salty snacks and fried meats are often piled into picnic baskets due in large part to the fact that they are easy to transport and don't tend to spoil when sitting pretty in the great outdoors.
These kinds of foods are ones that we tend to avoid when focusing on weight loss, which can make stocking your basket seem a difficult task.
Fortunately, there are plenty of delicious, low fat foods that are perfect for picnics, it's just a matter of looking past the usual chips and dips and being a little more adventurous.
Here are our top suggestions for a healthy, weight loss friendly picnic basket (that will be the envy of all your friends and family!)
Healthy picnic basket essentials
White bean dip 
1 x 400g tin cannellini beans
1/2 tbsp olive oil
1 x clove garlic, crushed
1/4 cup reduced salt chicken stock
2 tbsp lemon juice
Heat olive oil over medium heat in small saucepan before adding garlic. Saute till garlic is soft, then add beans and chicken stock. Simmer for 5 minutes then remove from heat. When cooled, blend with a stick blender and add lemon juice.
Choose veggies over chips – Forget salty potato chips for dipping and snacking. Raw veggie sticks are the perfect accompaniment to one of the above dips and are devoid of salt, sugar and other additives. Carrot and celery are your usual options, but why not try red or green capsicum or radish!
Stock up on salad – A simple, fresh salad is the perfect side dish for a hot day. When people think of salad, they often think of a few wilted leaves and a couple of straggly tomatoes. Change their minds with one of these delicious recipes. Chicken, beetroot and goats cheese, exotic Chinese chicken or roast pumpkin and sweet potato, are all super simple to prepare and travel well. Just pack an ice brick in your basket to keep ingredients fresh.
Be sandwich savvy – Choosing wholegrain or rye bread, lean meats, like chicken breast and piling on the salad makes your standard sandwich both healthy and delicious. Steer clear of mayo and other creamy spreads and instead opt for avocado with a few spritzes of lemon juice or reduced fat ricotta or cottage cheese. Check out our selection of low fat lunch ideas for other options.
Choose the sweet stuff wisely – A picnic wouldn't be a picnic without some sweet treats. Try taking along a healthy slice, like this nutty oat and honey version, yummy quinoa muffins or fresh fruit on skewers for a tasty, low calorie end to the meal.
Tasty tipples – A bottle of wine or cold beer is a usual suspect in the picnic basket. If you're pregnant, breastfeeding or trying to lose weight and steer clear of alcohol, a yummy alternative is this sparkling berry mocktail. Before you head out on your picnic, simply blend 2 cups of your favourite fresh or frozen berries with a tablespoon of honey and spritz of lemon juice. Place in a airtight flask. When you're ready for your drink, pour a few glugs of syrup into a cup and top with cold mineral water and ice (if available). Mix with a straw and you're done! Yum!
If you are ready to lose weight then the Lose Baby Weight plans offer a healthy and safe exercise and diet routine.

And don't forget to check out our current promotions and discounts page to see what specials we have on this week on our Healthy Mummy product range