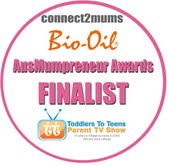 We are extremely excited to announce that we have made it through to the finals of the AusMumpreneur Awards of the Year 2011 (out of more than 250 entries) and are in two categories – one in the Judges Choice Emerging Mumpreneur of the Year (You can see our press release on us being a finalist here) and one in the People's Choice Best Customer Service.
We launched our healthy eating and pregnancy weight loss business on October 1 2010 and are absolutely thrilled to be recognised as one of the leading Mumpreneur business' across Australia and New Zealand.
Before we launched the Company last year we did extensive research with mums about the difficulty in losing baby weight and quickly discovered that there was very little support for mums to help their lose their weight and that research has been confirmed with the huge amount of mums that have embraced our business and joined the Lose Baby Weight plans
Our passion is around helping mums get fit, healthy and lose weight and it gives us such pleasure to be able to help so many mums and the we absolutely LOVE getting the testimonial weight loss results and stories from mums on the plans sharing their success.
It has been an absolutely CRAZY 10 months since we launched the business (including me having my own little baby and losing my baby weight) but I wouldn't change it for the world and I cannot thank everyone enough for all the support and encouragement that has been shown to us which has made us smile every day!
---
Incase you are new to us – here is a recap of what we offer and what help and services we have on hand to help you get healthy and lose weight:
Weight Loss Support
Recipes
Exercise
Mothering Help
We feel very privileged to be able to help so many mums and we pride ourselves in giving the best service to every mum possible and we thank you for all of your support 🙂
---
If you would like to vote for us in the People's Choice Award please follow the below steps:

To vote you need to go to this link

Then you need to sign up to Connect2mums – this is just an email sign up so nice and easy
Then when you are registered you go to the BEST CUSTOMER SERVICE PEOPLE's CHOICE AWARD and in there you will see the Lose Baby Weight album and pics.
To vote you just click the "LIKE' button and all done
Plus as a member of Connect2mums you have access to a whole range of free tools, advice and info – so great for all mums – especially if you are in business!!
I know this isn't as easy as just voting as you need to sign up but it would mean so much to me to have your vote and as a thank you for your time we are giving everyone a 10% discount off all of our plans – just use code JAN11 at the checkout.
And finally – a HUGE thank you for all of your support of our business – it has been an AMAZING year and extremely rewarding to work with so many amazing people and help so many mums lose their baby weight with the current total weight loss of mums on our plans at 12,000kg – AMAZING!