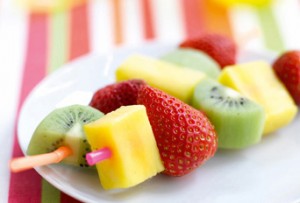 It's so much fun to have friends and family over for a meal on the weekend.
But when the responsibility for feeding everyone falls on you (and let's face it, that happens!) it can get a tad stressful.
So today we have some ideas for catering that don't involve turning on a BBQ, stove or oven.
They are healthy too (but no one has to know).

Rice Paper Rolls – who doesn't love these tasty little morsels? Read our too easy recipe here.
Cooked BBQ Chicken – serve the drumsticks and wings along with the breast meat on a large platter to go with some fresh salad. Or you could use the chicken meat to make burritos or sandwiches. Read even more ideas here.
Dips and dippers – we love freshly made dips and there are so many gorgeous recipes like beetroot dip, hommus and tzatziki over here and a chunky guacamole too. Serve with a platter of carrot and celery sticks, cherry tomatoes, crackers, capsicum strips or baby corn.
Cooked Prawns – buy prawns already cooked and save yourself the hassle of BBQ'ing. Serve with fresh lemon wedges and some minty yoghurt dipping sauce.
Cold Meats – serve up a platter of cooked cold meats from the deli. Think turkey, roast beef, ham, or roast pork.
Sushi – many restaurants offer party platters that can serve many people. Go for the options that are not deep fried or covered in creamy dressings.
Antipasto – hit the deli counter and stock up on olives, stuffed capsicums, vine leaves and feta. Serve with some good quality crackers or croutons.
Cous Cous Salad – if you can handle boiling the kettle, why not cook a little cous cous and toss through some canned corn, chopped tomato, fresh coriander and some spring onions. Pour over some olive oil and a squeeze of fresh lemon. For even more salads click here.
Brushetta – if the toaster isn't too much like hard work, slice up some sour dough and cook until golden brown. Top with chopped tomato, red onion, chopped garlic and fresh basil.
Fruit skewers – chop up some fresh fruit such as watermelon, pineapple, berries, and kiwi fruit. Cover with lemon juice and then thread onto wooden skewers to serve as dessert.
Berry and Yoghurt Cups – place some blueberries and chopped strawberries into cups and top with natural yoghurt. Crumble over some nuts and sprinkle with cinnamon.

GET YOUR 10% DISCOUNT
If you are ready to lose weight then the Lose Baby Weight plans offer a healthy and safe exercise and diet routine and you can get a 10% discount by using code LOYALTY at the checkout
PLUS our BEST SELLING 28 Day Diet & Exercise Plan has now launched as an 84pg Printed Book and you can get your copy here – with free express postage if you order the book on its own
Click HERE to see our shop