If you are a meat loving family, but would like to include more healthy eating vegetarian options in your week – read on.
Today we are sharing our favourite vegetarian dinners that will be enjoyed by even the biggest fans of lamb, beef, chicken or pork.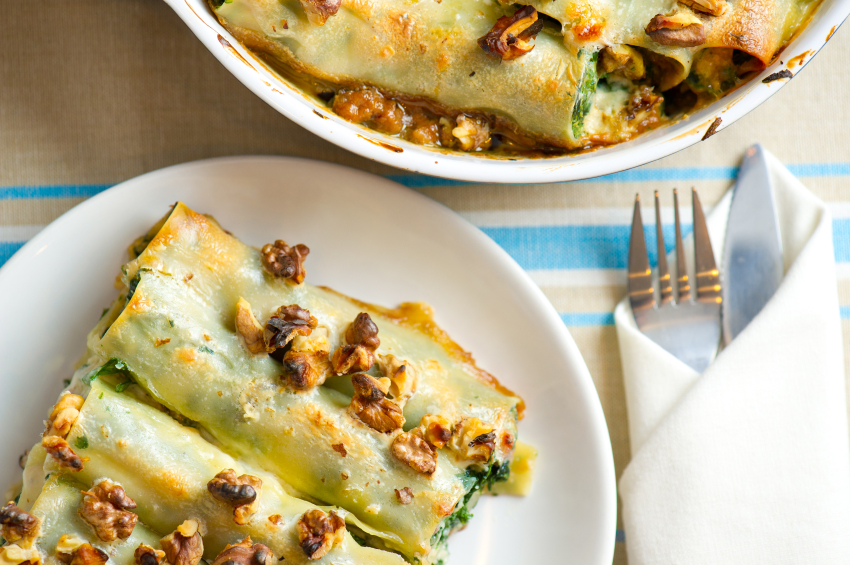 Going vegetarian for a few meals each week is not only good for your health, it's also good for your wallet. Meat is often the most expensive part of a main meal, whereas veggies and legumes are relatively cheaper.
Whether you are vegetarian or just looking for ideas – why not check out the printed version of our Healthy Mummy Vegetarian Cookbook, or if you prefer we also have it as an eBook.
Spinach, Mushroom & Ricotta Cannelloni
326 cals
Pictured above, this is pure comfort food, and you won't even miss the meat with the lovely cheesy sauce. Nobody will guess that it is a low-calorie dinner.
Recipe here.
Healthy Mushroom Risotto
258 cals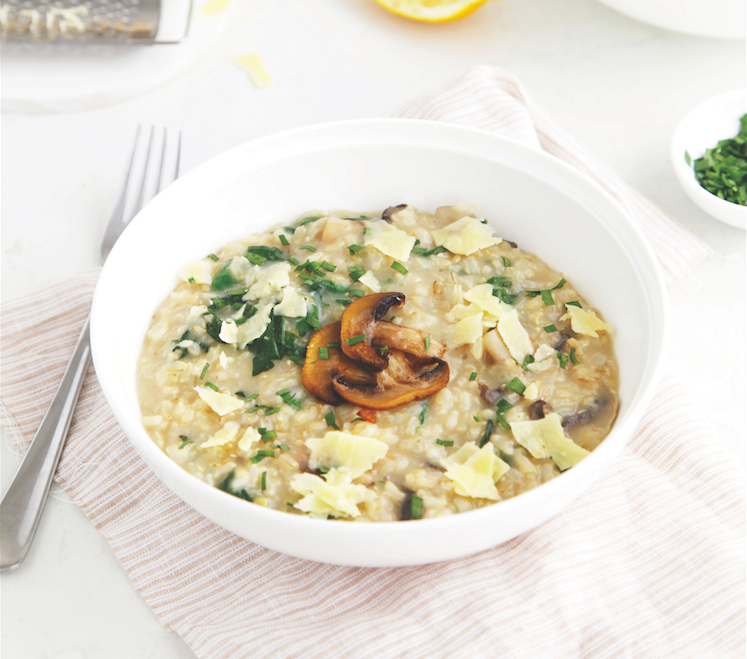 Feel free to throw in any other veggies that you have to hand, but mushrooms are known to be quite a meaty texture.
Recipe here.
Curried Cauliflower Parcels
303 cals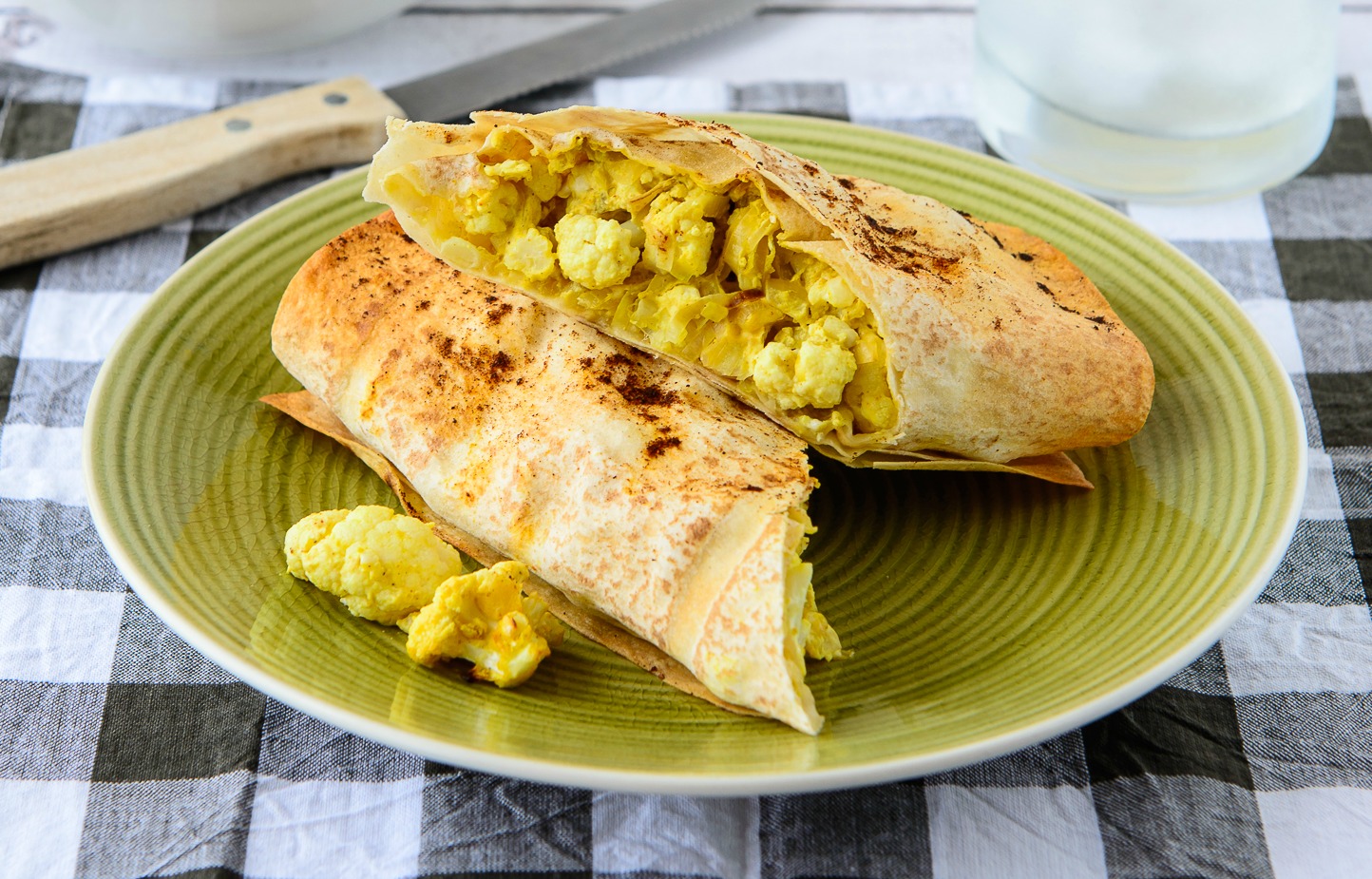 This recipe has been a massive hit in our Healthy Mummy Vegetarian Cookbook. And with good reason – it's absolutely delicious. We are sharing this recipe with you today, to show you another good reason to check out our cookbook.
Ingredients (Makes 4 serve)
2 & 1/2 teaspoons extra virgin olive oil (12.5 mls)
5 cups cauliflower (500 grams)
1 brown onion (100 grams)
1 & 1/2 leek (120 grams)
1 teaspoon curry powder (1 grams)
1 teaspoon ground cumin (1 grams)
1 cup light cream cheese (320 grams)
4 wholemeal Mountain Bread wrap (100 grams)
cooking oil spray
2/3 teaspoon smoked paprika (0.6 grams)
Method
Preheat oven to 180C.
Heat a non-stick frying pan over medium heat and add the olive oil. Finely slice the leek, dice the onion and break cauliflower into small florets. Add to the pan and sauté for 3-5 minutes until soft.
Remove pan from heat and stir through the curry powder, cumin and cream cheese.
Place cauliflower mixture down the centre of the bread wrap and roll to enclose. Place seam-side down on a baking paper lined tray and lightly spray with cooking oil spray and sprinkle with paprika.
Bake for 15 minutes or until nicely browned then serve.
Mexican Veggie Nachos
310 cals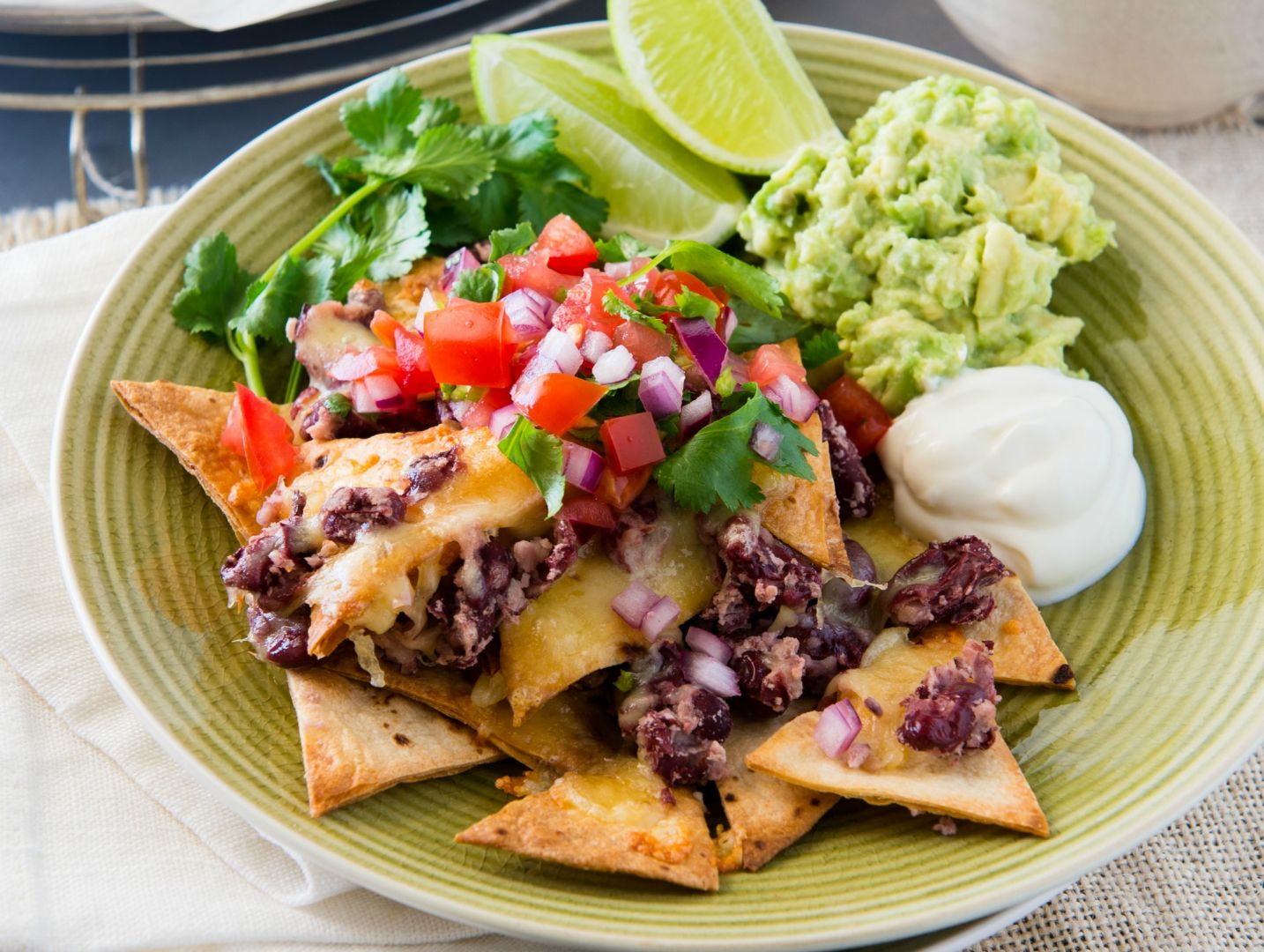 Mexican doesn't need to be a calorie blow out or a meat fest – this healthy recipe proves that. The whole family will devour this one.
Recipe here.
Baked Stuffed Sweet Potato
402 cals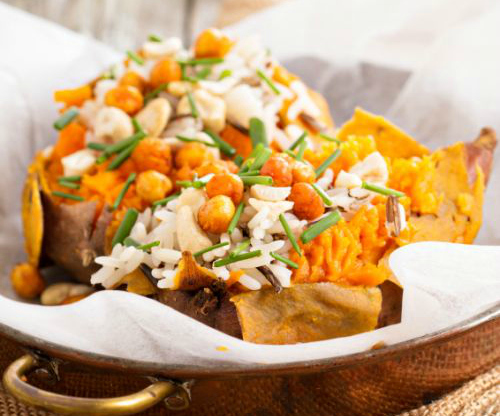 Packed with fibre and super filling, you can pretty much stuff anything you like into these baked sweet potatoes. This recipe opts for chickpeas, cashews, rice and fresh herbs, as well as creamy cottage cheese. YUM.
Recipe here.
Simple Vegetarian Chill
160 cals

Perfect for a cooler night, this vegetarian chilli is a bit like a meat free bolognese. The best part is that you most probably have all of the ingredients at home right now.
Recipe here.
Spring Onion Fritters With Minty Whipped Feta
363 cals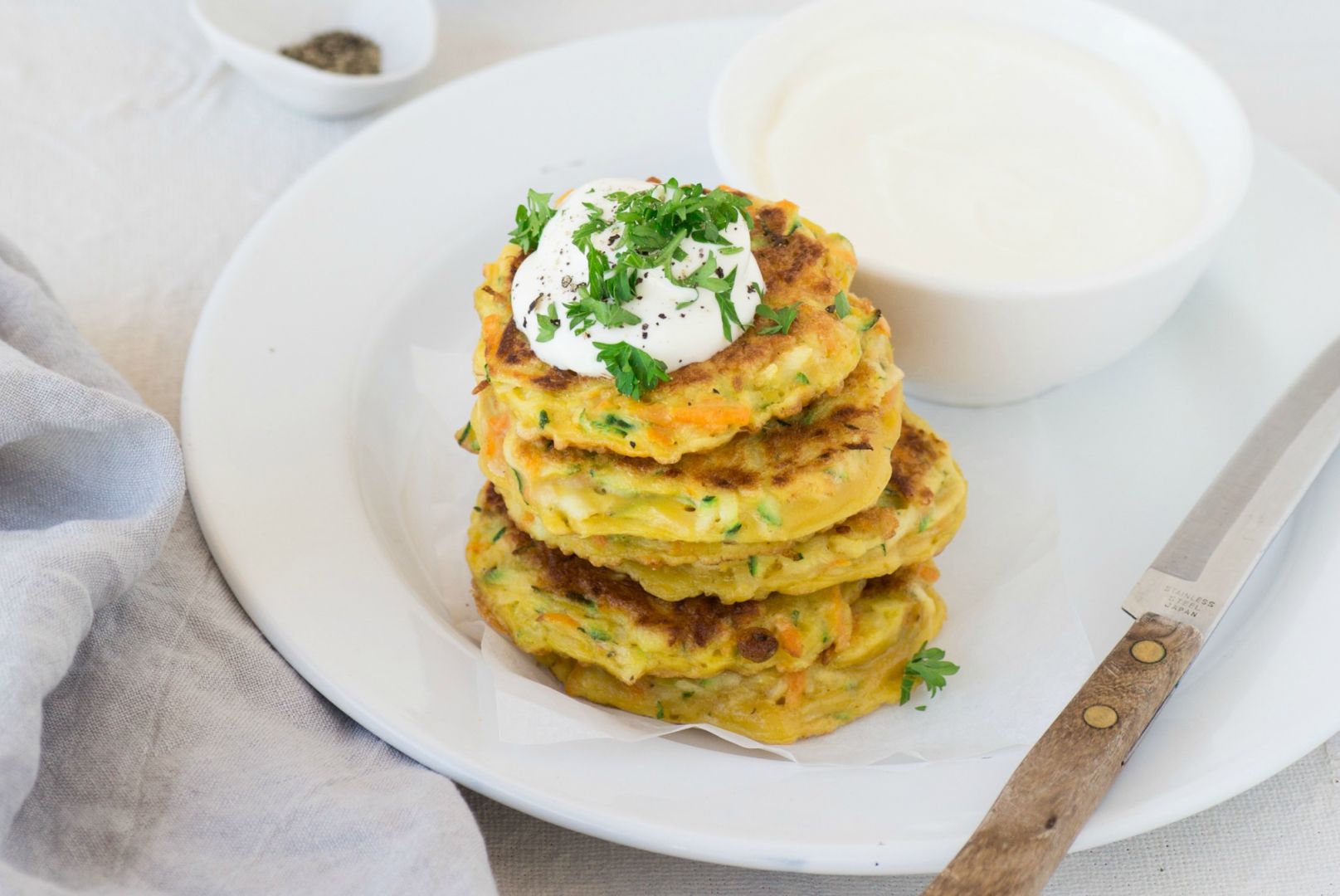 Feta, herbs, spring onions – this is a flavour bomb just waiting to be served up with a big salad or steamed veggies. Make it gluten free by using almond meal.
Recipe here.


Every month on the 28 Day Weight Loss Challenge, we run a BRAND NEW 28 Day Menu with a different theme so you NEVER get bored!
Next months theme is the SLOW COOKING AND ONE POT WINTER WONDERS! – Perfect for the chilly winter weather, SUPER easy to whip up and still just as healthy.
If you are curious about the 28 Day Challenge recipes then we have a 28 Day Challenge recipe pack for you to try HERE.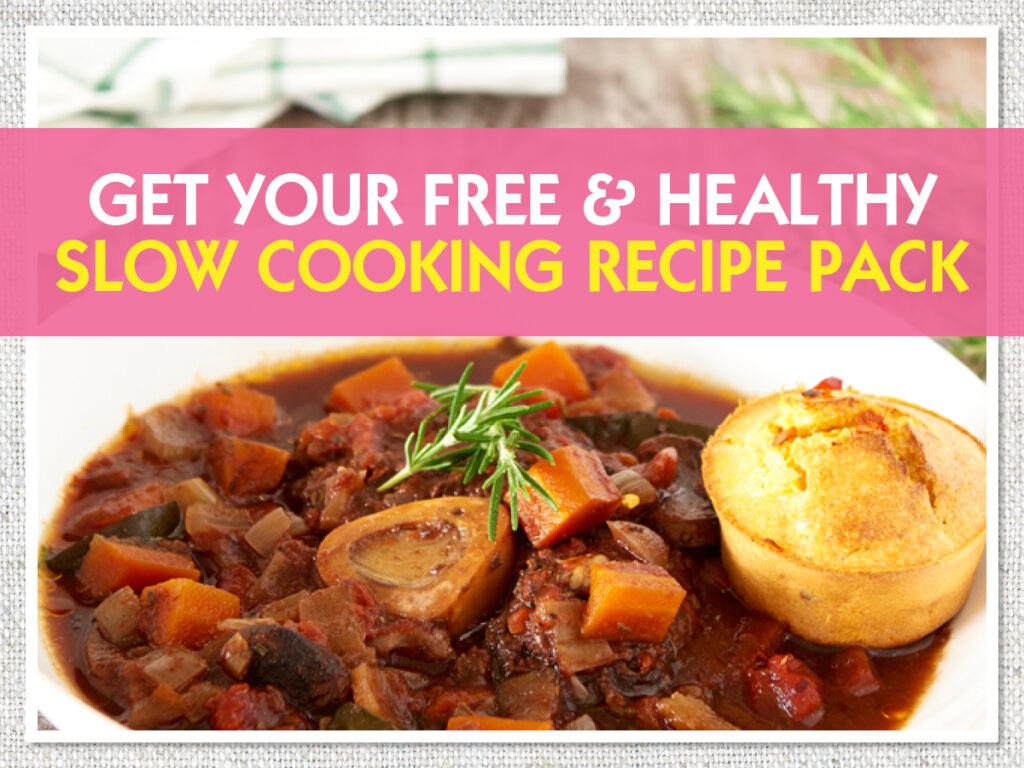 Find a delicious range of healthy recipes, packed full of energy boosting ingredients and nutrients together with easy to achieve exercise.