Having a rotation of quick, easy to prepare vegetable and legume based dishes is one of the keys to losing pregnancy weight.
Many weight loss plans focus on fresh vegetables and legumes because they are high in fibre, filling and packed with nutrition, yet are low in calories, making them a weight loss friend.
This easy recipe for Baked Stuffed Sweet Potatoes is a filling, delicious dinner or cooked lunch option that the whole family will love.
The recipe can be tailored to include your favourite vegetables, beans, herbs and spices, so feel free to experiment and add things like chopped capsicum, chilli flakes, dried oregano, canned corn and jalapenos.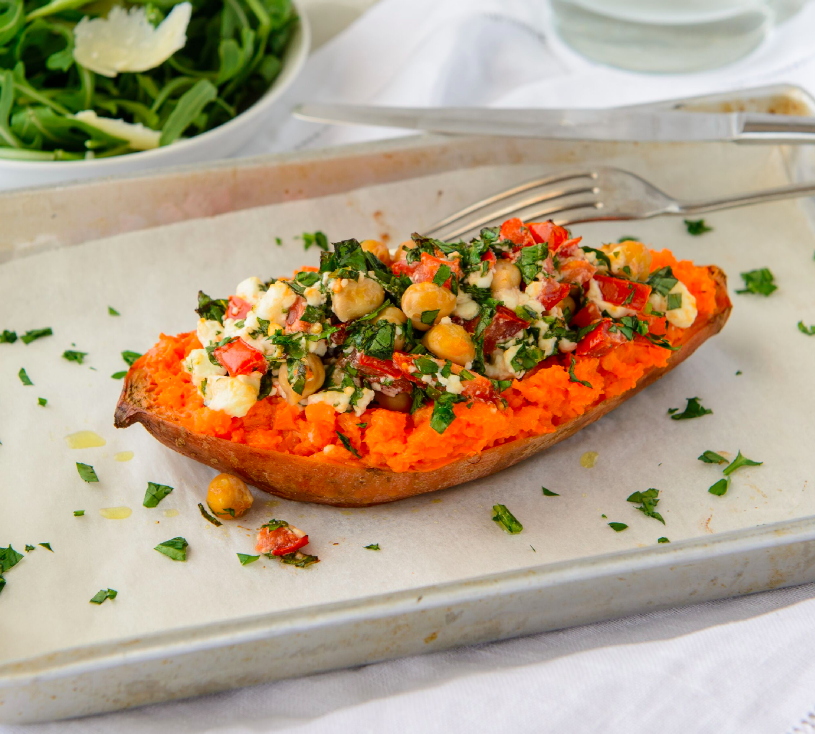 Ingredients:
4 medium sweet potatoes
4 tablespoons chopped fresh chives
1 x 400 gram can of chickpeas, drained
Half cup of raw, unsalted cashews
1 cup basmati rice
Juice of half a lemon
Cracked pepper
200 grams reduced-fat cottage cheese
Optional Extras:
Add some chopped baby spinach or grated carrot to the filling
Use brown rice instead of basmati rice
Top with chopped parsley instead of chives
Replace the cottage cheese with reduced fat ricotta or crumbled feta
Method:
Boil a large pot of water and once at boiling point, add the rice.
Reduce heat and simmer for 15 minutes, until the rice is tender and cooked.
Preheat oven to 200 degrees Celsius.
Place the sweet potatoes on a baking tray and cook for 30 minutes.
After 30 minutes, remove, prick the skin and cook for another 20-30 minutes until the sweet potatoes are cooked through and soft.
Cut open the cooked sweet potatoes with a large knife or scissors and fill each with some cottage cheese.
Scatter the rice and chickpeas on top of the cottage cheese.
Finish with the chopped chives, cashews, a squeeze of lemon and some cracked pepper.
Serve immediately.
Serves: 4. Calories per serve: 402