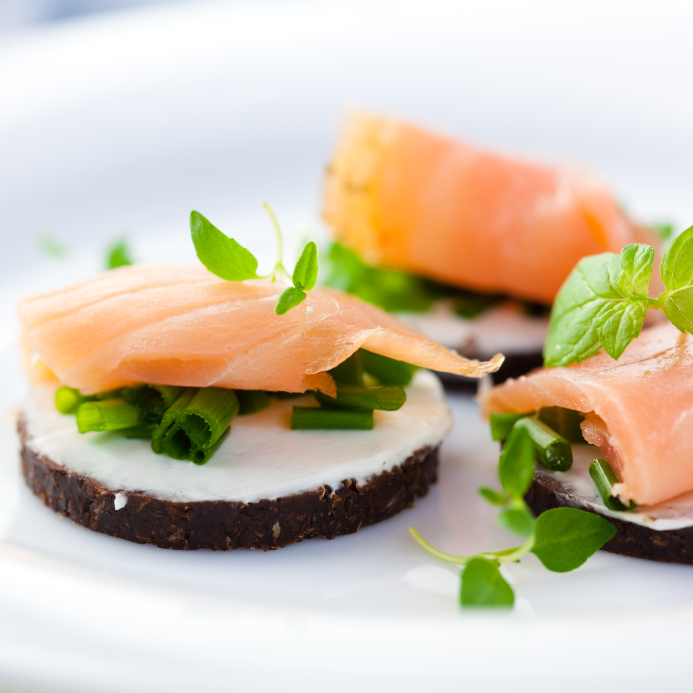 Sometimes when you're a busy parent following a healthy eating plan you can focus on your children so much that you forget to have fun yourself!
If you're throwing a party for adults, whether it's a special birthday bash, engagement soiree or housewarming, it's important to incorporate healthy choices into the menu, to ensure you reach your post baby weight goal.
While the temptation is there to have a blow out, there are simple ways to provide delicious yet healthy party snacks and canapes that will please your guests and not interfere with your weight loss goals.
Simply avoid pastries, creamy dips and deep fried canapes and stick to options that feature fresh vegetables, lean meats and seafood, and herbs and spices.
These 6 canape options are all the perfect party snacks to serve at a healthy, festive event.
Salmon, Cream Cheese & Pumpernickel Stacks
Use a circular cookie cutter to cut several round circles of Pumpernickel bread. Cover the bread with a layer of light creamed cheese, some chopped spring onion, a small portion of smoked salmon and your favourite greens or herbs. Watercress, alfalfa, fresh chives or fresh basil all work well. Can't find pumpernickel bread? Use a dense rye bread instead.
Steer clear of calorie-laden creamy dips and salted crackers and serve these three, inventive and delicious dips with a slice of sourdough bread or chopped up celery and carrot.
Fried spring rolls and dim sims offer little nutritional value and lots of added calories and fat. Switch to these healthy and light rice paper rolls instead!
When guests want something warm, avoid butter-laden pasty items like mini quiches and serve these nutritious Thai style Fish Cakes on a platter.
Packed with spinach and sweet potato, these protein-enriched mini muffins are a sensible, low-calorie party snack option that taste incredible.
These spicy low fat, high protein wonders are the perfect little hot snack to serve on a platter with toothpicks.
GET YOUR 10% DISCOUNT
If you are ready to lose weight then the Lose Baby Weight plans offer a healthy and safe exercise and diet routine and you can get a 10% discount by using code LOYALTY at the checkout
PLUS our BEST SELLING 28 Day Diet & Exercise Plan is available as a 200pg Printed Book and you can get your copy here 
Plus our NEW CALORIE BIBLE is now available – get your copy today! Only $19.95 and a must have in your handbag!
Click HERE to see our shop