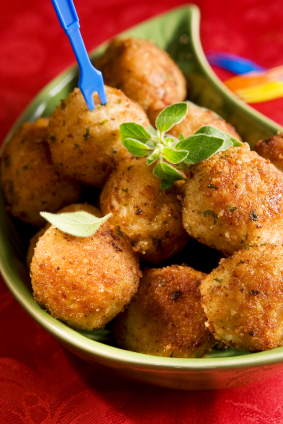 When you think 'meatballs' you probably think minced red meat. While we're big fans of the classic beef (check out our traditional beef meatball recipe HERE) and lamb (check out our minty lamb meatball recipe HERE) varieties, it's about time chicken got to have some of the fun.
Packed full of protein and low in fat, lean chicken breast is a staple when trying to lose baby weight and follow a healthy eating plan. Those same properties can also be applied to lean chicken mince which has all the protein, just in minced form. The added bonus of chicken mince? It's generally significantly cheaper than its intact counterparts.
These spicy chicken meatballs are high in protein and low in fat, relying on yummy ingredients like coriander, garlic and red onion for plenty of flavour, without extra calories. We've also added the following to really give you metabolism a boost and your tastebuds a treat:
Chilli – Fresh and/or dried chilli is a well known metabolism booster
Paprika – Sweet paprika is packed full of flavour and great for fat burning.
Lemon juice and zest – Lemon is a fabulous detoxifier and is also reported to give your metabolism a kick in the right direction.
You can serve these spicy chicken meatballs as a canape, with a yoghurt based dipping sauce (just whizz together some reduced fat Greek yoghurt, lemon juice and fresh mint, alongside pasta with a simple tomato sauce or even as part of a massive green salad. YUM! (for more delicious recipes join the 28 Day Challenge here)


Ingredients
500g lean chicken breast mince

2 cloves of garlic, crushed
1 small red onion, thinly diced
1 egg, beaten
The juice of 1 lemon
1 large red chilli, seeds removed, thinly diced
1/4 cup wholemeal breadcrumbs
2 tbsp worcestershire sauce
1 tsp ground paprika
1/2 tsp ground cumin
2 tbsp olive oil
Directions
Combine all ingredients in a large mixing bowl.

Use your hands to ensure everything is really thoroughly mixed together.

Form the mixture into small balls, about the size of walnuts and place onto a large dinner plate or chopping board.
When you've finished rolling all the mixture, place the balls into the fridge for 20-30min to firm up.
Heat 1 tbsp of the olive oil over a medium heat.
Cook the balls in two batches, making sure to not overcrowd the pan.
When cooked through, place onto absorbent kitchen paper to drain.
Serve with one of the aforementioned suggestions.
Serves 4 – Calories per serve – 322
Need to stock up on Healthy Mummy Smoothies? Then see our shop here
And join our 28 Day Weight Loss Challenges here