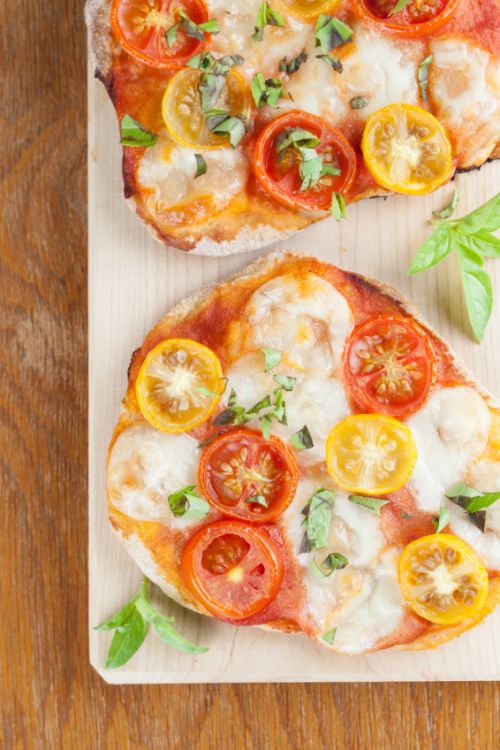 Including nutritious snacks in your healthy eating plan is a good way to ensure that your pregnancy weight loss doesn't come at the expense of your metabolism, blood sugar levels (and sanity).
The cooler months are the prime time to snack more, as colder temperatures, less sunlight and rainy weather are often triggers for over eating.
Having a range of healthy, filling, hot snacks on hand to hit the spot between meals is the key to lasting weight loss.
Choosing snack options that are low in calories but high in nutritional value is the best way to ensure that you remain fulfilled between meals and don't overeat.


Tomato Mini Pizzas
Simply split a wholemeal English muffin in half, top each side with a teaspoon of tomato paste, layer some sliced heirloom tomatoes on top, following by some shaved reduce-fat mozzarella and place under a grill for 10 minutes. Top with fresh basil leaves and serve.
Calories per serve: 243
This ingenious dish uses only 3 ingredients but is packed with natural flavours and nutritional benefits. Eggs and avocado are both filling foods, which when consumed will keep you feeling fuller for longer than many other snack options.
Calories per serve: 217
Find the recipe here
This hearty soup is super easy to make and is a great budget option as it uses easy-to-source, budget-friendly ingredients like frozen peas, stock, potatoes and onions. Providing vitamins, minerals and fibre, a bowl of this soup is a good option to turn to when you're hungry between meals.
Calories per serve: 202
Find the recipe here
A warming rice pudding is a true comfort food favourite. This dairy-free version is good for people with lactose intolerance, and is easy to make with a few ingredients. A small portion of this pudding will keep you feeling full for hours.
Calories per serve: 137
Find the recipe here
Packed with protein, eggs are a great friend of people who want to lose weight, because they keep you feeling full, deliver a hit of vitamins and minerals, and don't contain a high amount of calories. This low-calorie baked eggs dish uses only 4 ingredients but provides sources of protein, folate, calcium and vitamin A.
Calories per serve: 188
Find the recipe here
Get the Winter Weight Loss Cookbook here