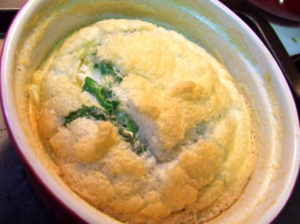 Wow, all this time I had thought that cafes had been out in their kitchens working their magic to create fluffy baked eggs.
In reality, this is a super simple (and VERY healthy) breakfast that you could whip up for the family this weekend.
Baking the eggs means there is no need to use any oil or butter, which is great news when you are trying to lose weight.
You can easily tailor this recipe any which way you like.
It actually tastes great made with just eggs and seasoning!
But if you wanted to try something else how about switching out the feta and spinach for:
A handful of basil and 8 cherry tomato halves
8 chopped olives and ½ tsp rosemary
2 slices of ham chopped up with 3 tbsp grated cheddar
3 chopped up sundried tomatoes and 2 tbsp grated Parmesan
2 tbsp pesto
Ingredients
4 eggs
Salt and pepper to taste
1 cup baby spinach, chopped up
4 tbsp crumbled feta
Method:

Heat your oven to 200°C.
First you will need to separate your eggs.
Place the egg whites into a mixing bowl and the yolks into a small oven proof dish. I used a 15cm round ramekin.
Season the yolks to taste and then throw in your feta and baby spinach.
Whisk the egg whites until fluffy.
Fold the egg whites carefully into the yolks.
Place in the oven to bake for 6-8 mins.
Timing is dependant on the strength of your oven, so keep an eye on them.
When the top has browned slightly, and the mixture doesn't wobble when you move the dish, it's ready.
Serves: 2. Calories per serve: 188.

GET YOUR 10% DISCOUNT
If you are ready to lose weight then the Lose Baby Weight plans offer a healthy and safe exercise and diet routine and you can get a 10% discount by using code LOYALTY at the checkout
PLUS our BEST SELLING 28 Day Diet & Exercise Plan is available as a 200pg Printed Book and you can get your copy here 
Plus our NEW CALORIE BIBLE is now available – get your copy today! Only $19.95 and a must have in your handbag!
Click HERE to see our shop