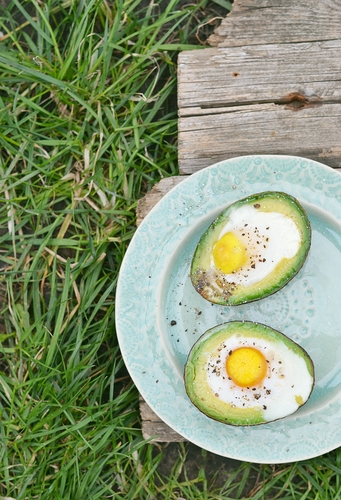 For a simple 2 ingredient healthy eating breakfast idea that is packed with omega-3's and healthy fats, try these easy baked eggs.
Why not serve with some grilled tomatoes, salmon, steamed spinach, or some mushrooms for a flavour packed healthy eating breakfast that will keep you going all morning.
It's a great idea to start your day with protein (such as eggs) as it is a sure-fire way to keep you feeling fuller for longer.
The slow release energy from the eggs and avocado means you won't feel the spike and dip in energy that you would get from something like a sweet pastry.
This then sets you up for the day, as you haven't had sugar at breakfast it makes it easier to stay on your healthy eating plan for the rest of the day.
Ingredients:
2 ripe avocadoes, cut in half and de-seeded
4 eggs
Salt and pepper to taste
Method:
Preheat your oven to 200C and line a tray with baking paper.
Scoop out a few teaspoons of avocado from each half and set aside.
Place the avocado halves onto the tray.
Crack an egg into each of the halves.
Bake in the oven for 15-20 minutes, or until the eggs are done to your liking.
Season with salt and pepper and serve.
Serves: 4. Calories per serve: 217.