Good news for dessert lovers! Desserts can still be eaten when losing pregnancy weight.
Incorporating healthy, home cooked desserts into your healthy eating plan is a good way to satisfy cravings, stay full and avoid weight gain.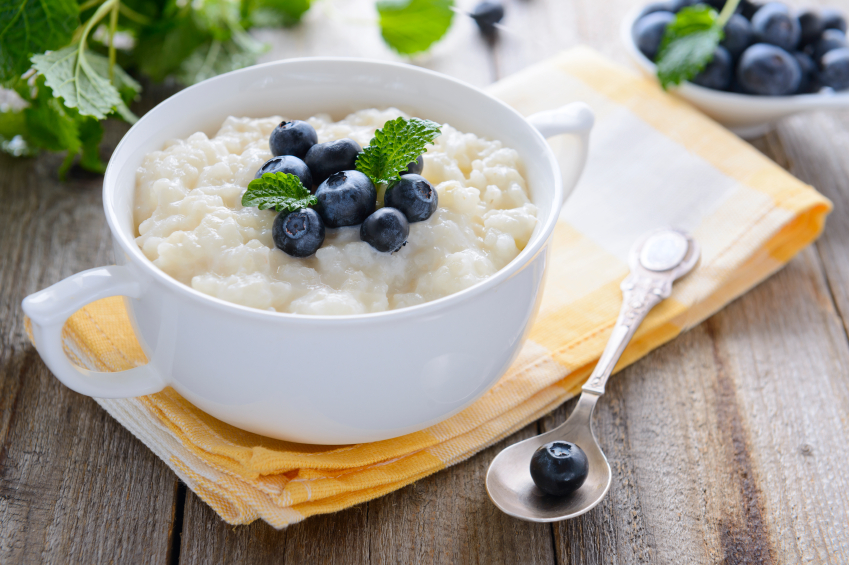 This healthy rice pudding is a great, warming option to cook in winter. Serve as a dessert or even an afternoon snack – kids will love it too.
Made with almond milk, this rice pudding recipe is dairy-free, so is suitable for adults and kids that are lactose intolerant or have trouble digesting cow's milk.
Ingredients:
1 cup of Arborio rice
4 cups of almond milk
1 tablespoon of honey
1-2 drops of vanilla essence
1 handful of blueberries
6 small mint leaves
Optional Extras:
Top with some chopped walnuts
Sprinkle a tablespoon of LSA on top
Add some shredded coconut
Top with raspberries or a passionfruit instead of blueberries
Substitute the Arborio rice for brown rice
Method:
Place the almond milk, vanilla essence and honey in a saucepan and bring to the boil.
Add the rice and simmer, uncovered on low heat for 20-30 minutes until the rice is tender. Ensure to keep stirring the mixture to make sure that it doesn't burn or stick to the sides.
If the mixture becomes too dry, add more almond milk (or water) as needed.
Once the rice becomes tender, remove the saucepan from heat and let stand for 10 minutes.
Serve in small bowls, topped with fresh blueberries and some mint leaves for presentation.
Serves: 5. Calories per serve:  137
GET YOUR 10% DISCOUNT
If you are ready to lose weight then the Lose Baby Weight plans offer a healthy and safe exercise and diet routine and you can get a 10% discount by using code LOYALTY at the checkout
PLUS our BEST SELLING 28 Day Diet & Exercise Plan is available as a 200pg Printed Book and you can get your copy here 
Plus our NEW CALORIE BIBLE is now available – get your copy today! Only $19.95 and a must have in your handbag!
Click HERE to see our shop