Parties and gatherings are a danger zone when trying to lose pregnancy weight, and kids parties are often the most dangerous, with an overload of lollies, chips, chocolates, fizzy drinks and pastries there to derail your healthy eating plan.
Luckily, there are ways to host parties for your children without being tempted by high-calorie, low-nutrition party snacks. With a little forward planning, creativity and inspiration, you can pull off a top party filled with fun and healthy snacks.
Here are some fun and delicious party snacks that adults and kids will love, that won't impact negatively on your weight loss goals.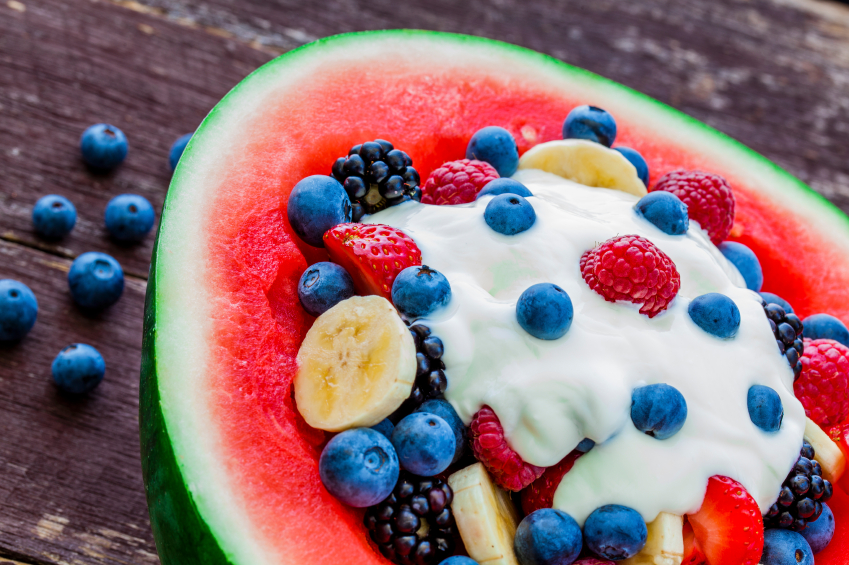 Watermelon & Yoghurt Fruit Bowl
Simply remove a bowl-shaped segment of half a watermelon, and fill will chopped banana, kiwifruit and berries, then top with a few cups of natural Greek yoghurt.
These child-friendly cookies are delicious yet are made without white, refined sugar or flour, so are better for you.
These light and tasty balls are packed with 'good fats' and could be a great alternative to giving out lolly bags at the end of the party.
Instead of high-calorie items like sausage rolls and party pies, why not serve a plate of fresh rice paper rolls, packed with vegetables, prawn, tofu or shredded chicken breast?
Pikelets are a favourite with most children. These pikelets offer more nutritional value than store-bought, packaged pikelets and are really easy to make.
GET YOUR 10% DISCOUNT
If you are ready to lose weight then the Lose Baby Weight plans offer a healthy and safe exercise and diet routine and you can get a 10% discount by using code LOYALTY at the checkout
PLUS our BEST SELLING 28 Day Diet & Exercise Plan is available as a 200pg Printed Book and you can get your copy here 
Plus our NEW CALORIE BIBLE is now available – get your copy today! Only $19.95 and a must have in your handbag!
Click HERE to see our shop