Versatile and low in calories, rice paper rolls should be a part of your healthy eating plan. A good alternative to sandwiches and wraps, rice paper rolls will jazz up your lunch options.
As you know, eating the same foods over and over again can lead to boredom, so the best way to keep your new healthy eating habits on track is to keep experimenting with new foods, ingredients and ways of cooking.
Packed with fresh, nutritious ingredients, these light and tasty Prawn Rice Paper Rolls are a great option for lunch or a light dinner.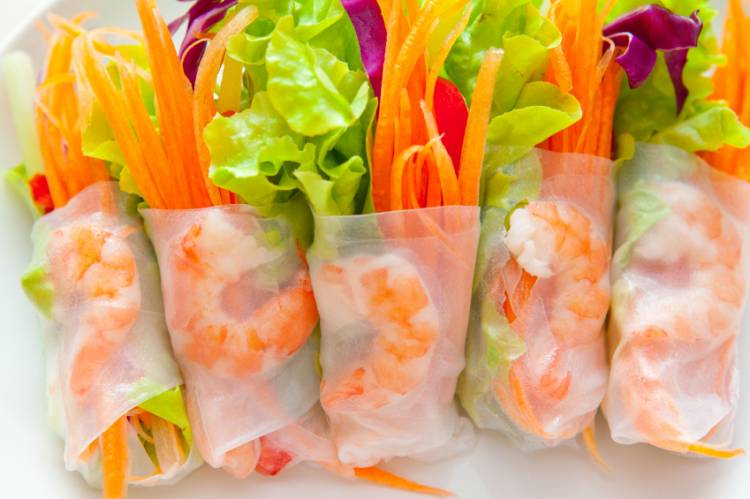 Filled with colourful vegetables, these rice paper rolls are high in beta carotene, vitamin C and fibre. Including them in your healthy eating plan will help you to lose pregnancy weight over time.
Rice paper rolls have a bit of a reputation for being a little tricky to create, however these ones are designed to be quite loose – they don't have to look perfect! Once you've made these a few times, you'll be a rice paper roll-making pro.
Ingredients:
8 medium rice paper wrappers
16 medium-sized fresh prawns, peeled
Half a butter lettuce
Half a red capsicum, thinly sliced
2 small carrots, very finely sliced length ways
Quarter of a purple cabbage, shredded
Dipping Sauce Ingredients:
Half cup of low-sodium soy sauce
2 tablespoons grated ginger
1 tablespoon sliced green onion
1 tablespoon chilli flakes (hot)
Quarter of a cup of rice wine vinegar
1 teaspoon sesame oil
Optional Extras:
Substitute the prawns for grilled chicken or tofu
Replace the capsicum with cucumber or celery if you want a milder flavour
Add avocado for added folate and Omega 3
Add fresh coriander for a flavour kick
Method:
Pour warm water into a large bowl, until about the half way mark. Dip each piece of rice paper into the water, then let stand for 30 seconds on a clean, flat surface.
Carefully place 2 prawns, 1 stick of capsicum, some lettuce, some purple cabbage and a few thin sticks of carrot on edge of the rice paper, then wrap in the sides and fold in the bottom end. The vegetables should stick loosely out of the end of the rice paper.
Place the complete rice paper roll under a damp tea towel or cloth to keep it moist.
Repeat this process for the rest of the rice paper wrappers.
To make the dipping sauce, combine all the sauce ingredients in a tightly sealed jar and shake for 1 minute or until well combined. Serve next to rice paper rolls on a little sauce plate or bowl.
Serves: 2. Calories per serve: 327

GET YOUR 10% DISCOUNT
If you are ready to lose weight then the Lose Baby Weight plans offer a healthy and safe exercise and diet routine and you can get a 10% discount by using code LOYALTY at the checkout
PLUS our BEST SELLING 28 Day Diet & Exercise Plan is available as a 200pg Printed Book and you can get your copy here 
Plus our NEW CALORIE BIBLE is now available – get your copy today! Only $19.95 and a must have in your handbag!
Click HERE to see our shop