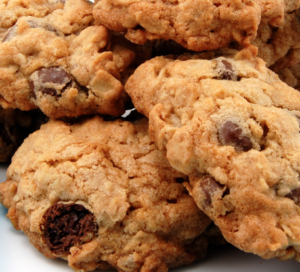 Protein cookies are a sweet, delicious and rather fun way of packing plenty of protein into a snack-sized bite and can help you when you are trying to lose your pregnancy weight.
Protein cookies are a great healthy eating snack or a great energy boost before or after some exercise. Enjoy them with a cup of tea for a tasty and filling snack.
Chocolate & Raisin Protein Cookies
These easy protein cookies are packed with plenty of protein from the egg whites and the oats. Applesauce keeps them sweet whilst the cocoa powder gives them a chocolatey flavour. The applesauce sweetens the cookies without adding many calories, and it also helps to keep these cookies very, very low in fat.
Ingredients
6 x large egg whites
140g rolled oats
1 tbsp. agave nectar or honey
1 tbsp. cocoa powder
120g unsweetened applesauce
3 x scoops chocolate healthy mummy mix
1 tsp. virgin oil
50g raisins
Method
Whisk the egg whites in a large bowl. Add the honey, applesauce and virgin oil and whisk to combine. Stir in the oats, cocoa powder and whey powder. Fold in the raisins.
Drop the mixture by the tablespoonful onto a lined baking tray. Flatten them slightly using a fork so they are about the circumference of a coffee mug.
Bake the cookies in a 170C oven for 8-10 minutes until lightly shiny on the outside. Remove from the oven and leave to cool on a wire rack.
Recipe makes about 12 cookies. Calories per cookie: 115. Protein per serve 2.5g
If you are ready to lose weight then the Lose Baby Weight plans offer a healthy and safe exercise and diet routine that are safe in breastfeeding and can help support your milk supply

And don't forget to check out our current promotions and discounts page to see what specials we have on this week on our Healthy Mummy product range