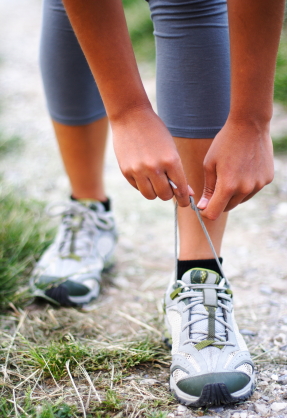 Some of us are just about to start exercising for the first time; you may be getting back into it after a break; or perhaps you are working out regularly.
Either way there are a few essential pieces of equipment that you will need to get before you get sweaty.
Today we have compiled a list of these must have items that will see you doing your personal best in no time.
You will see that there aren't too many items on this list. And that's a good thing! The less things you need, the less excuses there are not to exercise.
Trainers
No, not the Commando but the actual trainers that you wear on your feet. Ladies, the old Volleys aren't going to cut it.
You need to get properly fitting shoes which will support your body. This is especially true for those of you that are going to be jogging or running (go you!).
That doesn't mean you need to spend hundreds on the latest shoes. Head to a specialty store that has trained staff to fit you and they will also do their best to recommend a shoe that suits your exercise style.
Sports bra
We've all seen people jogging or working out with an ill-fitting sports bra or their regular bra on (or worse, no bra at all).
Think of your sports bra as a very necessary piece of sports equipment which will protect your breasts.
Without a well-fitting sports bra your breasts run the risk of sagging in the future; or you could even damage the fragile ligaments permanently. Not only that, you run the risk of inflicting back or breast pain on yourself.
And don't think because you have small breasts that you don't need the support. You do. Exercising without a bra can still cause serious movement in smaller busts too.
Go to a reputable store and get measured up. They will also recommend the best bra for you based on what exercise you plan to be doing. You can choose high impact bras for sports like running, tennis, horse riding and aerobics. If you are going for low impact sports like yoga or Pilates you can use a lower impact bra.
Shorts/tights/leggings and shirts
This is where you can save some cash. If you have the basics right (good sports bra, good trainers) you can save your pennies by buying some inexpensive exercise clothes from discount department stores.
Brand name t-shirts won't make you run faster, even with their inspirational quotes on the front.
Better yet, wear clothes that you already own that you won't mind getting a bit sweaty.
Water bottle
As with many things, there are water bottles that go from the high-end Ferrari type all the way down to the equivalent of a go-kart.
There is nothing wrong with filling up a cheap and cheerful water bottle as you head out the door.
But if you do want to splurge on a bottle that you will use daily and keep in your handbag, ensure it is BPA free and then just choose your favourite pretty pattern.
Hat
An essential piece of kit whether the sun is out or not. The harmful UV rays are still about even on a cloudy day, so it's best to always wear a hat when exercising outdoors.
Goals
Not so easy to fit into your backpack, these are an essential part of any exercise plan. Many people set goals such as 'to get fitter', or 'to start running more.' But how will you know when you have achieved this goal? There is an acronym for goal-setting – your goals need to be SMART. This is how your goals could look:
Specific (I want to fit into the little black dress for my reunion)
Measurable (I will need to lose 3kg to fit into it)
Attainable (I can do this if I eat well and exercise)
Relevant (Now is the time, I want to look great in the photos)
Time-Based (I will achieve this by August 1st)
See if you can SMART-en up your goals and make them more specific. That way you can reward yourself (with non-food rewards like new clothes or a massage) when you achieve them!
What else?
There are so many other items that many people would deem 'essentials'. This is very personal but there are often alternatives if you feel as though perhaps you don't really need them or can't afford them.
For instance, instead of buying hand weights, you could use tinned tomatoes.
Instead of joining a gym, you could take a long walk and exercise outdoors (it's free!); join an outdoor group fitness class; or find yourself a running buddy and motivate each other.
If you would love a personal trainer, why not share one with a couple of friends?
Do you need some tips to get started with your exercise? Click here.
Want to check out some ideas for exercising with kids in tow? Click here.
Love to know how to sneak exercise into your day? Click here.
Want to see some exercises you can do at the playground? Click here.
GET YOUR 10% DISCOUNT
If you are ready to lose weight then the Lose Baby Weight plans offer a healthy and safe exercise and diet routine and you can get a 10% discount by using code LOYALTY at the checkout
PLUS our BEST SELLING 28 Day Diet & Exercise Plan has now launched as an 84pg Printed Book and you can get your copy here 
Click HERE to see our shop