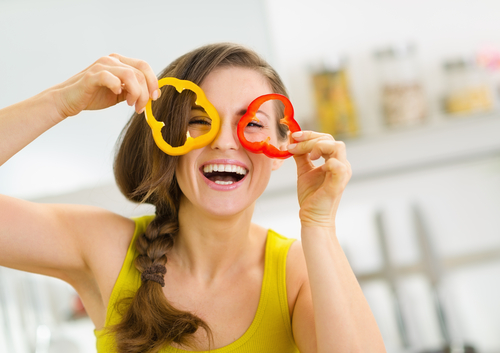 We can all find ourselves guilty of neglecting the old '5 a day' rule for veggies, even when we are focused on losing pregnancy weight.
While we might fill our plates with vegetables at dinner time, another great way to up your intake is to incorporate veggies into your snacks.
By adding protein as well, in whatever form, it will then become a nutrient dense, filling, healthy eating snack that will see you through comfortably until the next main meal.
Today we have 10 great veggie packed snacks that also contain plenty of protein.
You'll notice how much fuller these keep you than a carb-only or veggie-only snack. Try them and see for yourself.
Carrot Sticks & Beetroot Hummus

The veg – carrot, beetroot
The protein – chickpeas, tahini
Try our simple dip recipe here.
Baked Zucchini Fries
The veg – zucchini
The protein – almond meal, Parmesan
How to make them:
Heat your oven to 220C and line a tray with baking paper.
Cut 2 zucchinis into chips, place in a colander, sprinkle with salt, drain for 1 hour.
Rinse off salt and pat dry.
Beat 2 eggs in a bowl.
Mix ½ cup almond meal and ¼ cup Parmesan cheese in another bowl.
Dip fries into the egg, and then the dry mixture.
Bake on the lined tray for 25 minutes, turning half way through, until crisp.
Pumpkin Goats Cheese and Parmesan Muffins
The veg – pumpkin, spinach
The protein – goat's cheese, egg, Parmesan cheese
Pumpkin and Spinach Bites with Almond Meal
The veg – spinach, pumpkin
The protein – almond meal, sesame seeds, chia seeds, Parmesan
Click here for the recipe.
Roast Veggie Frittata
The veg – sweet potato, pumpkin, capsicum, mushroom
The protein – eggs, cheese
Try our simple recipe here.
Chicken Rice Paper Rolls
The veg – lettuce, carrot, capsicum, avocado
The protein – chicken, nuts
Try these Chicken Rice Paper Rolls with Mango Sauce

Spring Onion Fritters With Minty Whipped Feta
The veg – spring onions, zucchini
The protein – almond meal, feta, egg, cottage cheese
You can find the recipe here.
Carrot Cake Muffins
The veg – carrot
The protein – almond meal, chia seeds
This is one of our favourite recipes – check it out here.
Baked Eggs In Avocado
The veg – avocado
The protein – egg
2 ingredient recipe here.
Celery Sticks with Eggplant Dip
The veg – celery, eggplant
The protein – tahini
Try our 4 ingredient dip recipe here.

GET YOUR 10% DISCOUNT
If you are ready to lose weight then the Lose Baby Weight plans offer a healthy and safe exercise and diet routine and you can get a 10% discount by using code LOYALTY at the checkout
PLUS our BEST SELLING 28 Day Diet & Exercise Plan is available as a 200pg Printed Book and you can get your copy here 
Plus our NEW CALORIE BIBLE is now available – get your copy today! Only $19.95 and a must have in your handbag!
Click HERE to see our shop