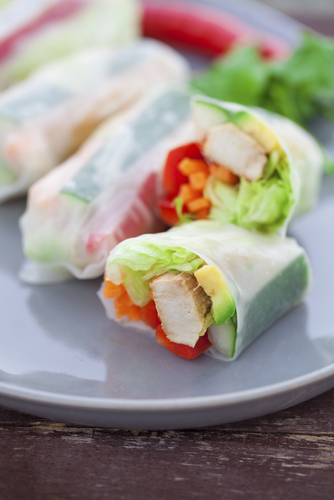 With all that leftover roast meat that you'll have after the Christmas feast, why not make these light and tasty healthy eating rolls.
You can also use sliced pork or turkey breast if you prefer – and load it up with any leftover veggies or salad that you have to hand to make a healthy eating snack or light meal.
The mango dipping sauce makes the most of the in-season mangoes, and the addition of avocado adds a delicious creaminess.
Ingredients:
2 cups cooked BBQ chicken breast, diced
1 cup finely chopped lettuce
2 carrots, very finely sliced lengthways
1 red capsicum, sliced lengthways
1 cucumber, sliced lengthways
½ cup mint leaves
1/2 cup peanuts
2 avocados, sliced
1 mango, peeled and chopped
8 rice paper wrappers
Method:
First of all, make the dipping sauce by combining one of the avocados with the mango in a food processor. Set aside.
To make the rice paper rolls, place one wrapper at a time into a bowl of warm water to moisten.
Lay out flat and then layer in your filling, being careful not to overstuff.
Fold the left side over to stick to the right side, then tuck in the top and bottom.
Place on a plate lined with baking paper so that they don't get stuck.
Serves: 4. Calories per serve: 375.

GET YOUR 10% DISCOUNT
If you are ready to lose weight then the Lose Baby Weight plans offer a healthy and safe exercise and diet routine and you can get a 10% discount by using code LOYALTY at the checkout
PLUS our BEST SELLING 28 Day Diet & Exercise Plan is available as a 200pg Printed Book and you can get your copy here 
Plus our NEW CALORIE BIBLE is now available – get your copy today! Only $19.95 and a must have in your handbag!
Click HERE to see our shop