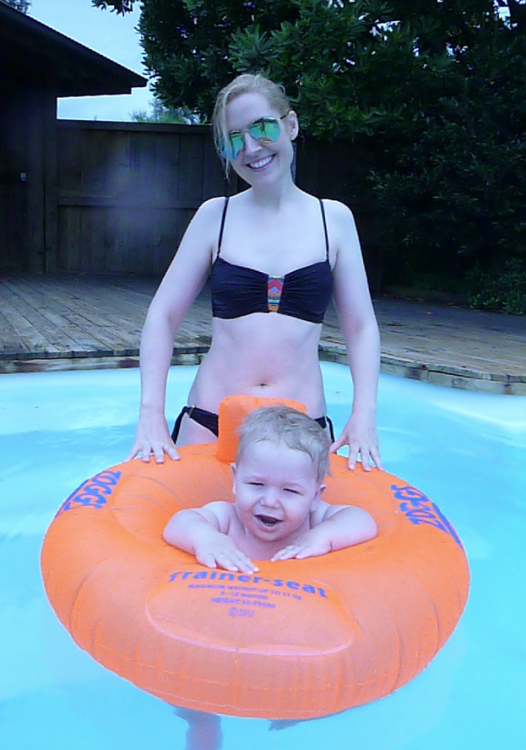 Hi everyone, it is Rhian here and I am the owner and founder of
Lose Baby Weight
and
The Healthy Mummy product range
As we are at the start of a new year I thought I would write a post to wish everyone a very Happy New Year and thank everyone for all the support that is shown towards the business every day – plus give you an update on my year and 2013 and my
weight loss tips.
All the team absolutely LOVE helping mums regain their health and body confidence and the key point to note is that our motto at Lose Baby Weight is and always has been to only ever even think start to about losing weight until you feel 100% ready to do so – and if you are ready you can see how our plans work here
You should never feel like you have to lose pregnancy weight gain by a certain date and you should never rush to lose the weight or compare your own post baby body to that of a celebrity as the two are just not comparable. And you can read more about this here
The number one focus should always be on the health of the mum and the baby. Then when you feel up to it, you can start exercising and focusing on diet more. For some mums this can be a couple of months post birth and for others it can be a few years
You can also see hundreds of results from mums who have used our plans and lost weight here


My Own Year
2013 has been a whirlwind for me personally – I had my second baby on New Years Eve 2012 – so he just had his first birthday – and running the business, launching lots of new products, bringing up a very exuberant 3 year old, spending time with my family and finding time to exercise has been a challenge!
For those of you who have followed our site, you will know that my first baby did not sleep well and I spent the first 12 months of his life rocking him to sleep – you can read about this here (controlled crying has not been something I ever wanted to do) – so with baby number 2, I had my fingers crossed that he would be a good sleeper. Alas, not. My second baby was as bad as, if not worse than bub number 1 and at 12 months old he still wakes 3 – 4 times a night!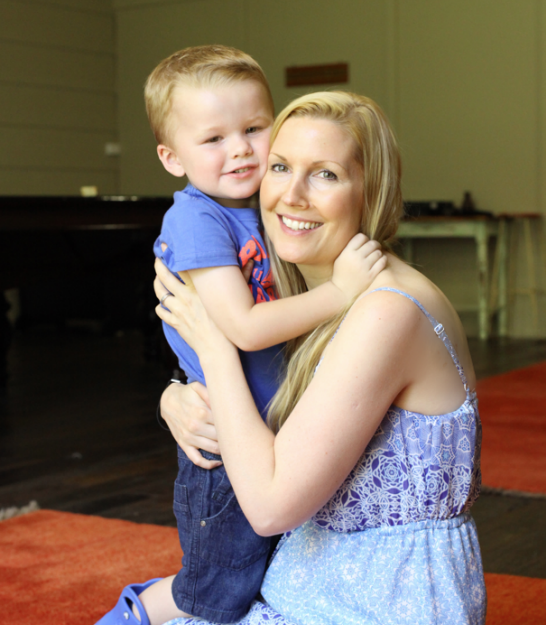 But we don't stress about it. Me and hubby take it in turns to settle him and get used to operating on not much sleep, and keep our fingers crossed that any week now he will sleep better – which is what happened with baby number 1 – at just over 12 months (who incidentally sleeps very well now)!
So I know all about being a busy and tired mum and I always ensure all our products and plans are suited to busy and tired mums because as soon as something is too hard, we don't do it.
So I always make sure that everything on our website and the products we sell are catered for real mums and we are always trying to provide more and more tools to make getting healthier even easier as when tiredness strikes it distorts your view!
My own weight loss after bub number 2 was slow and steady. I gained 19kg in pregnancy number 2, and felt ready to start losing weight at about 8 weeks post pregnancy where I was left with 11kg to lose – and 12 months on I am back down to 54kg.
And I lost my weight by following our plans, eating healthily and not putting pressure on myself. Slow and steady definitely gets you there and ensures you get there without drastic measures and ensures the weight stays off.
Below are some of my before and after shots  – Left shot taken at 8 weeks post pregnancy (Feb 2013) and the right one taken at December 2013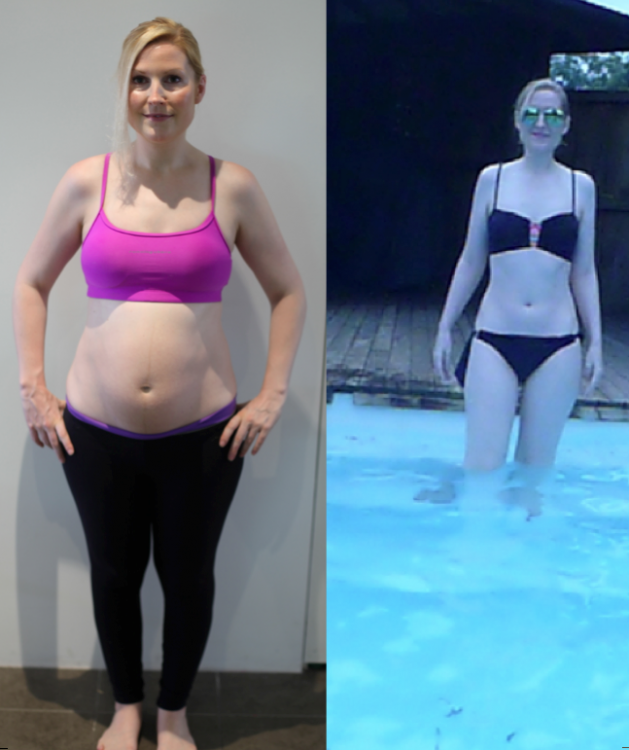 Left shot taken at 8 weeks post pregnancy (Feb 2013) and the right one taken at December 2013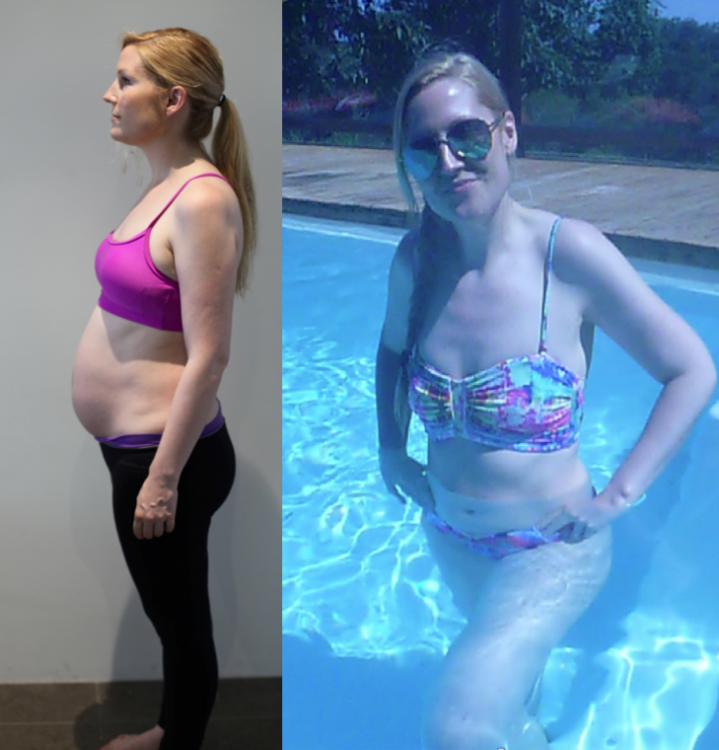 Here are my top tips for losing weight too
If you are a new mum then breastfeeding can help some mums to lose weight. It burns more calories and can help your tummy size reduce. But be warned, for every mum who has found that breastfeeding has helped weight loss there is another mum who saw themselves gain weight due to increased appetite
Do not get sucked in by fad diets that promise to see you lose 5kg a week. These fad diets are unhealthy, cut out vital food groups that you need for energy and see you lose fluid and muscle which is why the weight comes back on very soon after losing it. You can see here about why fad diets are so bad for us and why you should eat healthily instead
Don't put pressure on yourself. Being a mum is hard work – emotionally and physically and if you have put pressure on yourself to lose a lot of weight in a short space of time and you don't lose what you want each week, it can really get you down and make you feel depressed. Instead, only think about losing weight when you feel physically and emotionally ready and strong and then aim for a healthy 500g – 1kg a week.
See it is as a long term change to a healthy lifestyle. And even though you may want to lose a big chunk of weight in a few weeks, this is not sustainable and it will be hard to be on a restrictive diet when you have so much going on in your life and need energy. Instead, see it as a long term goal. And if you lose 500g a week over, 20 weeks that is 10kg – which is a big number and by doing it in a sensible and healthy way you won't find it hard to lose either
Try our Healthy Mummy Smoothies – they are the perfect solution to the busy mums breakfast and/or lunch and take 2 minutes to make whilst giving your body everything it needs from a protein, fibre, vitamins and minerals and will keep you full and satisfied until snack time – plus are breastfeeding friendly. You can read more about the smoothies and what makes them different here. And you can see the independent nutritionists reviews on the smoothies here.
Start trying new foods and introducing healthy meals to your family – we have heaps of easy recipes on our site to help and inspire you
If you are looking for a more structured plan to follow then try our 28 Day Weight Loss Challenge (which is breastfeeding friendly but is also suitable for all mums whether you are breastfeeding or not)
Aim for easy and gentle exercise – such as a daily walk
Try our Exercise DVD – it is broken down into 10 and 15 minute workouts and is safe for post baby mums to do too and you will burn approximately 450 – 550 calories an hour and you can preview it here
Make our protein cookies and snacks so you have your own home made protein bars – without all the gunky ingredients found in most protein bars. You can see lots of yummy protein cookies and bar recipes here – which many mums have found have helped milk supply too
If it is your tummy area you really want to focus on then see all you need to know on what to do here
Always have pre prepared and healthy and protein based snacks in the fridge so you have metabolism boosting and healthy snacks to eat so you don't end up eating wrong foods. You can see some of our favourite snacks here
Cut out processed food and things like white bread,rice and pasta and have wholegrain and wholemeal versions instead which are high in fibre and vitamins
Increase your fibre and lean protein – both key in keeping you full and fibre aids digestion and protein helps to build lean muscle
And just remember, there is no right time to lose weight – it is when you feel ready, and for some mums this can be a few weeks/months post baby and for others it is years. The most important thing is to do it in a healthy and sensible way.
Happy New Year – have a happy and healthy 2014!
You can see our plans and shop here