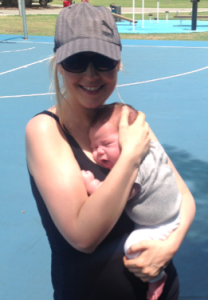 Wow – can't believe how much the past 2 months have flown by!!  I am loving being a mum of 2 and life is hectic but absolutely fantastic!
As I wrote 8 weeks ago I wasn't going to put any pressure on myself to lose my pregnancy weight and was going to follow our healthy eating plans plus go for a daily walk, then when I felt that I did want to focus more on exercise and losing weight then I would – but that it would be on my own terms depending on how life with my new bubba went.
And on this note, I think it is very important to state that for some mums this feeling of being 100% emotionally and physically ready to lose pregnancy weight can be a few weeks after birth and for others it can be well over a year – and for many it is more than 5.
There is no 'one size fits all' approach to losing weight and there are so many personal circumstances and reasons which contribute to when you feel ready – so only do it when you feel ready and enjoy the time with your baby.
I gained 19kg in my second pregnancy and over the first 2 weeks lost 9kg from the birth and fluid loss (my bub weighed 4kg and I was carrying a lot of fluid too).  My pre pregnancy weight was 54kg and 2 months on I am at 64kg.
And 8 weeks on I now I feel 100% physically strong and recovered from the birth and am emotionally ready to do lose the extra weight and get back to my goal weight – but please note just because I am ready it does not mean that if you had your baby at a similar time as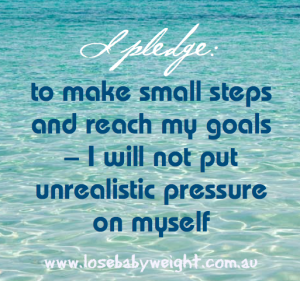 me or before me that you should be ready now at all – everyone is different and we all reach the 'ready' point at a different point and we all have different lives and different pressures to juggle and deal with.
So now I plan to make some tweaks to my daily routine and focus a little bit more on losing 10kg and toning up my tummy and body – all while still breastfeeding so won't be doing anything dramatic or unhealthy!
But I know it won't be all plain sailing and that it is going to be tough to lose the weight as I am older than I was when I lost the weight with my now toddler and my metabolism is getting slower – but I am determined to get there for my own health and confidence and I can't wait to be able to get back into all my old clothes!
I am going to do a combination of light cardio – ie walking plus fat burning exercises like squats, mini push ups etc – all of which are in the 28 Day Diet & Exercise Plan routine, plus focus more on my diet side.
Plus I have just taken a 'before' photo of myself (I got hubby to take) that I am going to use to help motivate me as the weeks go by and I encourage everyone to do this too as it is also great to see how far you have come when you do reach your goal – and I will share this with you when I get to my goal too!
This is my daily plan of attack!
I am going to follow our 28 Day Diet & Exercise Plan and Monday – Friday will have 2 of our Healthy Mummy Smoothies on the plan then on the weekend have the lunch menu on the plan with one smoothie for breakfast
I am going to have pre prepared and healthy and protein based snacks in the fridge so I always have metabolism boosting and healthy snacks to eat so I don't end up eating wrong foods. You can see some of my favourite snacks here
I am going to pre make our protein cookies and snacks so I have home made protein bars – without all the gunky ingredients found in most protein bars. You can see lots of yummy protein cookies and bar recipes here – which also can help milk supply too
I am going to do 30 minutes every day of core work. You can see the videos of the exercises I will be doing here
I am going to go for a fast paced 45 minute walk every day and walk up hills to make the work out even harder
I am going to use my arm weights/dumbulls every day to help tone up my arms – I will do 3 x sets of 20 lifts every night. I will also do mini push ups (on my knees – not full man push ups) which will also work my core
I am going to have 1 x tbsp of cider vinegar before each of my main meals – you can read here about why cider vinegar can help with weight loss
I am going to have at least 4 cups of decaffeinated green tea every day – see here for the benefits of green tea
I am going to give myself chocolate treats! My favourite is our Dark Chocolate Almonds which make a perfect after dinner sweet treat
I will also do any extra and incidental exercise that I can during the day depending on how I feel and if I need a day off then I will have it!
And each week I will weigh in and take my measurements and in 8 -10 weeks I hope to have achieved my pre pregnancy weight – but if it takes 12,14,16 weeks or longer to lose or if I have slip ups then that is fine too – there is no rush and I know there will be tough times along the way and times when I want a break!
I think the key thing to remember is to be sensible and lose the weight at a pace that suits your lifestyle and how you feel. There is no rush and we are not celebrities so i it takes longer then we first thought becuase 'life happens' then so be it!
And if you are just starting too, or are already on your plan, just be as healthy as possible and don't see it as a 'diet' but a healthy lifestyle approach and take everything day by day and focus on being as healthy as you possibly can be for you and your family and the weight will come up – and your energy will increase!
GET YOUR 10% DISCOUNT
If you are ready to lose weight then the Lose Baby Weight plans offer a healthy and safe exercise and diet routine and you can get a 10% discount by using code LOYALTY at the checkout.