Every month, a mum who is on the Lose Baby Weight plans will be writing about their journey, exercise, ups and downs and will be here to help motivate YOU and THEMSELVES along the way.
If you'd like to become our Motivating Mum for the month click here to find out more (we pay you for it too!).
This month we continue to be motivated by the weight loss journey of Motivating Mum Kelly – Kelly has lost 6.2kg in 6 weeks! You can read some of her previous posts here and here.
Over to you, Kelly!
'Feeling much better this week – got out for my first walk in a while on Monday then I got a call to collect my son from school on Tuesday – we've had the worst luck!
One getting sick after the other! Looking forward to spring weather keeping everyone a bit healthier.
Thankfully through eating healthy with the 28 Day Plan and Healthy Mummy Smoothies plus making an effort to do extra housework and incidental exercise, I have again been able to record a loss.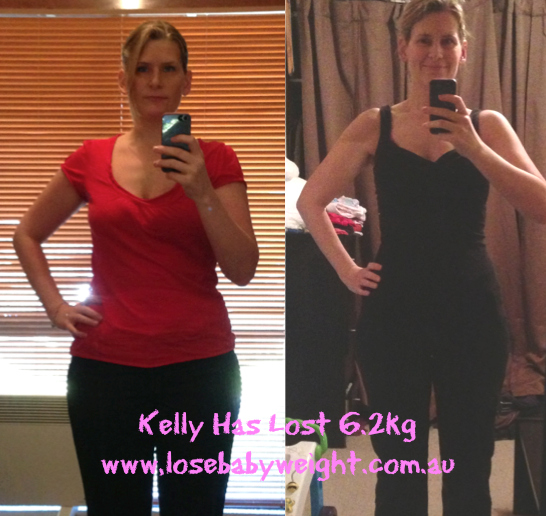 I've been watching the nightly chats with past motivating mums on the LBW Facebook page at 9pm EST (highly recommended to pick up some pearls of wisdom!) and I have noticed the same questions keep popping up.
One thing that lots of people have been asking about is belly fat and how to get rid of it (you can see the LBW advice and tips on it here).
Spot exercise doesn't work (especially if you're not watching what goes into your mouth!), and genetics come into play – we all store fat differently, sporting all sorts of body shapes.
After a bub we're going to have a bit of a belly anyway, but body shape and where we're genetically programmed to store fat results in those harder to move lumps and bumps here and there.
If you looked at me side on, you may wonder why I am not happy with my weight.
But because I have the horrid pear shape – from the front I look much bigger! I've always had a little tummy but from the front have felt like a wide load.
It's just where my body stores excess fat – and due to eating too much inappropriate food its been dumping in there all these years!
Now my body is getting a break from all that hard to process crap, and I am loving that I can see the worst part of my body (that's haunted me since I was a teenager) shave off each week!
It's amazing how it also shaves off the emotional cobwebs too.
As long as you focus on healthy eating you'll get a loss all over, and in time it will balance out.
Exercise (especially core exercises for your belly and walking) is the great bonus that will speed things up and tone you up, resulting in you burning more calories, even while you rest.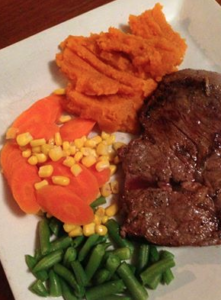 If you only seek out belly exercises and don't eat well, you'll still have padding.
Even when I used to go to the gym with a trainer before I was pregnant, I asked about how to get rid of under arm fat better, and the trainer told me that subcutaneous fat will better shift with diet, exercise second.
My acupuncturist also told me that it's all good going to the gym, but if you don't work on the diet side (reducing fat stores), you wont have the slimmer body or look that you want.
I was toning up, but couldn't understand why I wasn't losing the weight. Lose Baby Weight helps you understand all this – everything I have been told now makes so much sense.
One of my biggest struggles this week is that I couldn't even get out to go shopping, and we ran out of a few fruit and veg that I rely on in my eating plan, and I felt SO stale. Just not having apples, I felt gross not having fresh stuff in my body.
I've also noticed lots of people asking about how to keep motivated, so here are some tips that really work for me, especially while I have been struggling with opportunities to get out the house to exercise.
Be organised! Even with snacks – have them ready to go. It really does prevent situations where you're tempted to grab something quick and unhealthy. If you get some time, make up some meals ahead of time and freeze them. Don't let yourself run out of healthy food supplies, especially fresh fruit and veg. All of these things are disasters waiting to happen.
Never let yourself get too hungry (see above point!). On the days where I have had a longer break between meals, I have been ravenous and eat more than I would have and not felt as full, than if I would have if I had a proper snack between meals.
Try and get to bed at a decent hour or if you've had one of those ridiculously bad nights where you can't function (I have had a few lately), take a nap when your baby sleeps if you can. A good nights sleep makes a huge difference to your brain and body and helps your metabolism too. The days I have been completely sleep deprived have been the worst days for craving crap and junk, and I have felt my weakest (and most emotional and depressed!). A quick nap peps me up for the rest of the day and gives me a bit more energy and motivation to do what I need to do. Otherwise I become an unbearable grump that's best locked up in the cupboard!
Look at pictures of yourself when you started. Do you really want to stay this way? How do you feel when you look at those images? As awful as it sounds, people are motivated by pain – when the pain of staying the same is more than the pain of changing, they will do something. A year from now, if you looked at yourself in the mirror, what would you like to see? Make sure you follow up those thoughts and feelings with positive ones – how awesome will it be when you look fabulous? When everyone starts to comment on how great you look? When you can finally get into those gorgeous dresses you've been dying to wear? Read loads of stories from mums who have done it and check out their before and after photos!
Remember that if you have 10 kilos (for example) that you want to lose, it could potentially just be only 10 weeks of your life! And how long have you wanted change? How much time is going to go on at your current weight before you get there? Make the decision to do it NOW – not tomorrow, next week, next month – commit to doing it now, because the sooner you start, the sooner you get there and the sooner you will feel so much better about yourself. You will notice the difference way before then – I was getting comments as little as two weeks in, and I could notice significant changes by four weeks. It's real and it's in your grasp! Imagine your friends and family telling you that you look amazing – because they will!
Check in on the Lose Baby Weight Facebook page and website as much as you can to get motivation from other mums, members and recipe suggestions. The huge amount of recipes available makes it so much more doable because you have tonnes of options for any taste. Even for a fussy eater like me – I don't like banana (unless in banana bread or really mixed in with something else sweet), spicy food, raw fish or smoked salmon, coffee – lots of things people eat when on health kicks. But even I found heaps of things I could really enjoy on Lose Baby Weight. Without that I don't know how long I would have been able to sustain it as a lifestyle change.
Don't shop when hungry and don't buy naughty foods! You won't eat what's not in your house.
Identify your triggers. Do you eat when bored? Depressed? Lonely? When you know what's causing it, you can find other alternatives. Distractions work well and if you keep yourself busy with a hobby, interest, exercise or visiting people, then you can quickly extinguish many random cravings for food.
If you lose 5kgs, go lift a 5kg bag of vegies in the supermarket. When you lose 10kgs, lift two! You're no longer carrying that around with you everywhere you go – no wonder you have more energy! It's great to have a real example of what is gone from your body. My bub is 9kgs, and I am getting very close to having lost that – it's tiring carrying her around for 10 minutes, let alone every day!
But most of all, you just have to want it.
You have to want to adopt a healthy lifestyle resulting in a better looking body and a happier mind, more than your tastebuds having a quick hit (which will make you feel crappy after).
You need to change your thinking – the food that you think is going to make you happy – it's not – after you eat it, it's contributing to the problem making you feel less confident, attractive and happy as you could be!
It's fine to splurge sometimes and enjoy special days, absolutely, you can't be so strict that it all comes crashing down too.
It's not what you do 5% of the time, its what you do 95% of the time.
So eating too much sugar, carbs, treats, takeaways – is that truly making you happy?
It's like putting a purchase on your credit card rather than your debit card – it's exciting to get it now when you don't have the cash on hand, but ultimately it's a burden, you have to pay it back and it often takes a long time to get rid of it.
Weight 10/01/13 – 79kgs
Re-starting weight (August) – 77.4kgs
Current weight – 71.2kgs
Total loss – 7.8kgs
Aug-Sept loss – 6.2kgs
Build up your emotional muscle, your 'no thank you' muscle and associate junk foods with making you (and your body) unhappy, not happy.
It's not going to get you where you want to go, and you could even make yourself sick in the process'.
– Kelly Winder  
 
GET YOUR 10% DISCOUNT
If you are ready to lose weight then the Lose Baby Weight plans offer a healthy and safe exercise and diet routine and you can get a 10% discount by using code LOYALTY at the checkout
PLUS our BEST SELLING 28 Day Diet & Exercise Plan is available as a 200pg Printed Book and you can get your copy here 
Plus our NEW CALORIE BIBLE is now available – get your copy today! Only $19.95 and a must have in your handbag!
Plus don't forget to sign up for our Get Ready For Summer Challenge – it's free and you can sign up here.
Click HERE to see our shop