Every month, a mum who is on the Lose Baby Weight plans will be writing about their journey, exercise, ups and downs and will be here to help motivate YOU and THEMSELVES along the way.
If you'd like to become our Motivating Mum for the month click here to find out more (we pay you for it too!).
Motivating Mum Kat Brown has 4 kids to look after, which shows that even when you're busy it's still so important to be fit and healthy.
Kat has already lost more than 8kg with Lose Baby Weight.
'Hello everyone,
Hope you have all had a good week!
This week has been a very time poor week for me with my husband away and all of my kids have been sick with a nasty cold.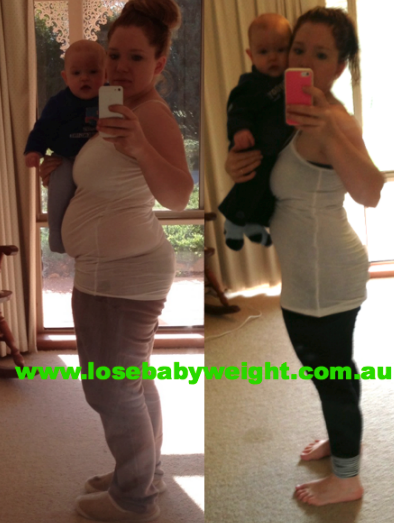 I thought I would share some of my time saving tips on how to keep on track when you have little time to spare!
Prepare in advance. The majority of any dinnertime meal I will prepare at anytime of the day and store in the fridge (when the kids are having their lunch is a good time to chop and measure anything to be cooked later).
Cook whenever you can, most meals can be reheated.
Have snacks ready, I keep chopped carrot and celery in my fridge so they are always at hand to snack on with some cottage cheese.
Involve your kids with your exercise! If I am having a time poor day my fall back exercise is dancing (it has been a life saver this week!) my kids ALWAYS love to dance – or laugh at me like they have this week 🙂
Do fewer repetitions. Remember that any exercise is better than no exercise so a few less repetitions won't matter too much on a time poor day.
Make the most out of everyday activities. Our kids love to go for a ride in the wheelbarrow after feeding the cows so I push them in the wheelbarrow up the hill and around the backyard, simple things can become an exercise and it doesn't have to take up a lot of your time!
But I think that my biggest tip of all is to still try to take 15 mins for yourself- I know how hard this can be sometimes but it really is important to still have a little time to yourself
So this week one of my goals was to have a different smoothie for lunch each day.
This has been my first week of having a smoothie for both breakfast and lunch and being such a busy week it has been a good choice!
Some of the smoothies I tried from the website were the high fibre, berry mania, peanut butter, strawberry and mocha and they were all so yummy!!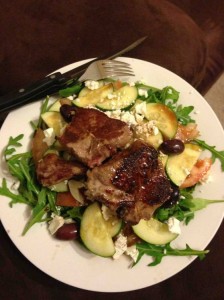 My favourite meals from the 28 Day Plan this week have been the lamb with salad and the marinated chicken salad-YUM!
I haven't had much of a chance to do my 30min walk this week so instead I opted for a shorter walk (or a run around with the kids) and I have been doing some exercises off the website instead.
I have been doing a circuit of arms, legs and core as well as 100 squats a day (thanks for the inspiration Nicole!) and as it's all done mostly on the floor. It kept my kids happy as they could still interact a lot with me.


So my goals for next week are:
To keep trying a new smoothie flavour each day for lunch
To have my very first green smoothie

To increase my 100 squats to 150
To increase my reps from the 28 Day Plan Exercises
My goal for July was to lose 8kg and I have lost almost 3kg so I am on my way to achieving this goal.
I may not lose the 8kg in one month but after reading Lose Baby Weight reasons on why the scales aren't moving is beacause I am losing cm's and I am happy with that!
So in saying that I have set myself a new goal and it is to fit into my pair of size 12 Roxy jeans I have had tucked away since falling pregnant, I will fit into them by the end of July!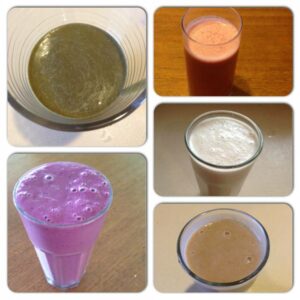 My measurements this week are:
Weight: 65.3kg down 1.5kg (8.7kg since starting Lose Baby Weight)
Bust: 90cm no change
Waist: 75.5cm down 1.5cm
Hips: 94cm no change
Thighs: 63cm down 1cm
I have been seeing a lot of people posting about how much it costs to eat on the 28 Day Plan so I thought next week I would share some of my tips with you on how to eat healthily on a budget.
See you all next week.' xoxo
– Kat Brown
 
GET YOUR 10% DISCOUNT
If you are ready to lose weight then the Lose Baby Weight plans offer a healthy and safe exercise and diet routine and you can get a 10% discount by using code LOYALTY at the checkout
PLUS our BEST SELLING 28 Day Diet & Exercise Plan has now launched as an 84pg Printed Book and you can get your copy here 
Click HERE to see our shop