Every month, a mum who is on the Lose Baby Weight plans will be writing about their journey, exercise, ups and downs and will be here to help motivate YOU and THEMSELVES along the way.
If you'd like to become our Motivating Mum for the month click here to find out more (we pay you for it too!).
Claire has been motivating us with her first and second posts. This week she has stepped out of her comfort zone by trying new foods and exercise – with some great results.
'Hello to all, and I hope you have had a great week!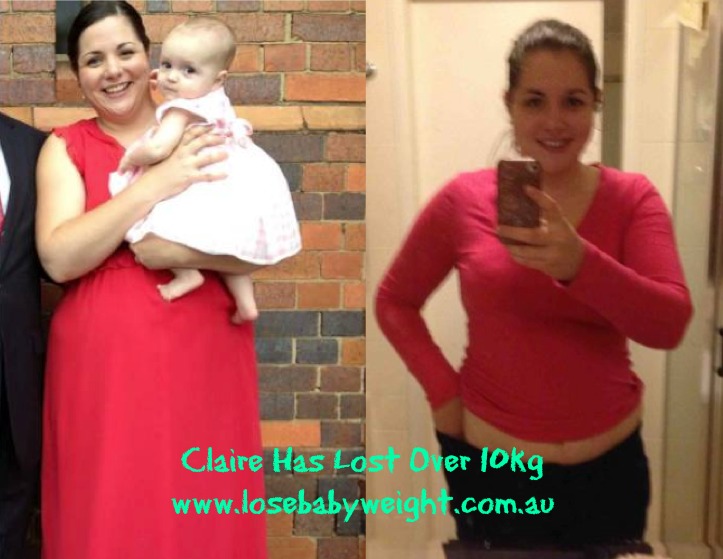 This week in our house has been hectic, as my 10-month-old baby girl has had her first run in with croup.
To make up for it though, she has let me cuddle her a lot more than usual and last night also officially started walking – about 20 metres, before she sat down and gave herself a round of applause.  Little sweetheart.
This week I too have been crook with a bad cold, so it definitely has been a challenge; but I'm so proud of myself for actually getting results in the face of all these roadblocks.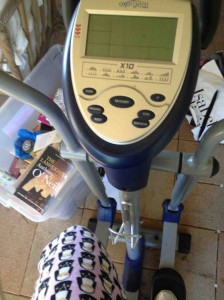 This week I finally got on my cross-trainer.  I set myself a goal of 30 minutes non-stop, turned up the music and away I went.
Afterwards, my legs felt wobbly, I was sweating, and I couldn't remember the last time I had felt that alive!
I also went for a walk with my daughter strapped to me in the carrier and it was so lovely just to get out of the house.
Unfortunately I couldn't do this every day this week due to bub being unwell, but I can already feel and see the difference just two lots of exercise has made.
My outer thigh muscle is rock hard and has definition, and even my big toe has changed shape as the weight comes off my feet.
Seeing lots more tendons on the top of my feet now too.  I have also noticed that my "angel wings" are disappearing which is a huge confidence booster for me.  I have always been very conscious of my arms.
I got adventurous this week and left my comfort zone to try some new foods and new recipes.
If you haven't tried the Cauliflower and Lentil Dahl from the Winter Warmer Plan, get cooking!  You won't believe how good it tastes and it is so healthy. It is definitely a great substitute for that high-in-calorie comfort food so easily available to us.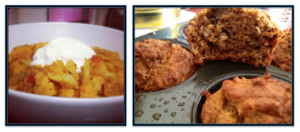 Here are some of the other healthy foods I have been enjoying this week.
I also ventured away from my favourite smoothie and got experimenting with different foods and different milks.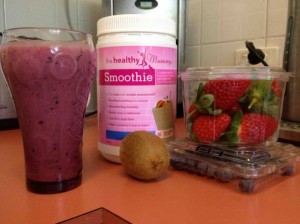 My favourite this week was made on 250 ml chocolate almond milk, 3 strawberries, a small handful of fresh blueberries and 2 x scoops of strawberry Healthy Mummy Smoothie mix.  Same great taste as a sugar-laden drink but without the guilt!
Another tip I have for guilt-free dessert without cooking is to keep a few small single-serve tubs of frozen yoghurt in the freezer (or make it yourself!).
Crumble one square of Lindt 85% cocoa dark chocolate through a raspberry yoghurt and you will be in heaven, and it's under 200 calories!
I weighed in this week at 83 kilos – only one kilo away from my pre-baby weight and 3 kilos away from my weight loss goal for June.  After last week's disappointing weigh-in this has made me feel incredible and boosted my confidence.
Weight loss this week:  1.4 kilos.
Weight loss to date:  10.7 kilos since starting Lose Baby Weight, 11.3 from the heaviest I have been.
Measurements this week:  Bust 96 cm (same), Waist 85 cm (same), Hips 106 cm (1cm down!) and Thighs 57 cm (1 cm down!)  Bringing my total centimetre loss to 45 centimetres!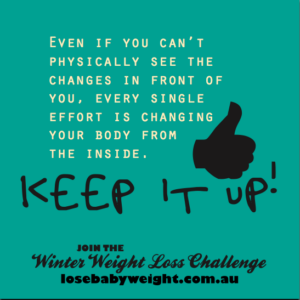 I was particularly inspired this week by a post by Lose Baby Weight that said, "Even if you can't physically see the changes in front of you, every single effort is changing your body from the inside".  Every time you say no to the bad stuff and yes to the good, call it for what it is – a victory!
My challenge to myself this week is to do the Winter Weight Loss Challenge, day #7 – 30 squats before bed!  Who's with me!?'
 
GET YOUR 10% DISCOUNT
If you are ready to lose weight then the Lose Baby Weight plans offer a healthy and safe exercise and diet routine and you can get a 10% discount by using code LOYALTY at the checkout
PLUS our BEST SELLING 28 Day Diet & Exercise Plan has now launched as an 84pg Printed Book and you can get your copy here 
Click HERE to see our shop