Every month, a mum who is on the Lose Baby Weight plans will be writing about their journey, exercise, ups and downs and will be here to help motivate YOU and THEMSELVES along the way.
If you'd like to become our Motivating Mum for the month click here to find out more (we pay you for it too!).
This week we are pleased to introduce Claire Kerr. Claire has now lost 10kg and hopes to reach her goal weight in June and we are so happy that she is going to share her story with us.
We know you can do it Claire!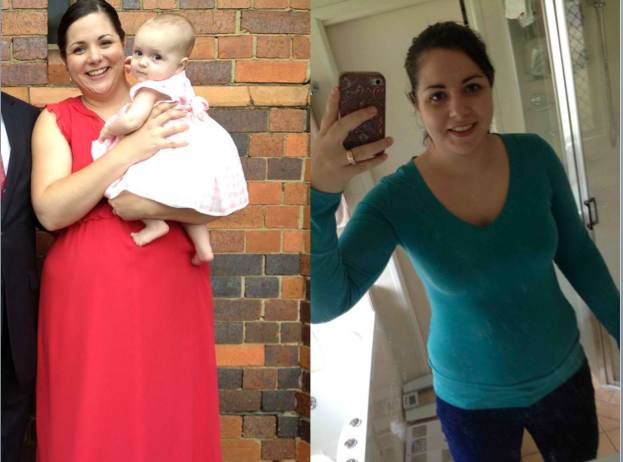 'Hello, Lose Baby Weight fans and followers!
My name is Claire.  I am 22 years old and live in Brisbane with my husband and our beautiful nine-month-old daughter Sophia.
I am a law student on hiatus and I have my own transcription business (which unfortunately involves a lot of sitting down!)
During my pregnancy I only put on five kilos, which I was amazed at as I really didn't make the best choices when it came to food. We all know how persuasive those pregnancy hormones can be.
Prior to falling pregnant I had just lost eight kilos which brought me down to 82 kilos.
After birth and losing the water weight, I weighed in at 87 kilos and I was so excited that I only had 12 kilos to lose until I hit my original goal weight of 75 kilos.
Of course, then came those first six weeks with a newborn, when all you want to do is eat chocolate – and eat chocolate, I very well did!
Before I knew it, I had climbed back up to 94.3 kilos, the weight I had been when I was full-term with my 8 pound 1 ounce daughter.
I wanted to find a weight-loss diet plan that actually taught you the do's and don't's rather than just present it to you all pre-packaged pack which I had had previous experience with – as I found that while pre-packaged food does teach your body to an extent about portion control, it doesn't really teach your mind.
I had seen the Healthy Mummy Smoothie range advertised in Practical Parenting and I was just waiting for the next pay to come in to purchase.  Which I didn't do for quite a few months.
I got to the point where I just typed into Google, "lose baby weight" – nothing to do with the company but simply that that's what I wanted to do. And quite simply, the Lose Baby Weight site came up and I had a good read.
A week or two later I bought the 28 Day Plan and healthy mummy smoothies and excitedly did the first huge grocery shop.  For the first time since I can remember I didn't feel embarrassed at what the shop assistant was scanning through at the check out.
I started my Lose Baby Weight journey on 4 January 2013 and lost 5.8 kilos in the first five weeks.
After the sixth or so week a lot of things started going on, including moving from one side of Brisbane to the other, and I fell off the bandwagon.  (Yes, we're all human!)
During this time our family meals, mainly dinners, were still made from the recipes found in the 28-day plan, as some of these are that amazing that they have definitely caused dinner-time expectations to rise in my household.
On 27 April 2013, after having put on approximately two of those six kilos I had worked so hard to lose, I decided it was time to start again.
Importantly, I waited until I knew that I could really do it this time.
Having the shoulder-angel and shoulder-devil constantly battling in your head over Chicken Crimpy Shapes and the carrot sticks with hummus is NOT something that will help at all.
I personally found it very important to ensure I had the confidence to tell that Shapes-encouraging shoulder-devil where to shove it.
Three weeks after starting again I was delighted to find that I had dropped from 88.5 kilos to 83.7, exactly 10 kilos down since I began the journey in the beginning of the new year, 10.6 kilos down from the heaviest I have ever been, 1.7 kilos from my pre-baby weight (oh so close!) and 8.7 until I reach my goal weight of 75, and boy am I excited!
I had to go to Kmart for some cheap half-way clothes as my size 14 jeans (which have been held up with a hairtie!) were falling off.
My current weight is 83.7 kilos, and my measurements are bust 97cm (11cm down), waist 85cm (10cm down), hips 108cm (11cm down) and thighs 58cm (9 cm down).
My goal for June is to reach 80 kilos and to also do some daily exercise, which up until now I haven't done but for incidental exercise (very important!) – either to get on that cross-trainer that is gathering dust or to make time for a daily walk with bub.
I look forward to encouraging you and being accountable to you all over this next month.
Next week I will have some handy tips for things to keep in the house for those days when you just want to jump in the car and head for that blasted drive-through.'
GET YOUR 10% DISCOUNT
If you are ready to lose weight then the Lose Baby Weight plans offer a healthy and safe exercise and diet routine and you can get a 10% discount by using code LOYALTY at the checkout
PLUS our BEST SELLING 28 Day Diet & Exercise Plan has now launched as an 84pg Printed Book and you can get your copy here 
Click HERE to see our shop