Every month, a mum who is on the Lose Baby Weight plans will be writing about their journey, exercise, ups and downs and will be here to help motivate YOU and THEMSELVES along the way.
If you'd like to become our Motivating Mum for the month click here to find out more (we pay you for it too!).
This month we farewell Angeline who has been our motivating mum for March. Angeline has already lost more than 10kg with Lose Baby Weight and shares her final results and words of wisdom today. You can read some of her previous posts here and here.
Over to you Angeline Hall!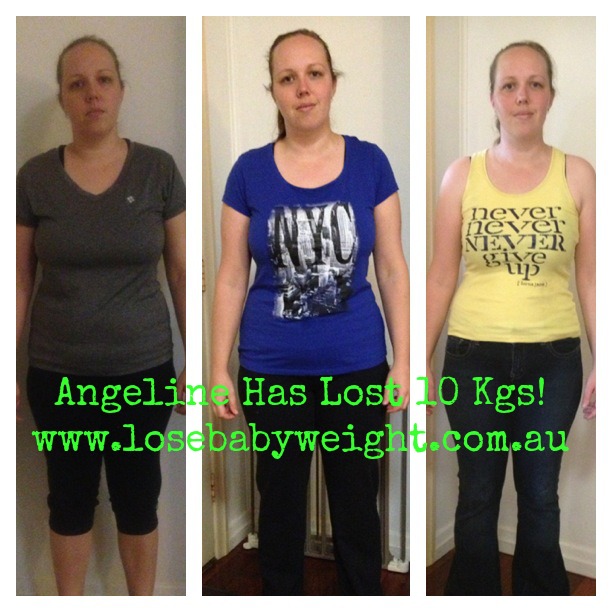 Hi everyone, for the last time!
I can't believe that August is over and my motivating mum duties have come to an end. The month has gone by so quickly. I have absolutely loved being a motivating mum and recommend doing it if you have the chance.
For my last post, I thought I'd talk about some of the things I've learned at the end of this journey, since being a motivating mum this month and since first starting with Lose Baby Weight in June.
The programs work! I was at the end of my rope in June after trying to lose weight on my own and getting nowhere. Lose Baby Weight was my last hope – if it didn't work I was going to give up. Thank goodness it does work or I'd still be a lazy couch potato who isn't 10kg lighter today! I would recommend the 28 Day Plan and healthy mummy smoothies to absolutely anyone.
I have learned so much about healthy eating. Lose Baby Weight has taught me about BMR, calorie intake, portion control and how much of what types of foods should take up your plate. I have also learned so much from the daily emails and Facebook posts, they are so well written and easy to understand and I love continuing to learn about what is good for me and my body.
I am so much fitter! I remember a walk to the park being a real struggle for me a couple of months ago. Now that same walk is too easy. I have tried a variety of exercises and classes at my gym and my body has gotten so much fitter and stronger. I have gained so much confidence because of this…so much so that I just signed up to participate in a mini triathlon in October for charity! I'm now training on an 8 week program to complete a 300m swim, 9km bike ride and 3km run and I'm so excited that I even have the confidence to try. Two months ago I wouldn't have even contemplated doing something like that.
My lifestyle has changed. I never viewed this as a diet, which it isn't. Healthy eating and exercise are now a part of my life every day and these good habits are slowly becoming second nature.
Goal setting is important. I have broken down my weight loss, eating and exercise into small goals that I can achieve one at a time on my way to my main weight loss goal. When I reach them, I make new ones. Making small, achievable and realistic goals is the way to go in my opinion. It doesn't make everything seem as daunting as when there's just one huge goal that will take a long time to reach.
The attached photo shows me in June before starting with Lose Baby Weight, at the end of July before being a motivating mum and now at the end of August. Here are my overall measurements:
| | | |
| --- | --- | --- |
| | Start | End of August |
| Weight | 84.6kg | 74.2kg    -10.4kg YAY!! |
| Bust | 99cm | 94cm      -5cm |
| Waist | 88.5cm | 81cm      -7.5cm |
| Hips | 111cm | 101cm    -10cm |
| Thighs | 65.5cm | 61cm      -4.5cm |

I am also getting closer and closer to being in the 'normal' BMI range, which is one of my major goals and I've only got 4.3kg to go to get to my weight loss goal of being less than 70kg.
Overall, I am a happier, more confident, fitter person because of Lose Baby Weight. I can't thank you enough Lose Baby Weight, you are changing my life one day at a time! If you've ever been thinking about trying the Lose Baby Weight program, definitely give it a go. If I can do it, anyone can!
Good luck everyone!
Angeline
GET YOUR 10% DISCOUNT
If you are ready to lose weight then the Lose Baby Weight plans offer a healthy and safe exercise and diet routine and you can get a 10% discount by using code LOYALTY at the checkout
PLUS our BEST SELLING 28 Day Diet & Exercise Plan has now launched as an 200pg Printed Book and you can get your copy HERE
Click HERE to see our shop