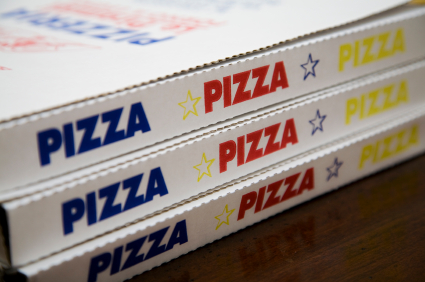 Here at Lose Baby Weight HQ we have spent the last few months working away on our new Calorie Book (and you can have a look at it here).
A lot of the information was interesting to research, and we spent lots of time checking the facts and finding all the popular brands so that you could use it as a handy reference tool.
The one section that shocked us the most was the fast food. It's pretty common knowledge that fast food is not very good for us and that we should reduce its consumption if we are trying to lose weight.
But when you see the facts and figures laid out in black and white, the numbers were a little frightening. Especially for pizza.
Now we all have nights when we want to put our feet up and order in a meal for friends and family. But the calories in the pizza we researched were so shocking it made us all think twice about whether we would do it again.
Here are some scary facts.
One large Domino's supreme pizza, 608g, 8 slices: 1,715 calories.
One large Domino's bacon double cheeseburger pizza, 608g, 8 slices: 1,921 calories.
One large Domino's Hawaiian pizza, 616g, 8 slices: 1,712 calories.
And that's before you add any sides such as garlic bread (7 pieces, 571 calories).
Some of the pizzas also had around 6 to 7 teaspoons of sugar in them as well.
Now of course we're not suggesting that most people would eat a whole pizza, but even if you shared it you are still a big chance for consuming almost your whole daily recommended amount of calories in one sitting.
And it wasn't limited to just Dominos, many of the other budget pizza chains were in the same boat.
So what can I do if I really fancy a pizza?
Try ordering a more upmarket brand which uses fresh, quality meats, cheeses and veggies rather than processed, pre-cooked, frozen ingredients.
Eat less of it. Mix up a big salad and fill your plate with the salad as well as the pizza. Tuck into the salad first so that you don't feel too hungry, and this will help you control your pizza portion sizes.
Try to avoid the processed meats and processed cheese. These tend to be high in fat, calories, salt and other additives that won't do many favours if you are trying to eat healthy food. Go for a fresher option such as a Margarita with tomato, basil and mozzarella; or a spinach and ricotta pizza.
Make your own and top it with healthy fresh veggies and light cheese such as feta or ricotta. We've got a great pizza recipe here that requires no waiting time for the dough to rise (including how to make the tomato base); a simple pizza using pitta bread; or even a super quick 2 ingredient pizza that takes no time at all.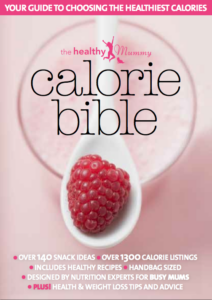 When you are trying to lose weight think of every good food decision that you make as a mini victory that will help you to eventually reach your goals.
Want to know the calories for some other fast food? Check out our NEW CALORIE BIBLE HERE today! Only $19.95 and a must have in your handbag!
GET YOUR 10% DISCOUNT
If you are ready to lose weight then the Lose Baby Weight plans offer a healthy and safe exercise and diet routine and you can get a 10% discount by using code LOYALTY at the checkout
PLUS our BEST SELLING 28 Day Diet & Exercise Plan is available as an 84pg Printed Book and you can get your copy here 
Plus our NEW CALORIE BIBLE is now available – get your copy today! Only $19.95 and a must have in your handbag!
Click HERE to see our shop